Makafui Awuku, a young Ghanaian, learnt to see the beauty in waste, having suffered hardship and struggled to survive in the streets of Accra. Despite his endearing childhood, Awuku managed to rise above his struggles to become a social entrepreneur, who is solving sanitation problems in the capital city of Ghana using waste.
He turns plastic scrap to stylish objects that anyone would desire. He is a role model to many young Ghanaians today but all that came at a cost. He wasn't as privileged as so many of us.
Awuku was born in Keta, Sogakope, in the Volta Region of Ghana. His father who was a driver passed away when he was only 12 years leaving him, his sister and mother to fend for themselves.
Makafui's dream to become a doctor melted away because surviving on his mother's income as a nurse was not enough to see him through school. Awuku started a poultry farm to generate extra income. Life became even harder in 2005 when he lost his mother to stroke.
In the search for greener pasture, Awuku moved to the capital city, Accra. With the money from his mother's pension contribution, he got admission to study marketing at the Institute of Professional Studies but he didn't have enough money to pay tuition fees.
Makafui Awuku recalled how he had to sleep on a bench, worked at a church just to survive. "I have struggled most of my way through life. I have slept on a bench in Accra and I have also slept at a 24-hour internet café. I didn't have anywhere to sleep, so I decided to just spend the night behind the computer there. While in school, I had to find part-time work to pay my fees and pay my medical bills as I had asthma," he said.
He did assignments for his colleagues and charged them for it. At a point, he resorted to odd jobs to survive.
"I eventually met one of my mentors and supporters, Reverend Richard C. Whitcomb, a senior overseer of the Agape House New Testament Church in East Legon. He gave me a job at the church, then he helped pay my rent and then when I had to go back after I deferred my final year, he helped pay my tuition fees too."
Awuku would gain admission to the Young African Leaders Initiative (YALI) program created by former American President Barack Obama to develop the leadership of young people in Africa.
As part of the initiative, he worked with the One Ghana Movement on one of its programs on sanitation. This is when he realized he could turn trash into art. He then started his company "Mckingtorch Creatives" in January 2018.
"While I was doing the internship, I realized there was a lot of waste generated during board meetings. I decided I wanted to do something about this. I looked through the 17 Sustainable Development Goals and I looked at the plastic waste problem.
"I said to myself, 'I took a course on waste management at university and I am a fan of a clean environment, so let me do something with sustainable communities and cities which the plastic waste falls under'," Awuku told Forbes.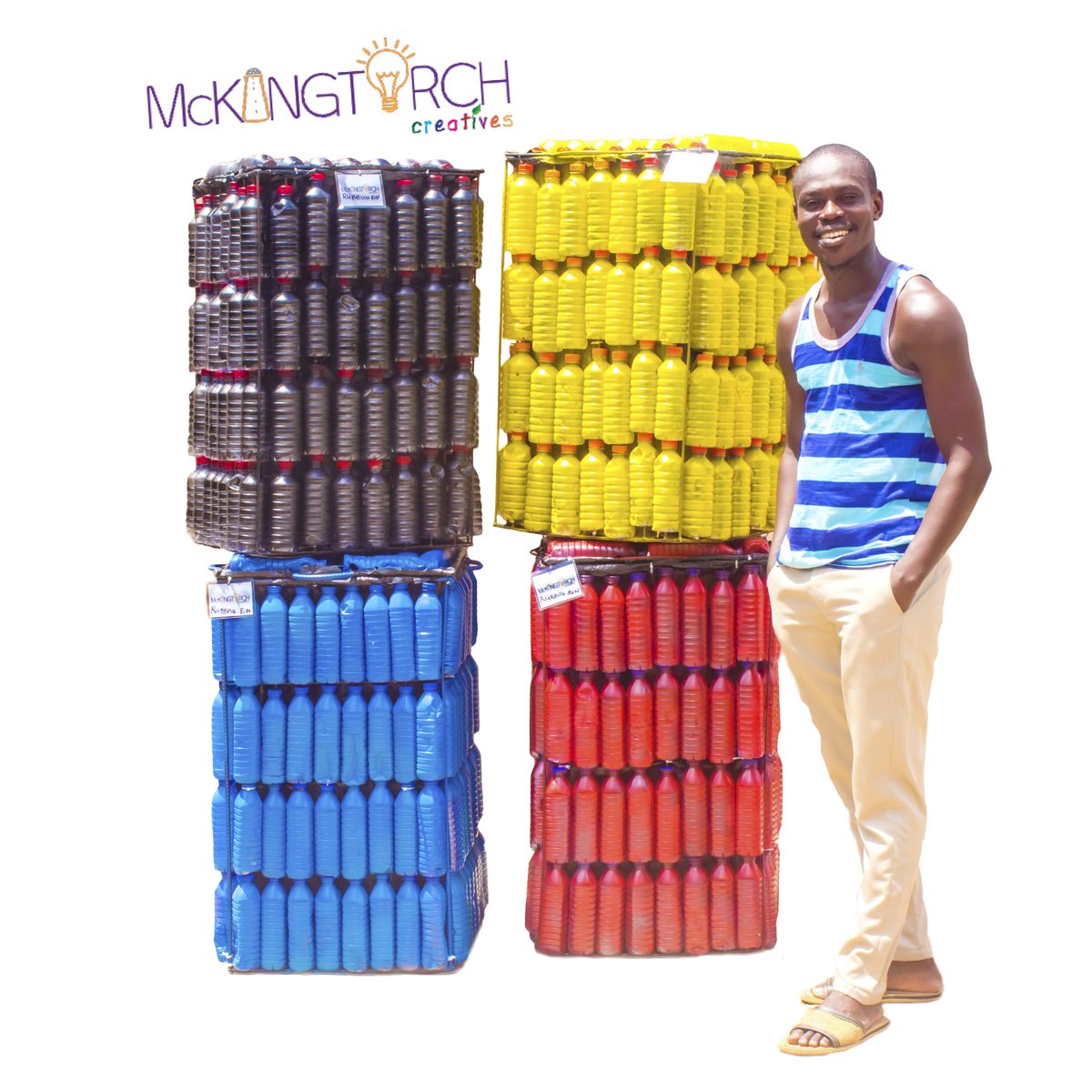 He started collecting bottles from the office and decided to try designing a Christmas tree from plastic waste. "I got a welder to install a frame for me that looked like a frame for a tree and I decided to buy ropes. I would drill holes under the bottles and on top of the bottles and pass the ropes through them and install them on the tree. A day before Christmas, I had finished the tree. I bought lights and put them up and there were actually 396 plastic bottles on that tree," he said.
Upon installing his new creation in a major street in Madina, a suburb of Accra, Awuku said he realized that it was changing people's attitudes. "They were shocked that plastic waste and bottles could be used in this manner. So I decided that I could take things a lot further and look at modeling some solutions I could develop using plastic waste," he said.
Mckingtorch Creatives is a social enterprise that uses plastic waste for arts and products and does advocacy on plastic pollution and also partners other organizations on beach and community cleanup programs.
He has created flower pots, bracelets, wall art, bins, sandals and more all from waste and has exported some of them to seven countries including the U.K., Germany, France, and the Netherlands. He teamed up with a manufacturer of bottled water in the country to create a fence with over 10,000 bottles for World Environment Day.
His company recycles, upcycles, advocates for environmental sanitation and plastic pollution, community and beach cleanups, plastic waste art exhibitions and sales of products and arts from plastic waste.
According to Mckingtorch Creative it has collected over 120,000 plastic waste from homes, offices and the streets of Accra, employed people and engaging over 200 volunteers. Awuku believes that there can be workable solutions for waste and the youth can play a part in building a planet free of plastics.
In 2015, he published his first book titled "The Tertiary Years". The book addresses inefficiencies in the education system in Ghana. He is the founder of Student's Initiative, an NGO dedicated to assisting students to rediscover their role in national development.