Global warming is real and ongoing whether some decide to accept it or not. Society has a role to play to save the planet and it starts with you.
Little acts like standing in the shower for longer than you need to, not managing your waste properly or not turning off your lights when leaving the house are all acts that contribute to global warming.
There are adverse effects of global warming like prolonged droughts and famine which can be avoided if humans took better care of the environment.
Many countries around the world are putting in efforts to stop climate change and the African continent is said to be the world leader in plastic bag regulations.
Some African countries have already started the journey to reduce plastic pollution by banning the use, manufacture, and importation of or by imposing a levy on plastic bags in their countries.
According to Africa News, Uganda has some of these plastic bag regulations and yet there are 600 tonnes of plastics used daily in the country.
The improper disposal of plastic waste then accumulates and blocks drainages thereby causing mayhem, especially during the rainy season.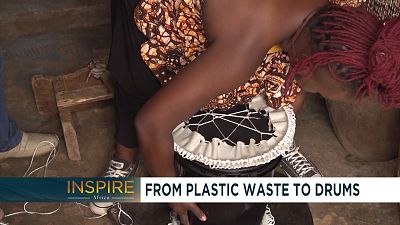 Sandra Suubi, a sound and visual artiste, is using her craft to educate people on recycling and how to save the planet from climate change by making drums from plastics.
Patrick Mujuzi, a resident of Kampala, Uganda's capital, said he has witnessed drains being choked in his neighborhood for over two decades.
Mujuzi added that the plastic waste brings about diseases, especially malaria because the plastics tend to serve as incubators for the mosquitoes that cause malaria.
Suubi uses her craft to educate the people about recycling and climate change.
She said: "I use music, eco art and plastic as the materials to communicate messages because they are readily available, and it is here and its an opportunity to change mindsets.
"It is also a way for us to talk about climate change specifically focusing against the single use of plastic."
To make the drums from the plastic, it takes Suubi and her team about seven hours.
"There is a plastic that I use on top its like PVC, you get that material and stretch it on a metal ring. You use two metal rings to close up the bucket then stretch, it's an interesting process.
"Stretch it the way African drums are made, then cut off the bit at the top, then you have your drum."
Although Suubi is making the most out of the plastics to make musical instruments, it is not enough to rid Uganda of all its plastic waste menace.
Jude Byansi, a Ugandan official, said people tend to use the plastics as cages to plant flowers and the country no longer imports conduits.
He added that there are factories in the country churning conduits from recycled plastics.
Th Ugandan singer hopes that through her music and drums more people in Uganda will be enlightened about the dangers of plastic pollution.