Falowo Moyinoluwa was installed as the regent of Ibulesoro kingdom of Ifedore Local Government Council in Ondo State, Nigeria after the demise of her father who was the king.
The 24-year-old female graduate does have older brothers and ordinarily, her brothers would have inherited the throne of their father instead of her, who was thought to be experienced.
Yet, Moyinoluwa, a Christian, was installed as the regent of the kingdom this April.
"My beloved father married two wives and my mother happens to be the second. In our tradition, the first wife's son is automatically the crowned prince while the second wife produces the crown princess and I happened to be the only female child of my mother and so became the crown princess, and regent".
"In our tradition, being a crown prince does not automatically make you an heir to the throne as it is opened to contests from the ruling families and the kingmakers are always skeptical of making a crown prince the regent as he might become power-drunk and refuse to exit the stage when the time comes to do so," she explained.
Being an ardent Christian, Moyinoluwa would not part with her faith or her Holy Bible even as she sits on a traditional stool.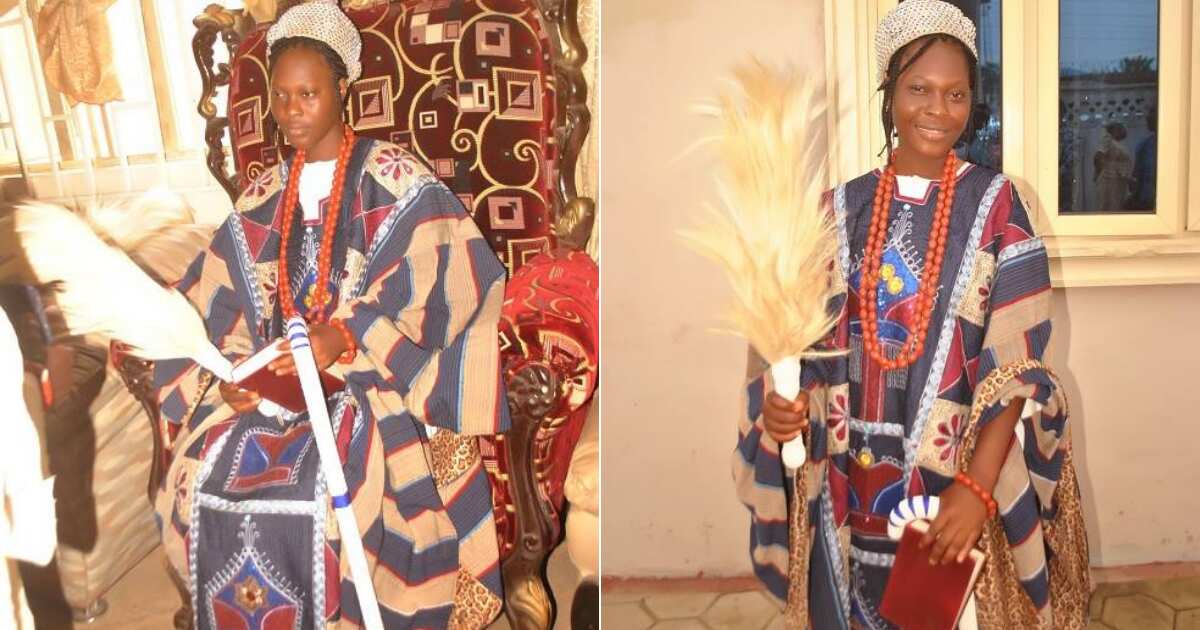 She said she never took part in any fetish activities and she was never asked to do so by the chiefs. As far as her kingdom is concerned, no human authority is above her but she has maintained that her kingdom and throne are subject only to the authority of God.
The Ibulesoro kingdom is a big empire. It is home to the acclaimed Federal University of Technology, Akure (FUTA). Moyinoluwa is a graduate of Microbiology from the Ondo State University of Science and Technology.
As required by her role, she wears male traditional outfit. "Yes I am referred to a male king as though I am my father, I rule in his place and what they see is a man. That is one of the reasons why I cannot get pregnant, I am not seen as a female," she said.
Her prostrating subjects who bring cases to her palace for adjudication call her 'kabiyesi' (meaning king).
Her rulership, however, is for the short term. She is only on the throne until the kingmakers are able to choose a new king from the three ruling families in the kingdom.
Even though the duration of her rulership is unknown, the young monarch recently revealed that she is not considering a long reign. "I do have plans. I just graduated and I have a career to sustain. I have a fiance and a life to go back to. I already told the Chiefs I would not want it to last for over a year as I do not believe I have to use long years before I fulfill my assignment".
Sharing her role and responsibilities as a regent in the Ibulesoro kingdom with TheNigerian News, she said: "As a regent, you cannot get pregnant as such is a taboo while on the throne. If you are unmarried, you will wait till you step down before getting married".
She has already called on the government to extend the construction of the ongoing roads in the state to her community and she is in talks with organizations and individuals like on how Ibulesoro can be impacted with great initiatives.