It is exciting to see the number of black women making significant contributions to the aviation sector, an industry that is largely male-dominated.
There are so many black women working as pilots but the other interesting thing is, they are owning airlines too and calling the shots.
That is the case of Sizakele Petunia Mzimela, a South African businesswoman who made history in 2015 as the first black woman to launch her own airline.
Called Fly Blue Crane, the airline started operations in September 15 at the O.R. Tambo International Airport in Johannesburg to destinations in South Africa.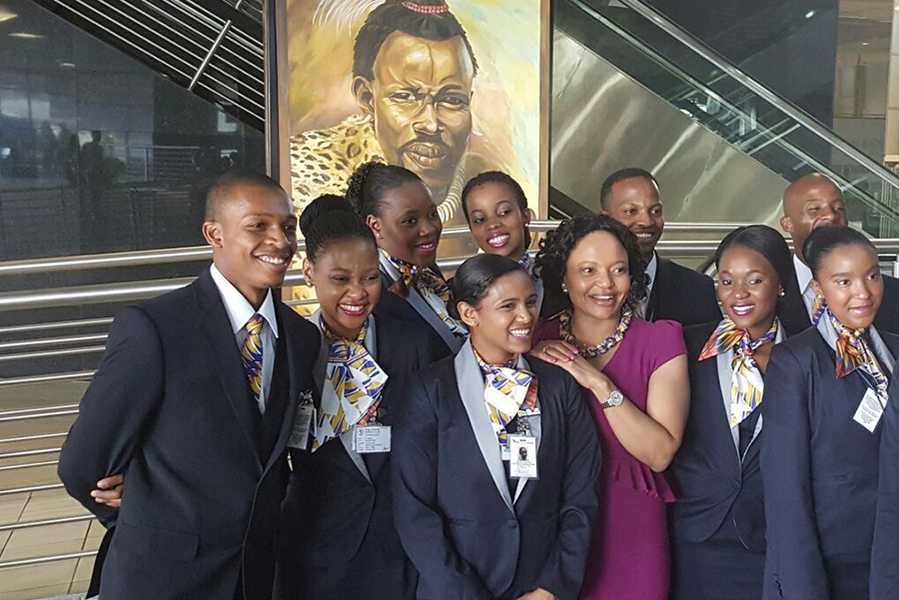 It even planned to expand routes to Botswana, Namibia, Zimbabwe, and the Democratic Republic of Congo.
But things didn't turn out as Mzimela had planned and the airline had to stop operations in 2016, a year after its launch.
Mzimela, who is widely referred to as Siza, started her career with South African Airways in 1997 as a market analyst before becoming the first female CEO of the company from 2010 to 2012.
"Under her leadership, for the first time in SAA history, the company introduced direct flights to New York and Beijing, China. The airline also grew its regional network by adding eight additional routes in one year," reports Black Enterprise.
At the time of starting her airline, Siza, who has a bachelor of arts degree in economics and statistics from the University of Swaziland, served as a board member of the South African Tourism Board, as well as the Oprah Winfrey Leadership Academy for Girls.
What is more, Siza is the founder of Blue Crane Aviation, an aviation services company that provides African airlines with airline consulting and legal services as well as aircraft management services in a bid to give them access to the global market.
With her experience in the airline industry and her leadership qualities, it was all joy when news broke that she had become the first black woman to begin an airline company.
"We aim to make our mark serving the increasingly commercially significant provincial and regional capitals. Our aim in the coming years is to make air travel an altogether better and more rewarding experience in Southern Africa'" she said at the launch of the company.
Abreast with some of the problems in the aviation industry in her country, Siza's company said it was here to fill the polarised market gap by offering customers the best and by providing a fresh approach to air travel.
"Fly Blue Crane strives to offer the ultimate travel experience by ensuring that its business processes make it effortless for customers to Book, Check-In and enjoy Fly Blue Crane's onboard service, arriving at the preferred destination timeously," it added.
Siza indicated that her vision is to use the airline to "open up routes that will help grow the economies of more remote towns in Africa."
But this has not materialized in a way everyone wanted. As a matter of fact, the low-cost airline entered business rescue in November 2016, just about a year after entering a market that had seen the collapse of other low-cost airlines such as Velvet Sky, 1Time, among others.
Running into funding constraints, the airline said by opting for business rescue, it was "taking a step many of its peers around the world had taken in order to re-engineer and strengthen their businesses."
In February 2017, Siza's airline announced that it will interrupt its services to finalize the business rescue plan. Services would be halted to restructure operations and to reach an agreement with its business partners, business rescue practitioner Etienne Naude said at the time.
A Business Day report said Fly Blue Crane "competed with existing carriers, including South African Express and South African Airlink, while pursuing a "hybrid" model of offering full service at budget airline fares. It secured a R30m bridging loan from the Industrial Development Corporation and was in talks with a Middle Eastern carrier over a possible equity sale, but this deal did not materialise."
The airline has discontinued flights indefinitely as it restructures its operations, with expectations that it will overcome its challenges.
Although the aviation industry is growing, worldwide, a lot of carriers have stopped flying, a situation experts have blamed on increased competitiveness, cost pressures, and high fuel prices.
This year, the Independent reports that 23 carriers have stopped flying, making it a record breaking year for airline bankruptcies.
In South Africa, Siza, who is known for facing challenges head-on, recently gave a piece of advice to entrepreneurs who have plans of going into the airline industry: "I would say that they have to at least try, even if they fail, at least they can always say I tried.
"It's about just going for it because that's the problem, we worry, we box ourselves. Only because someone else has actually done it before do we think we can do it.
"Just take that step, do your research properly, try to limit the risk, but nothing is ever completely risk-free. Take that step because, as you said, you can either fall or fly."