In May 2019, Catherine Ndinda, 22, won Miss Deaf Kenya and then went on to represent her country on the international stage where she clinched the enviable title of Miss Deaf Africa.
Cate, as she is affectionately referred to among her peers and family members, emerged First Runner-Up at the Mr and Miss Deaf International that took place in St Petersburg, Russia, from July 7 to 15.
Ndinda, a Business Management student at the Kenya Institute of Management in Nairobi attended the competition with Wilson Obange, who won the male category in the Kenyan competition.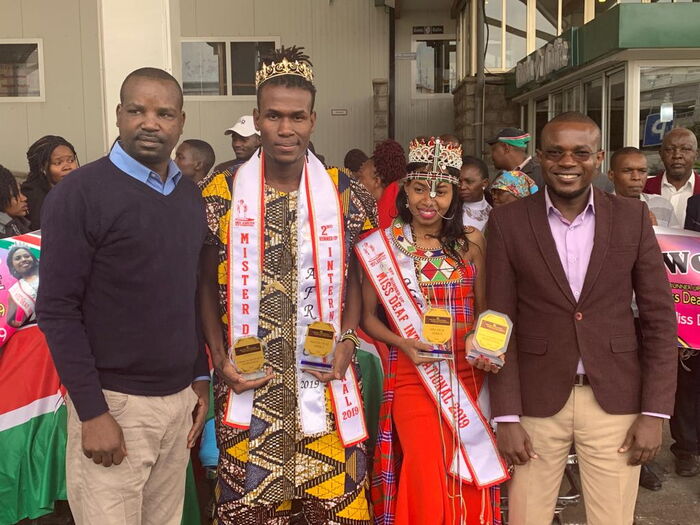 Spearheaded by Bonita Leek in Las Vegas, NV, a 2005 Miss Deaf USA inspired the initiation of an international event where countless young women from around the world would compete to become Miss Deaf International (MDI).
In early 2005, Adam Smith discovered the Miss Deaf World Pageant, which was located in Prague, Czech. The 2005 Miss Deaf USA winner was the first USA participant in this competition. At this event, Bonita Leek met with Pageant Directors from different countries. They expressed their desire to initiate and host a similar pageant in the USA as well as in other countries.
The contest has since evolved into the powerful and inspiring Miss Deaf International, Inc., which advances and supports opportunities for young deaf women.
On their return from Russia, Catherine and Wilson were received at the airport by their enthusiastic fans who carried banners with messages of praise.
They also took time to take photos while displaying their awards from Russia.
Miss & Mister Deaf International, Inc. is a non-profit organisation that pledges to empower and support today's continually growing community of deaf women and men.