Reverend Dr. Pauli Murray was a lawyer and poet, who was described as a thoughtful autobiographer and historian, a dedicated political organizer, and a brilliant legal theorist.
She coined the name "Jane Crow" and was ordained as the first black female Episcopal priest in 1977. She also co-founded the National Organization of Women (NOW). She once said that "If one could characterize in a single phrase the contribution of Black women to America, I think it would be 'survival with dignity against incredible odds.'"
"The dramatic exploits of Harriet Tubman and Sojourner Truth . . . are well known examples of this will to survive, but they are the great peaks rising from a mountainous terrain of less visible heroines in everyday life," Murray noted in "Black Women—A Heroic Tradition and a Challenge" (1977).
Despite being a descendant of a North Carolina slave and slave owner, Murray, also known as "Pauli," became a committed civil rights activist who helped shape the legal argument for the Brown v. Board of Education Supreme Court ruling.
Born in Baltimore, Maryland in 1910, Murray lost her parents and at the age of three, she moved from Baltimore to North Carolina to live with her grandparents and aunt after whom she was named.
She graduated from Hunter College in 1933. After a campaign to gain admission into the all-white University of North Carolina law school in 1938, she was denied entry due to her race, according to the Episcopal Archives.
She was also denied admission to Harvard University for an advanced law degree because of her gender. Murray earned her law degree at Howard University in 1944 and a master's degree in law the following year from the University of California at Berkeley.
While at Camp Tera, which was a "She-She-She" conservation camp created under President Franklin D. Roosevelt's New Deal to provide employment, she met first lady Eleanor Roosevelt, leading to a friendship that would be life-changing.
When Murray graduated from Howard Law School, she won a Rosenwald Fellowship that allowed her to apply to Harvard Law for graduate work but the law faculty vote to accept Murray was tied 7-7 even though President Roosevelt sent Harvard's president a letter of recommendation for Murray.
According to Murray, who was already acquainted with racial discrimination, "there wasn't any racial discrimination at Howard, she said, "so the sex discrimination stood out in bold relief." She called it "Jane Crow", alluding to the Jim Crow laws that enforced racial segregation in the Southern United States.
She would become the first African American to be awarded a Doctor of Juridical Science degree from Yale University Law School twenty years later. Her master's thesis on "The Right to Equal Opportunity in Employment" was labeled the "bible" for civil rights lawyers by Thurgood Marshall.
In 1940, Murray challenged segregation on an interstate bus in Petersburg, Va., and was jailed for several days. While she was still a student, Murray reportedly channeled her burgeoning legal talents into a range of confrontations with Jim Crow.
She served as a legal adviser to Howard undergraduates who staged sit-ins at local restaurants and who challenged segregated seating on interstate buses. Murray campaigned against gender-based forms of exclusion in legal education. She "repeatedly protested the isolation and condescension that she felt being the only woman in her law school class," according to an article on radcliffe.harvard.edu.
Murray got admitted to the bar in California in 1945 and she soon became deputy attorney general of California. She was also admitted to the bar in New York State in 1948 where she was an associate attorney with the New York law firm of Paul, Weiss, Rifkind, Wharton & Garrison.
She was later admitted to practice before the United States Supreme Court. Murray was also a senior lecturer at the Ghana University law school in Accra. She taught at other universities such as Brandeis, Boston and Yale.
During the 1960s and 1970s, Murray was appointed to serve on the civil and political rights committee of the President's Commission on the Status of Women (PCSW). She also served as a member of the Equality Committee of the American Civil Liberties Union (ACLU) working to revise the ACLU policy on sex discrimination.
As a founding member of the civil rights group of the National Organization for Women (NOW) in 1966, she believed that black women had a vested interest in the women's movement.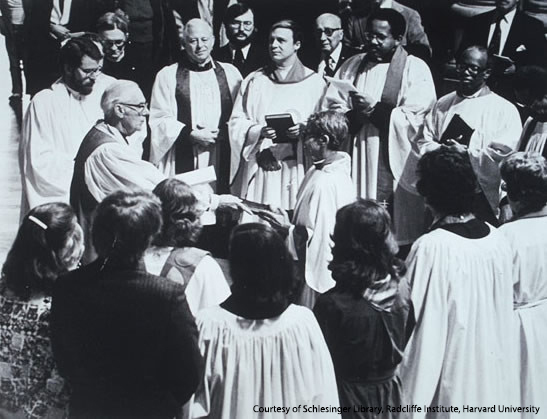 After the death of her close friend Renee Barlow in 1973, Murray finally recognized her call to the priesthood, something she had tried to ignore. After Barlow's death, she began her studies at General Theological Seminary in 1976 and was ordained at the National Cathedral the following year. She served at Church of the Atonement in Washington D.C. from 1979 to 1981 and at Holy Nativity Church in Baltimore until her death in 1985.
She authored a couple of books including "Dark Testament and Other Poems" (1970), "States' Laws on Race and Color" (1951), "Proud Shoes" (1956) and "The Constitution and Government of Ghana" (1961), of which she was co-author with Leslie Rubin.
The Episcopal priest and women's rights activist, whose career spanned most of the 20th Century, holds many awards and honorary degrees. In 2016, Yale announced that a new residential college at the university will be named after Murray.