Fall desserts like no other should definitely be pumpkin pudding cake and the aroma of the pumpkin spice is enough to make you drool over this bowl of hot and sweet dessert. Pudding cakes are so easy to make and the taste is great on the tongue. Who wouldn't like to enjoy their dessert stress-free?
Your fall gatherings just got a facelift because this dessert is soft, spongy, moist overflowing with everything pumpkin, not forgetting the warm gooey sauce that sits beautifully underneath the cake. This dessert is an easy blend between lava cake and pumpkin pie which is also perfect for thanksgiving dinners. Don't say I never taught you anything.
Plus, it can be served with an ice cream topping, vanilla to be precise. It has been tried and tested. Give it a try and let us know how you liked it.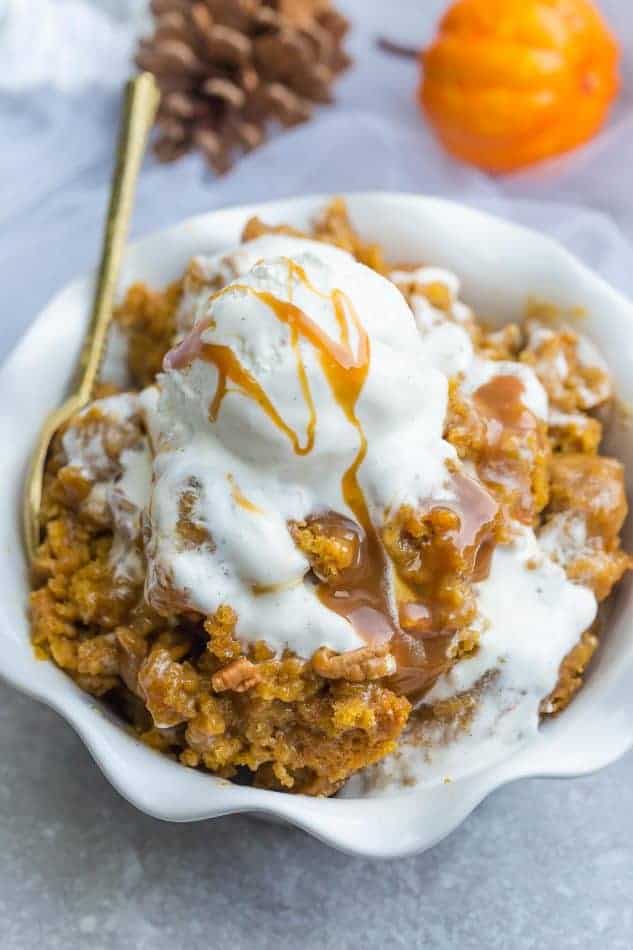 Ingredients
1-2/3 cups all-purpose flour white whole wheat flour works wonderfully too (measured correctly – spoon and sweep method)
1 cup packed brown sugar
1-1/2 teaspoons baking powder
2 teaspoons pumpkin pie spice homemade or store-bought
1/2 teaspoon ground cinnamon
1/4 teaspoon salt
1/2 cup milk I used almond + 2 teaspoons vinegar
2/3 cup canned pure pumpkin or pumpkin puree not pumpkin pie filling
1/4 cup butter melted
Topping:
1-1/3 cups very hot or boiling water
3/4 cup packed brown sugar

Instructions

Preheat oven to 350 degrees. Lightly grease the sides of a baking pan (8×8 square, 9″ pie pan or a 2 1/2 quart casserole dish) with coconut oil, melted butter or cooking spray. Set aside.
In a large bowl, sift together flour, sugar (to remove any lumps), baking powder, pumpkin pie spice, cinnamon, and salt. Whisk until combined.
Add milk, pumpkin and melted butter and using a wooden spoon, mix until smooth.
Spread batter into the bottom of the prepared pan.
Sprinkle brown sugar over the batter. Carefully pour hot water to dissolve the sugar. (It will look like a hot mess – this is okay as it will bake up in the oven).
Bake in preheated oven for 32-39 minutes or until batter sets up and a toothpick comes out clean (but you'll still see molten pudding bubbling at the sides)
Serve warm, spooning sauce from bottom of pan over cake and with a scoop of ice cream , if desired.