Being captured as a war prisoner is an ordeal enough but Shoshana Johnson was soon to find out more.
She would be made to realize that being rescued by the American army from their captors was only the start of a series of events which would lead her to eventually quit the army, enroll in a college for a degree as well as author a book.
Johnson, with an eye on culinary school yet lacking the cash, enlisted in the U.S. Army in 1998 with hopes of becoming a chef when the time was right. She served as a cook in a support unit during Operation Iraqi Freedom – the unpopular war President George W. Bush waged disregarding the United Nation's warnings.
It was March 23, 2003, and Johnson was in a convoy of mechanics and cooks travelling through the city of Nasiriyah but unfortunately made a wrong turn and with narrow roads, the 507th Maintenance Company came under enemy attack.
Curiously enough, no one in Johnson's unit, including Private First Class Jessica Lynch, was a combat soldier.
Critics have accused the military and media of racism in that they focused attention on Jessica Lynch, a white woman, rather than Johnson, a black woman.
According to CNN, "Lynch got a million-dollar book deal and more in disability payments from the military than Johnson. Some said it was a long-standing and well-documented issue of race in the military. Shoshana Johnson says reports that she and Lynch were at odds aren't true."
"We lost 11 in the ambush," Johnson told "Oprah: Where Are They Now?". "Eight of us were taken as prisoners of war; two died in captivity. Jessica was kept in Nasiriyah and five of us were taken to Baghdad."
While in captivity with her fellow prisoners of war, Johnson said she kept wondering if she would survive long enough to see her 2-year-old daughter and family.
"There were lots of times when I thought in captivity, 'This is it. I'm going to die,'" said Johnson. "I also thought, 'Well, I made it through the ambush. Why did God take me through the ambush to let me die now? I just got to hold on.'"
Marines managed to rescue them after 22 days but it was after a return to the U.S. that Johnson became disillusioned with the treatment meted out to her by the army.
She had to be rehabilitated due to the gunshot wounds on both her legs as well as psychiatric care for the mental and emotional trauma she endured. She observed that the resentment about their capture peaked when she was charged with fraud, an allegation she denied and investigators dismissed.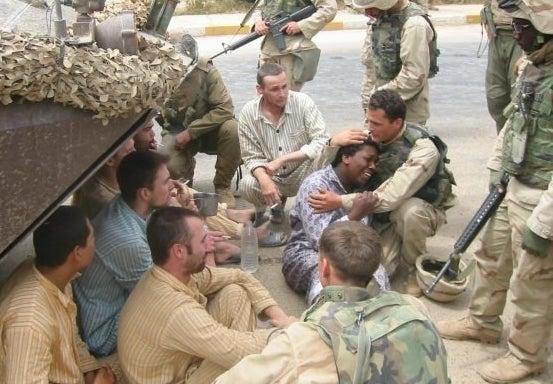 Johnson recently disclosed: "It wasn't easy ― the Army actually gave me quite a difficult time about acknowledging my Post-traumatic stress disorder (PTSD). I had to fight them in order for them to acknowledge that I was suffering from the condition and it was a direct result of my time in Iraq. I do have post-traumatic stress disorder. It's something I deal with on a daily basis."
Johnson said her aunt took care of her in the hospital yet she lashed out and had mood swings while her daughter, Janelle asked why she was crying all the time.
Of her daughter, she stated: "It's me and her, every single day. She has to deal with the effects of living with someone with PTSD also," adding "So, I also make sure she gets regular counseling."
When Johnson started therapy, she noted her doctor took excellent care of her, outlining her challenges in a report for the medical board yet the army was reluctant in admitting that she had PTSD, a development she found bizarre, as she was facing the consequences of what happened to her in Iraq.
In her home base of Fort Bliss, Texas, she was, however, hailed and allowed to attend certain social events much to the chagrin of some of her army colleagues. She made an appearance on "The Jay Leno Show" and was at the front row seats at an Oscar de la Hoya boxing match.
"As time went on, the jealousy and pettiness grew more and more unavoidable," she said.
Johnson eventually left the Army and enrolled in culinary school to become a master baker and continued to see a therapist while on antidepressants.
She also wrote a book about her experience as a prisoner of war using her story to raise awareness about the mental health needs of soldiers and their families. Her memoir is titled: "I'm Still Standing: From Captive Soldier to Free Citizen–My Journey Home."
She joined a veterans' board offering advisory services. "Volunteering in the veteran community is important because it gives me a sense of purpose. I'm here to help other veterans get through the struggle," she said. She is also a Purple Heart and Bronze Star recipient.