Describing itself as the friend of Africa, China is strategically offering a helping hand in the infrastructural development of the continent while it positions itself as a global superpower. It has won the hearts of many African leaders and continental bodies with its several generous projects that have, however, raised eyebrows among the international community.
Analysts believe that China's interest in the continent is to overburden countries with debts to enable neo-colonisation.
In spite of such concerns, two African leaders – Kenyan President Uhuru Kenyatta and Ethiopian Prime Minister Abiy Ahmed – are currently in China to lobby for more funding for various infrastructural projects.
The two leaders are attending the Belt and Road Initiative (BRI) forum, a Chinese-government cross-national infrastructure roadmap involving some 150 countries and multinationals. This year's forum is set to be held between April 25 and April 27, 2019, in Beijing, China's capital under the theme "Belt and Road Cooperation: Shaping a Brighter Shared Future."
Kenya's President Kenyatta has, for the third time in less than a year, met Chinese President Xi Jinping, showing the strategic relationship between the two countries, observers say.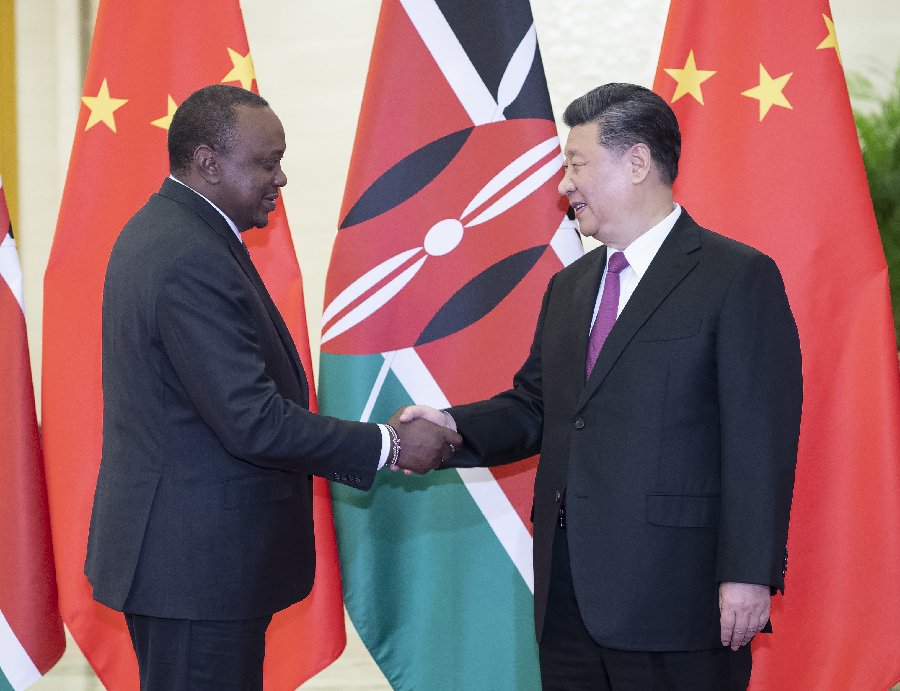 Kenyatta's new visit is to obtain a loan of more than $3.6 billion to finance transport infrastructure, according to local media. The president has been pushing this loan to finance a railway between the cities of Naivasha and Kisumu, then to Uganda to boost trade in the sub-region, reports Reuters news agency.
Kenyatta has, so far, secured an avocado deal after bilateral talks with his Chinese President Xi Jinping on Thursday at the Great Hall of the People in Beijing, China.
The deal makes Kenya the first African nation to export avocados to the Asian nation with a market of over 1.4 billion consumers, said a report by The Star.
When the agreement is fully implemented, it is estimated that the Chinese market will absorb over 40 per cent of Kenya's avocado produce, making it one of the largest importers of the fruit, the report added.
Kenyan officials are, however, yet to give details on the extent of the $3.6 billion that the government had been pushing to acquire from China for its Naivasha-Kisumu standard gauge railway project.
The Kenyan government recently asked Beijing to consider providing half of the cost for the second phase of the project as a grant and the other half as a loan.
In recent years, China has made huge investments in Kenya, such as the new railway linking Kenya's capital, Nairobi, to the coast and the mega city that will be based in Kenyan capital, Nairobi. At a recent China-Africa summit, Kenyan President Kenyatta expressed his appreciation to China for its "commitment in supporting Kenya's development goals."
Kenyans have, however, raised concerns about China's footprint across the country. Many have blamed China for stealing local jobs, adding that Chinese investment brings racism and racial discrimination, and could saddle the country with uncontrollable debt.
Last October, President Kenyatta questioned why some Kenyans only focus on debt owed to China while there are other states that have lent money to the country.
"Why are we focusing ourselves only on one lender?" Kenyatta asked in an interview with CNN.
"As far as I am concerned, we have a very healthy mix of debt from the multilateral lenders – who are basically the World Bank and the African Development Bank – to bilateral lenders like Japan, China, France, all who are participating and working with us to help us achieve our objectives," he added.
"We have an infrastructure gap that we need to fill and we are going to work with our partners across the globe who are willing to partner and to work with us."
In the same vein, Ethiopian Prime Minister Ahmed has signed a $1.8 billion investment deal in Beijing with the State Grid Corporation of China to provide electric power transmission and distribution lines.
The Ethiopian government said in a statement on Wednesday that the project will supply power for up to 16 industrial parks; the Addis Ababa to Djibouti 2nd railway line and for different cities in the country.
"This agreement will facilitate not only uninterrupted power supply but also enable the creation of jobs," the statement added.
Ahmed is in Beijing to, among others, discuss the restructuring of Ethiopia's debt to China which is estimated to be between 12 and 20 billion dollars. Local media report that during Ahmed's meeting with President Xi Jinping on Tuesday, China agreed to cancel all interest accumulated from Ethiopia's debt.
Eyebrows were raised this January when China decided to write off almost $78 million from Cameroon's debt, an amount the latter failed to pay in 2018.
China said it had written off the debt as part of measures to ease economic hardship in the central African nation, but experts feared that the move will benefit China in the long term than the central African country.
China has been putting more than $400 million per year into Cameroon's roads, dams, housing projects, telecommunications, among others. But critics say that most of these investments go towards accessing Cameroon's natural resources, while the country's debt burden rises.
Last September, it was disclosed that some African countries are seeking to write off their loans from China while others are giving out their natural resources and other concessions to pay for those debts.
This was contained in a report by the US-based Centre for Global Development which indicated that China total loan figure to Africa is more than $14 billion, and this continues to rise, as properties of defaulters get targeted.