For many of us, having a disability is something we rarely think about until someone close to us develops one.
Persons with Disability (PWDs) have suffered discrimination in different forms, from homes to work places.
Since 1992, the International Day of Persons with Disabilities (IDPD) has been annually observed on 3 December around the world, but the stigma meted on PWDs remain obvious even today.
However, young and daring Africans are helping to empower PWDs for inclusive, equitable and sustainable development as envisaged in the 2030 Agenda for Sustainable Development through their inventions.
John Amanam is a Nigerian artist who is giving hope to people who have lost parts of their bodies to all kinds of accidents just like the two students from Walter Sisulu University. Amanam is an innovative sculptor who creates hypa-realistic prosthesis for people who have lost their body parts.
Amanam, a graduate of Fine and Industrial Art from the University of Uyo, is solving disability problems with his craft known as "Immortal Cosmetic Art".
Amanam, who hails from Akwa Ibom State, Nigeria is reportedly the first Nigerian to produce hypa-realistic prosthesis. He could duplicate any lost body part from legs, nose, toes, ears, arms and fingers matching skin colours to suit the user.
Amanam is so passionate about using art to solve human problems. "Art has been my passion. I am always not satisfied; I am always trying to discover things that other people have not done to solve human problems".
According to him, the many great pieces he's created was birthed from the researches he carried out.
It is estimated that prosthetic limbs for instance cost between $10,000 and $100,000. However, Amanam's customers can pay as low as $689 for artificial legs or arms and a sum of $96 for other minor body parts.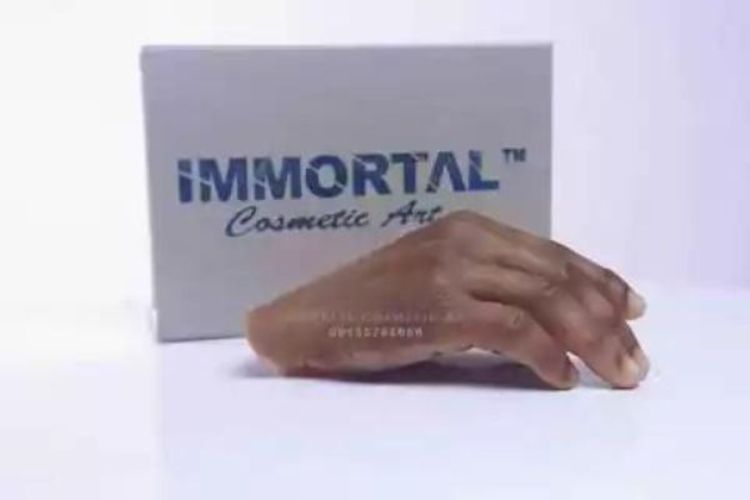 Even though his products have been medically approved for persons who are in need of body part replacements, Amanam still believes that his innovations are subject to improvement. "I have been to many hospitals and the product has been highly accepted because the materials used in producing it is also medically approved," he said.
Just as many innovators get inspiration from experiences around them, Amanam drew his from an amputee cousin.
"I have a cousin who happens to be my major inspiration. He lost his fingers and I was just thinking of ways to help him as a sculptor. I have molded human beings severally in the course of my career. Why can't I mold something that can actually be implanted in a human body? I began my research and by God's grace, I discovered this."
Despite the joy of creating replicas of human parts to help those who need it, Amanam admits that the process of coming up with the prosthesis hasn't been easy. He faced quite a number of challenges before he could make any headway.
According to Amanam, he has had to invest a lot of time and money, noting that the materials he uses for the production are imported. "I would say it was not easy. I remember I wasted a lot of my personal money while researching for many months. I failed and failed till I was completely broke. I didn't give up; I had to borrow money from someone to continue the research. I was too convinced that I could do this.
"I ordered for machines that did not get delivered at the stipulated time. When they finally arrived, I could not use them because they were highly sensitive machines. Some even spoilt. Sometimes I had to go back to the company and ask for direction on how to use them. Thank God that all the efforts I put into this has yielded fruits now," he revealed.
Today the young inventor is giving back confidence to a number of amputees whose hopes, he said, were restored by his invention.
Amanam plans to open a factory in his state of origin so he could produce the prosthesis in large quantity and even export to countries around the world.