Tererai Trent grew up in a cattle-herding family in rural Zimbabwe. She was not allowed to go to school due to poverty and the fact that she was female.
From a society where women were not allowed to own property, by age 18, she was already married with children. She would, however, teach herself to read and write, before ending up in the U.S. about 21 years ago to seek an education.
Today, she is not only a famed academic, but a global voice for women's empowerment, an author, and a humanitarian.
In honour of her role in promoting equality and empowerment for girls and women, the Zimbabwean scholar has been named among the World's Top 10 Most Inspiring Women "Sculpted for Equal Rights".
She will have her life-size bronze statue erected at the Rockefeller Centre in New York City on August 26 during the launch of Statues for Equality,
a project which aims to balance gender representation in public art.
The statue will stand alongside those of other distinguished women who have received the same honour, notably media mogul Oprah Winfrey, conservationist Jane Goodall, actress Cate Blanchett, activist Janet Mock, actress Nicole Kidman, chemist Tracy Dyson, Olympic gymnast Gabby Douglas and author Cheryl Strayed.
Trent shared her joy in a tweet:

The U.S.-based academic, who believes that her past has led her to where she is now, is the founder of Tererai Trent International, which champions quality education for all children irrespective of gender or socio-economic background.
Appearing twice on "The Oprah Winfrey Show," the media mogul once described Trent as her "All-Time Favorite Guest," and gave her $1.5 million to rebuild an elementary school in her hometown in Karoi.
Eleven schools are being built in Zimbabwe and education has been improved for over 5,000 children so far.
"We now have seven girls that graduated and are now going to university in Zimbabwe," Trent said at a public lecture this March. "It's all about tapping into the energy within us."
Back in her village in Zimbabwe, despite not having the enabling environment to succeed, Trent had a dream.

"I could visualize myself going to America, in an airplane," she said. "I had never been in a plane before but I saw myself carrying a bad on campus and attending classes. I had a mental image like I was there. I could see myself graduating and getting a PhD.
"Those images were so alive for me."
Trent would write down these dreams, put the paper in a scrap of tin, and bury it. Encouraged by her mother and Jo Luck, then-president and CEO of the charity Heifer International who visited her village, Trent moved to Oklahoma, U.S., with her husband and five children in 1998.
Things were tough from the start, but she persevered and went on to earn undergraduate and graduate degrees, including a doctorate from the College of Public Health at Western Michigan University. Her thesis looked at HIV/AIDS prevention programs for women and girls in sub-Saharan Africa.
Since 2013, Trent has been an adjunct professor in Monitoring and Evaluation in Global Health at Drexel University. As an author, her most recent book, about her life's journey, is "The Awakened Woman: Remembering & Reigniting Our Sacred Dreams."
With a foreword by Oprah Winfrey, the book was named the Outstanding Literary Work, Instructional at the 49th NAACP Image Awards last year. Trent had earlier published a children's book about her own life called The Girl who Buried her Dreams in a Can, illustrated by Jan Spivey Gilchrist.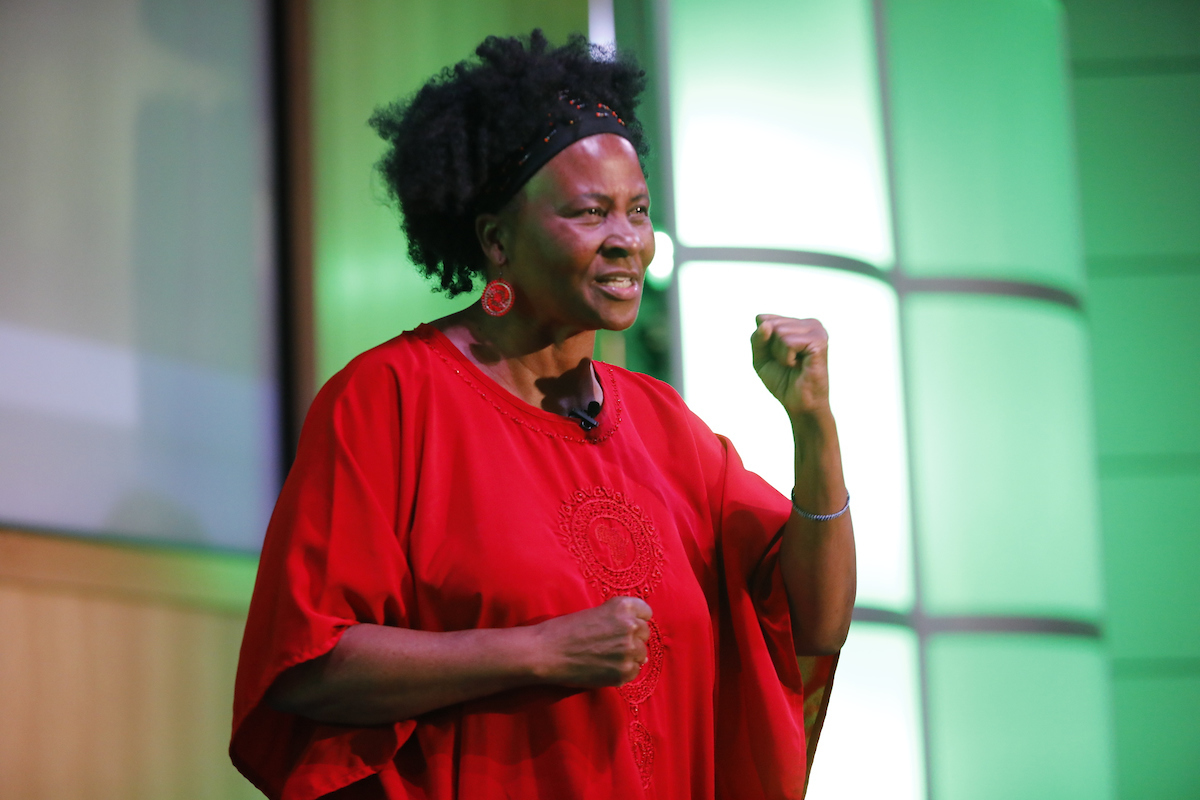 The motivational speaker never forgets to highlight the importance of universal women's education and its benefit to the world.
"If we give opportunities to women and girls, it's the best investment any organization or institution could do, because whether you like it or not, women are going to change the world," she said recently.
"Because when we come together as women, it is our collective energy that's going to move this world."