"Only until all human beings begin to recognize themselves as human beings will prejudice be gone forever. People ask me what race I am, but there is no such thing as race. I just answer: "I'm a member of the human race," Amelia Boynton Robinson once said.
Robinson was a fearless civil rights activist known for her participation in the historic March 7, 1965 "Bloody Sunday" Selma march.
Fifty-five years ago in Selma, Alabama, Robinson was beaten by law enforcement agents and left for dead at the foot of the Edmund Pettus Bridge. Her only offense was attempting to cross the bridge to make a case for blacks to vote.
As former president Barack Obama puts it, "the story of Selma quintessentially American. It's the story of ordinary people coming together to shape our nation's course because they believed in the simple idea that people who love their country can change it".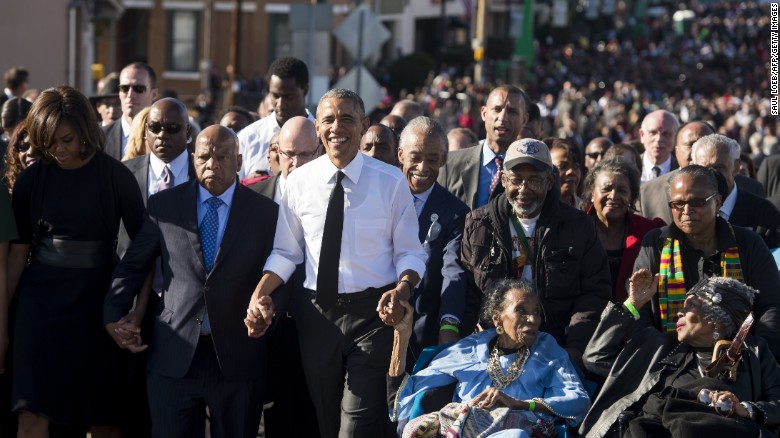 Born Amelia Platts in Savannah, Georgia on August 18, 1911, to George and Anna Platts, Robinson concerned herself with campaigns for women's suffrage at a young age.
She attended Georgia State College (now Savannah State University) and after two years transferred to Tuskegee Institute (now Tuskegee University) where she earned a degree in home economics.
She worked as a teacher in Georgia and later took a job as Dallas County's home demonstration agent with the U.S. Department of Agriculture in Selma, Alabama where she met and married Samuel Boynton in 1936 and went on to have two sons, Bill Jr. and Bruce Carver.
The couple wanted to help sharecroppers so for years they worked toward achieving voting, property and education rights for the poor African Americans of Alabama's farm county.
As an activist, Robinson co-founded the Dallas County Voters League in 1933 and holding African-American voter registration drives in Selma from the 1930s through the '50s.
In a bid to help fund a community center in Selma, Alabama, Robinson wrote a play, 'Through the Years' which told the story of the creation of Spiritual music.
In 1954 the Boyntons met Reverend Martin Luther King, Jr. and his wife Coretta Scott King at the Dexter Avenue Baptist Church in Montgomery, Alabama, where King was the pastor.
By 1960, Robinson's home and the office had become the center of Selma's civil rights battles, used by King and his lieutenants, Congressmen, and attorneys to plan the demonstrations.
After her husband's death, in a bid to inspire black registration and voting, Robinson ran for Congress from Alabama, becoming the first female African American to run for office in Alabama and the first woman of any race to run for the ticket of the Democratic Party in the state, but she didn't win.
In 1964 and 1965 Robinson worked with King, James Bevel, and others of the Southern Christian Leadership Conference (SCLC) to plan demonstrations for civil and voting rights.
Fearless Robinson helped organize a march to the state capital of Montgomery, on March 7, 1965. About 600 protesters participated in the event, which would come to be known as "Bloody Sunday."
It happened on Edmund Pettus Bridge, over the Alabama River in Selma as marchers protested, they were attacked by policemen with tear gas and billy clubs. The police officers pumped tear gas into Robinson's eyes and throat; beat her until she became unconscious and was left to die.
The dreadful image of the 52-year-old beaten and injured woman, lying in the arms of a fellow protester became an iconic image of police brutality and helped secure voting reform in the state for black people.
At the time of the protest in 1965, Selma had a 50 percent black population but only 300 of the town's African-American residents were registered.
Robinson and 16 others who were beaten ended up at the hospital. She did not give up, 48 hours later she discharged herself from the hospital to join Dr. King on a second march to Montgomery.
She became known around the world and Bloody Sunday drove President Lyndon B. Johnson to sign the Voting Rights Act on August 6, 1965, with Robinson as the ground-breaking event's guest of honor.
Following the passage of the Voting Rights Act of 1965, by March 1966 some 11,000 persons were registered to vote.
Robinson continued to promote civil and human rights in Tuskegee where she also served as vice-chair of the Schiller Institute.
Her autobiography was published in 1991. In the book "Bridge Across Jordan" Robinson pens her more than five decades of experience on the struggle for racial equality and social justice.
In 1990, Robinson was awarded the Martin Luther King Jr. Medal of Freedom.
In 2014, the film Selma immortalized the 1965 event. Robinson, then 103 years old, was unable to travel to see the film so Paramount Pictures set up a private screening in her home to include her friends and family and according to CNN, she said the film was fantastic.
In the same year, the film showed Selma City Council renamed five blocks of Lapsley Street as Boyntons Street to honor Amelia Boynton Robinson and Sam Boynton.
In March 2015, Robinson attended the State of the Union Address at the invitation of President Barack Obama and was at Obama's side in her wheelchair as he and others marched across the Edmund Pettus Bridge during the Selma Voting Rights Movement's 50th anniversary celebration.
Robinson died aged 104 in 2015. However, some in her closest circles maintain she was 110.