Jonathan Strickland became the youngest male black pilot in aviation history in 2006 to solo an airplane and a helicopter on the same day at the age of 14.
He first soloed in a Cessna-152 at the Pacific Flying Club at Delta, British Columbia's Boundary Bay Airport. He then traveled 20 minutes to Heli-College Canada Training Center at Langley Airport where he made a solo flight in a Robinson R22.
His two-day trip ended with an estimated 1,000 miles at Compton Woodley Airport on July 1, 2006, earning him four world records; the youngest person to solo both a helicopter and airplane on the same day; the youngest African American to solo a helicopter; the youngest African American to fly a helicopter internationally, and the youngest African American to fly a helicopter on an international round-trip.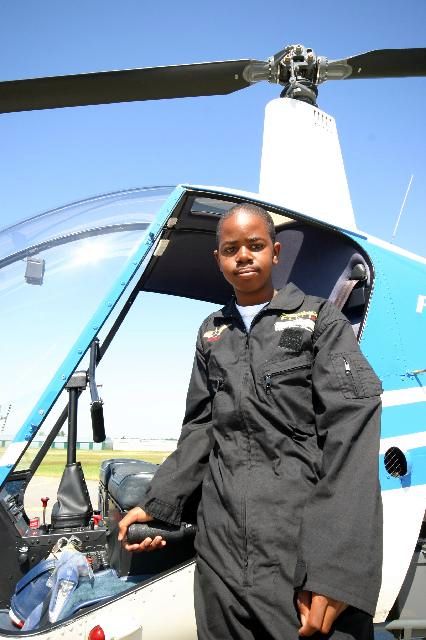 At the age of 16, Strickland had become the youngest black pilot to solo six airplanes and one helicopter at Compton Woodley Airport, earning additional two new world records, according to reports.
Strickland reportedly soloed a Robinson R44 helicopter, a Cessna 172RG, a new glass-panel Cessna 172 SP, a Piper Warrior, a Sting Sport LSA and a Remos LSA – all within six hours.
In the April 6, 2010 edition of "Plane & Pilot" , Marc C. Lee, attests that Strickland, a Los Angeles resident, has been flying since he was an 8-year-old. "A pilot friend who flew for Delta took him for a ride in a Cessna 182 and this 8-year-old was "hooked". He continued to fly the 182 with his friend "whenever he could," Lee revealed.
Following his world breaking records, Strickland received many awards and commendations from President George W. Bush, the Los Angeles Chapter of the Tuskegee Airmen, the City of Inglewood, the City of Compton,Milwaukee Academy of Aviation, Science & Technology, the Organization of Black Airline Pilots, Boeing, United States Air Force Academy, and Embry- Riddle Aeronautical University amongst others.
In 2010, he earned his Commercial Pilot's Certificate on his 18th birthday and subsequently earned his rating as a certified flight instructor qualified to pilot a multi-engine commercial plane.
Strickland later started college at Embry Riddle Aeronautical University in Long Beach, California, majoring in Aviation Business Administration and he was paying for his school tuition as a commercial and private jet instructor for Lear Jet Systems.
With six titles under his belt and rising to become one of the youngest commercial airline captains in the United States at 23 years old, Strickland is among the world's youngest commercial airline pilots.
And at 25, he once again made history as the youngest pilot hired by UPS in their 110-year history.
Describing Strickland in honour of the 2017 National Aviation Day, his employer described him thus on Facebook: "His incredible work ethic and support from groups like Young Eagles and the Organization of Black Aerospace Professionals have helped Jonathan achieve his goals. UPS is proud to partner with OBAP and Jonathan, and we can't wait to see where his career takes him next."
Last Edited by:
Editor
Updated:
September 25, 2023