Bir Tawil is a piece of land in the middle of nowhere in Africa that no one wants. It is ruled by no state, inhabited by no permanent residents and governed by no laws. It is actually the last unclaimed land on earth.
The desert territory of Bir Tawil is sandwiched between Egypt and Sudan, but neither side lays claim to the land. The size of the land is 2,060 km² (800 sq mi). On Egyptian maps, Bir Tawil is shown as belonging to Sudan.
Meanwhile, on Sudanese maps, the land is demarcated as part of Egypt. Legally, Bir Tawil is widely known as "Nobody's Land" (Terra Nullius) and it's the only place on the planet with such status.
Border disputes between Egypt and Sudan dating back to 1900s resulted in neither country wanting to claim Bir Tawil. Several people and organizations have since tried to stake claim to the land, but no international organization has recognized these attempts.
The land is said to have no fixed population, no coastline, no surface water and no arable soil for a cutting-edge agriculture.
According to The Guardian, there are two choices available to get to Bil Tawil. The first is to fly to the Sudanese capital Khartoum, charter a jeep, and follow the Shendi road hundreds of miles up to Abu Hamed, a settlement that dates back to the ancient kingdom of Kush.
The second option would be to approach from Egypt through the southernmost city of Aswan, down through an area lying between Lake Nasser to the west and the Red Sea to the east. Although the area has been declared a restricted zone by the Egyptian army, one can only get near the border by obtaining permission.
In the past years, many travelers, especially non-Africans have attempted to claim the land. In June 2014, a 38-year-old farmer from Virginia named Jeremiah Heaton laid claim to the land.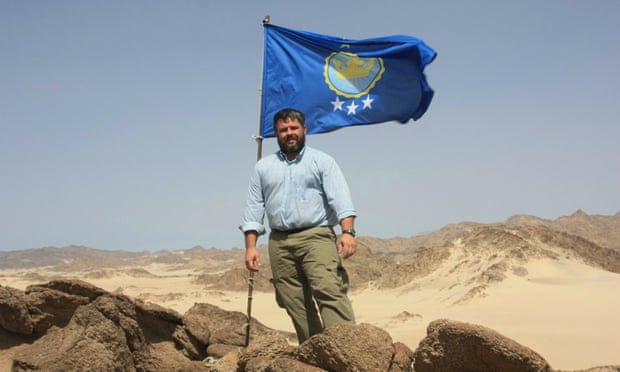 He wrote on his Facebook page, "that Bir Tawil shall be forever known as the Kingdom of North Sudan. The Kingdom is established as a sovereign monarchy with myself as the head of state; with Emily becoming an actual princess."
Emily, Heaton's six-year-old daughter at the time had asked her father if she could ever be a real princess; and his birthday present to her that year was to trek there and turn her wish into a reality.
Other people have also laid claim on the land. Suyash Dixit, an Indian also christened Bir Tawil "the Kingdom of Dixit". He said he planted sunflower seeds in the desert when he visited. He announced himself as Bir Tawil's prime minister and made his father its president.
Dmitry Zhikharev, a Russian radio professional and globe trotter also calls it the "Kingdom of Middle Earth". He was said to have written a letter to the Russian website 'TJournal' stating that both Heaton and Dixit faked their visits to Bir Tawil.
Zhikharev claims to have visited Bir Tawil in December 2014, shortly after Heaton said he did and announced he was its king.
Beyond the claims, those who have visited Bir Tawil describe it as one of the most amazing and beautiful desert scenery. There are reportedly numerous camps and mines as well as shops, restaurants, satellite homes and good food.
Maybe, just maybe, you can add it as one of your vacation destinations during a post-COVID era.