A Maryland entrepreneur, Cindy Tawiah, is revolutionizing the beauty industry.
She launched the first-ever automated vending machine that sells natural hair care products in 2009.
Her company, "Diva By Cindy", is an all-natural and alcohol-free haircare brand with extreme detangling abilities.
Her journey into the beauty industry started at the age of 16 when her chemistry teacher taught her how to make hair products and that inspired her love for beauty products and the desire to create the best for women.
The former Registered Nurse and veteran salon owner, who is a Ghanaian national said it took her three years of research and passion to bring these proven products.
According to her, Diva By Cindy is for a woman who wants: Beauty, Excellence, and Elegance in her hair. "DIVA" stands for Divine, Inspired, Virtuous and Anointed.
She pursued a career in the medical field and has worked as a Registered Nurse for 13 years before she eventually decided to pursue her dream as an entrepreneur.
Tawiah opened her first salon, "Shades of U" in 2004 and subsequently developed her hair care brand three years later. She has been interviewed and featured on the Tom Joyner Morning Show, Baltimore's WMAR-TV and Fox 45, and in the Essence Magazine.
Cindy Tawiah is not your regular entrepreneur. She cares a lot about helping other women. She is currently offering franchise opportunities that help women entrepreneurs become successful.
Tawiah calls herself the 'Metamorphosis Mentor'.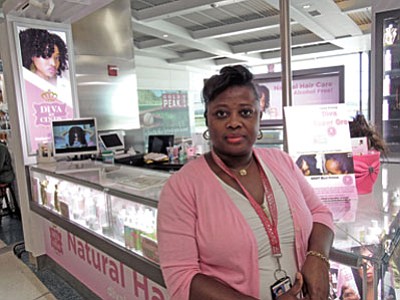 She uses proceeds from the sale of her hair products to support victims of domestic violence under a program called the "Diva Project." A percentage of the product's proceeds also goes toward supporting homeless women and victims of domestic violence.
The Diva Project provides wellness services, workshops, and counseling for women victims of domestic violence and abuse. At her salon, she hosts a day where some of these victims can come in for a day of healing, restoration, and transformation. Meals are provided and the women can be mentally, emotionally and spiritually refreshed.
From 2004 through 2009, twice every year through the Donate to a Diva project, 250 gift bags have been provided to women in nine different shelters throughout the MD, DC, VA area with product donations from various companies like Maybelline New York, Brown Sugar Candle Company, and Diva by Cindy.
In her book titled 'Metamorphosis: Finding Your Purpose, Finding Your Passion, Finding U', she talked about the six principles that guide her products and inspire her philanthropy as well as her life.
The six guiding principles are prayer, passion, perseverance, persistence, presence, and positivity. "This "feel good, do good" haircare brand is taking off and changing the world "one diva at a time!", she stated.
Her products are available on her own and in automated vending machines throughout various locations in the Baltimore area – including Arundel Mills Mall, Giant, Giant Eagle, Tops, Walmart.com and BWI airport.