Four years ago, some parents in Gemena – hundreds of miles north of DR Congo's capital, Kinshasa – were happy at an opportunity and allowed their children to go on what was supposed to be a holiday camp to the city.
Unknown to them, their decision marked an almost end to their chances of ever seeing their children again.
Thanks to two Belgian journalists, Kurt Wertelaers and Benoit de Freine, what these parents thought was a case of their children going missing, or probably dead, emerged to be a case of child trafficking to Belgium.
In Belgium, their children were kept in an orphanage while some of them were given up for adoption.
Today, these parents, who have each kept photos of their children while praying and hoping that they return to them, might just be on the verge of seeing those children again. But it won't be an easy puzzle to untangle.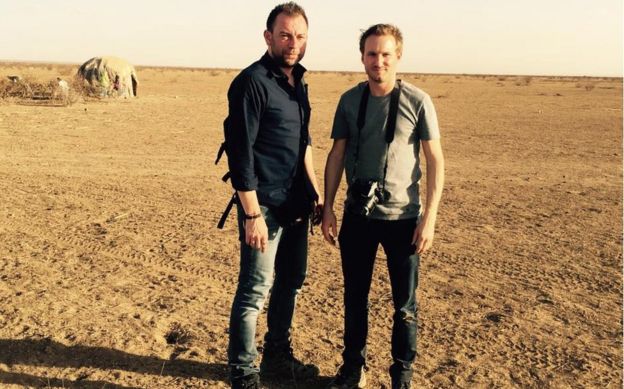 A court in Belgium is digging into the case of the orphanage (Tumaini orphanage) where the four children (three girls and one boy, then aged between two and four) were kept and given up for adoption. It is being investigated for alleged abduction and trafficking of children from the DRC.
With parents of these children still alive and believed to have never given up their children for adoption or otherwise, there is a dilemma over who can legally claim ownership of the children. Either the adoptive parents of the children in Belgium (who went through legal processes to adopt them) or their biological parents (who were kept out of the picture because of the criminality behind how their children were taken from them).
"Taken on the day she left for Kinshasa, she was so happy. We'll never get the chance to go to Kinshasa. We can't afford the plane ticket. But she got the chance, and it made us proud," Abdula Libenge, a 34-year-old tailor and father of one of the children described the last day he saw his daughter.
Till now, and without access to legal representation or assistance from local authorities, all these parents could do was wait.
Wertelaers and De Freine got wind of an inquiry into adoption fraud in their country, Belgium, and decided to follow up on the case to the DRC. It was in Gemena that they traced the families of the children who gave them even more details and evidence on their 'missing' children.
Thereafter, the journalists presented their evidence to public prosecutors in Brussels who then traveled to Gemena to gather DNA. The tests proved positive.
The DNA demand has applied to all Congolese children adopted in Belgium from November 2013 and comes as an 18-month investigation builds up ahead of steam.
It has emerged from these DNA tests that for some of these children, they were not orphans as the adoptive parents in Belgium have been made to believe.
"This is a drama. How do you explain such things to those children? Not to mention the pain that real parents must feel in the Congo," Lorin Parys, a Flemish politician with an adopted son, told the Het Nieuwsblad newspaper.
In many cases, the names of these children were changed. At least the three girls, named as Samira, Zakiatu and Jaëlle, have had their names and birthdays changed.
For the biological parents of these children, they have only one wish: to recover their children but deep down, they have no illusions anymore. "Give us at least the chance to connect with our children or adoptive parents. Who knows, one day, our children will return."
On the other hand in Belgium, the adoptive parents react saying, "Never have we known the true facts. We just wanted an orphan for a better life. Grow up in a warm, loving nest. We never wanted to snatch a child from his biological parents."
In September 2013, Congolese President Joseph Kabila suspended exit permits for adopted children from the central African nation, causing uncertainty for hundreds of children assigned to foreign families.
More than 80 Congolese children were illegally taken out of the country two years before this decision, with testimonies showing that adoptive parents were paying networks of local brokers.
Explaining the decision, Congolese authorities said it was due to concerns and investigations over child abuse in U.S. households, but campaigners say the move has created a lucrative trade in which children are smuggled across borders for a price.
With a population of about 68 million, the DRC is home to over four million of Africa's orphaned children, according to the U.N. children's agency UNICEF.
U.S. State Department figures show DRC was one of the most common countries for international adoption by U.S. parents alongside China, Ethiopia, and Ukraine. Between 2010 and 2013, the U.S. Department of State reported that adoptions from the DRC by its citizens rose 645 percent.
Parents in Gemena DRC sent their kids to a holiday camp in Kinshasa and they never returned. Years went by, they thought they had died. Then a journalist came to the village and told them the kids were in Belgium. That journalist @KurtWertelaers on DW Africa pic.twitter.com/ePt90D8tqD

— Christine Mhundwa✌? (@mhundwa7) August 14, 2019