What might mean the world to a group of people might have no depth to another sect. However, when the true meaning of a situation is revealed, others can then be empathetic.
Such is the case of Color of Change, a civil right group whose advocacy delves into the use of former slave plantations as wedding venues and described as breath-taking sceneries by vendors who use the grounds.
The group's aim is to get wedding planning companies to stop promoting the venues outright.
Now two big online wedding planning sites, Pinterest and the Knot Worldwide are adjusting their metrics to warn users who search for "plantation venues" on their site.
This stems from Color of Change's letters to them to stop romanticizing plantations as the must have venue for weddings, spokespersons of both websites relayed to Buzzfeed News earlier this week.
"If we were talking about concentration camps, it would be weird and disrespectful and egregious for folks to be seeking to have their weddings at these locations," the group's vice president, Arisha Hatch, told BuzzFeed News.
"We're trying to elevate public awareness around the ways in which corporations can enable such disrespectful behavior."
The intermediaries of the wedding industry like Pinterest and The Knot were their target because they "have less of a stake in continuing to promote these" venues, Hatch said.
"While it won't end the practice entirely, [this campaign] will hopefully begin to shift how the broader public thinks about this sort of celebration," Hatch added.
The companies have set things in motion to address the concerns raised by Color of Change.
Pinterest, which is a photo inspiration website is working with Google to ensure that searches with plantation wedding as their keywords don't produce results from their site.
On their website itself, users may be able to search for plantation weddings, but there will be a clear warning indicating that the search may be in violation of the website's policies.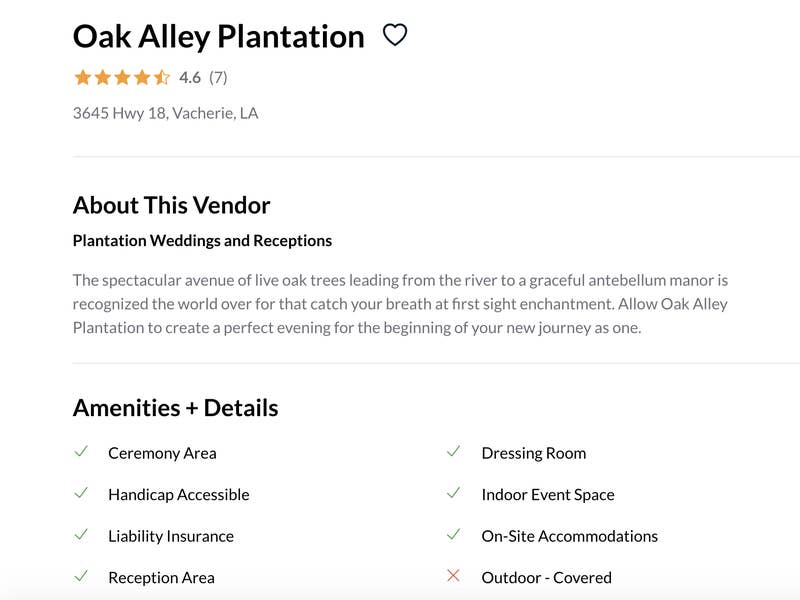 The Knot, however, is collaborating with Color of Change to get vendors to change their diction with regards to how they are described on their websites.
This is purposely so that plantations can't be described or labelled as 'elegant' or 'charming.' This new policy does not pertain to vendors who list plantation venues only, but it will cut across to all vendors who are listed on The Knots's website.
Other wedding planning websites like Martha Stewart Weddings, Zola and Brides received letters from Color of Change to cease the promotion of these venues. So far, the civil rights group is yet to get an official reply from them.
Nonetheless, Emily Forest, a communications manager for Zola spoke with Buzzfeed News on the issue at hand and her company says, "it did not violate our non-discrimination policy."
"While we may not always agree with couples on all of their wedding details, we also respect their right to choose where and how they want to get married," Forrest added.
Hatch is on to something despite Zola recognising what the real problem is. Plantations still bring horrific memories to many black people.
"Too many in the wedding industry fail to recognize plantations as sacred spaces, where the bodies of many Black people's ancestors are buried in unmarked graves to this day."
That notwithstanding, "the wedding industry makes hundreds of millions of dollars in profit by promoting plantations as romantic places to marry, and in doing so, routinely denies the violent conditions Black people faced under chattel slavery," Hatch told HuffPost via email.
To Hatch, the place where their ancestors were tortured under gruesome conditions should not be described as 'charming', 'elegant' or 'sumptuous.'
With all this hullabaloo about plantation weddings couple are still booking the venue for their wedding although it has been widely criticized.