It's unusual to secure a job after a Supreme Court ruling but such was the case of Marlon Dewitt Green who became the first black pilot of Continental Airlines after a six-year battle. Green's landmark United States Supreme Court decision in 1963 helped dismantle racial discrimination in the American passenger airline industry.
While Green's case was at the Supreme Court, David Harris had the good fortune to be hired by American Airlines, making him the first African-American pilot for a major airline in 1964. Green was subsequently hired by Continental Airlines and flew from 1965 to 1978, becoming a captain in 1966. Continental Airlines would later honor its first black pilot by naming the Boeing 737-824 (N77518, cn 31605) "Capt. Marlon Green" after him in 2010.
Green was born in El Dorado, Arkansas on June 6, 1929. Curiously, he briefly attended Epiphany Apostolic College in Newburgh, New York, with plans to become a priest. At the end of 1947, however, he parted ways with the institution and joined the U.S. Air Force on February 5, 1948, with hopes of becoming an aircraft mechanic.
Over the course of nine years in the U.S. Air Force, Green flew a variety of multi-engine aircraft, including bombers, mid-air refueling tankers, and amphibious rescue planes, and served at various airbases. His last posting was flying the SA-16 Albatross with the 36th Air Rescue Squadron at Johnson Air Base in Tokyo, Japan.
In early 1957, Green resigned his commission to pursue his goal of becoming a commercial airline pilot. He wanted to earn more money to support his family and so applied for a pilot position with Continental Airlines. In June 1957, Continental Airlines, based in Denver, Colorado, invited him to take a flight test, unaware of his race because he had not included a photo of himself with his application, according to reports.
Even though he passed, he was not hired. Instead, five other white, ex-Air Force applicants, who had far less experience than he had, were hired. Realizing that he had become a victim of racial discrimination, he filed a complaint with the Colorado Anti-Discrimination Commission (CADC) which ruled that Continental had to admit Green to a training class. The airline, however, refused and took the matter to the Denver District Court. The case eventually landed at the U.S. Supreme Court.
On April 22, 1963, following oral arguments on March 28, the United States Supreme Court ruled in "Colorado Anti-Discrimination Commission v. Continental Airlines, Inc. 372 U.S. 714 no. 146" that Green had been unlawfully discriminated against.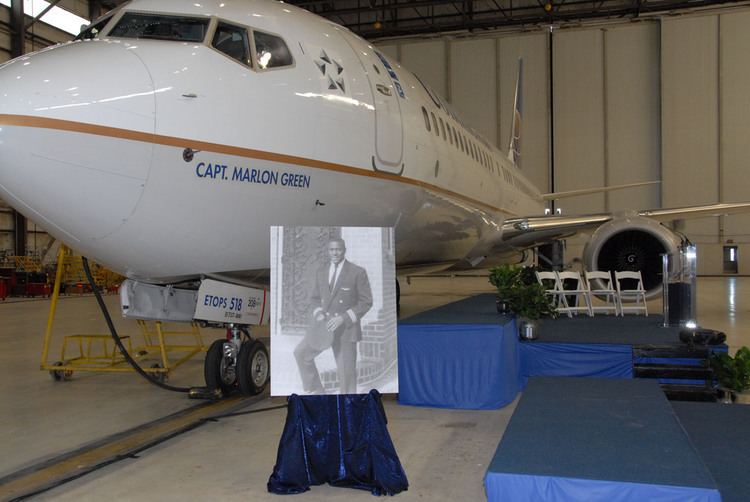 Breaking the airline "color barrier," Green opened the doors for hundreds of other minority pilots, and the Organization of Black Airline Pilots was formed following his victory.
Green received the Lifetime Achievement Award from the Organization of Black Airline Pilots in 2003 and was inducted into the Arkansas Aviation Historical Society Hall of Fame in 2005. He was also included in the permanent "Black Wings" exhibit at the Smithsonian National Air and Space Museum in Washington DC.
Green died on July 6, 2009, in Denver aged 80. He remarried four times and was survived by three daughters and three sons. He donated his body to science.