For lovers of African comics, there is a new badass superheroine in town called Ement Legesse. She is starring in Ethiopia's first female superhero comic, Hawi. The comic, which is produced by founder of Etan Comics, Beserat Debebe, follows Legesse, a young Ethiopian woman who is on a quest to liberate her mother after she is abducted.
Debebe released his first comic, Jember, last year – the first ever Ethiopian superhero comic which explored the ancient East African civilization known as the Kingdom of Punt.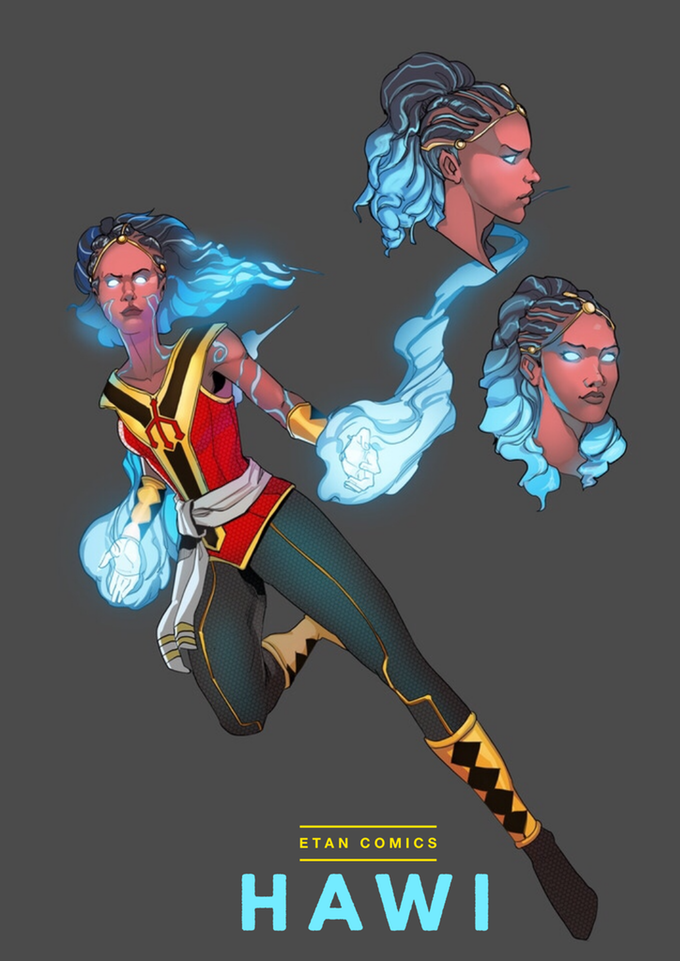 He is now back with a female superhero in a comic with stunning colourful visuals that showcase the talents of his team of African artists and their "unique ability to capture the vibrancy of Ethiopia," according to OkayAfrica.
The 29-year-old's comics, so far, feature African characters that cater to the need for greater representation.
"I wish I had seen an Ethiopian superhero growing up," said Debebe. "I would have embraced my ability to make a difference earlier and acted on it."
Debebe believes that the way people think about themselves is often the main barrier to their own progress and he wants his superheroes to remove those barriers.
According to the synopsis of the female comic book superhero, the young Ethiopian woman, Legesse, lived in America with her mother but desperately wanted to visit Ethiopia on a guided tour.
The opening scenes of the book show that her mother is against the idea as Legesse can barely speak their native Amharic language. She can also be kidnapped as many young girls have been abducted in Ethiopia, the mother fears.
Legesse becomes frustrated that her mother wouldn't allow her to visit her home country. Eventually, the two visited Ethiopia, only for Legesse's mother to be kidnapped. This is where the story actually begins as Legesse must now embark on a "life-altering adventure embedded with historical conflict."
Hawi is inspired by the story of a 10th century AD Ethiopian Queen, Yodit Gudit, who is known for the destruction of the Axumite empire. In Amharic (Ethiopian national language), she is nicknamed "Esato", meaning "Fire".
This is due to her reputation of burning architectural landmarks and churches after being victorious in battle. Shreds of evidence of her destruction still remain in the rock-hewn churches of northern Ethiopia.
Her inclusion in the comic does not only represent a great deal of the book's female representation but helps the series to highlight the often forgotten queendoms and kingdoms that were prominent in the country's past, CBR writes.
Hawi is almost complete and will be available in Amharic and English. Debebe has, meanwhile, set up a kickstarter to cover the remaining costs of production.
In recent years, African superheroes have been saving the continent's growing comics industry. A group of African illustrators and storytellers are shaking up the comic book universe with a wave of African superheroes doing battle in reimagined African landscapes.
One of the most famous is the superbly illustrated Sango wielding his double-headed axe in one of the "Visionary: Ascension" series released by the Lagos-based company, Comic Republic.
Led by CEO Jide Martin, who founded the company in 2013, Comic Republic has churned out more than a dozen Nigerian characters who are finding an enthusiastic audience in Africa and beyond. It is interesting to note that nearly half of Comic Republic's characters are female.
There's Irete, who stars in a series named after her. She's a crime-fighting archaeology student whose powers suggest she is a reincarnated African queen.
Avovome, another creation from Comic Relief, is the story of an Edo woman who disappeared in 1930 without a trace but reappeared in recent times in a cemetery with no memory of who she was or where she has been, except the ability to see spirits.
Aisha, written and illustrated by Muyiwa Gbadegeson, Sunkani Akinboye and published by Pandora Comics, features a street orphan turned ninja crime-fighter who is battling powerful but mysterious criminal forces on the streets of Lagos.
Mainstream superhero franchises are unimaginably lucrative. For instance, the Superman story alone has been retold and reimagined through eight movies in 38 years, which has earned $872 million according to the-numbers.com – the top nine Batman films grossed over $1 billion.
It may take a while for African superheroes to generate that kind of revenue, but the comics are already proving their popularity with international audiences.