Wendell Scott, a black Virginia native, made history when he raced on the starkly white NASCAR circuit through racism in the sixties.
Despite the discrimination in the Jim Crow South, Scott became the first African-American to start a NASCAR and black to win a race in the Grand National Series, NASCAR's highest level.
According to USA TODAY, it took 50 years for another black driver – Darrell Wallace Jr. – to win in any of NASCAR's top three series, and that victory came in the third-level Camping World Truck series.
Born August 29, 1921, in Danville, Virginia, Scott must have gotten his driving skills from his father who worked for wealthy white families as a driver and auto-mechanic. At a very young age, his father started teaching him about it.
Scott was drafted into the army to fight in World War II. When he returned from the war, he opened an auto repair shop, a profession that would lead him into car racing.
He soon learned how to build and drive fast cars. He had always wanted to race in NASCAR. He tried to get in but the NASCAR officials refused because he was black.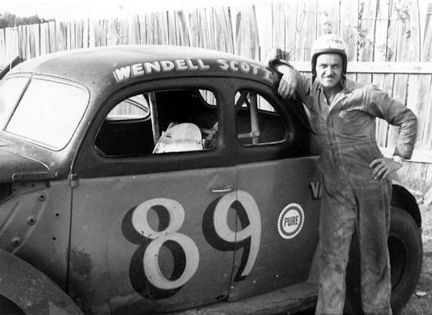 Scott recalled, "I had tears in my eyes."
They kept rejecting him because they didn't want a Negro driving their car. Scott decided to race with the Dixie Circuit and other non-NASCAR speedways but racing in NASCAR was his dream.
Twelve days into his racing career, Scott won his first race at Lynchburg, Virginia. Though it was a race in the amateur class, the victory meant the world to Scott. He was discriminated against and some discriminatory drivers would wreck him deliberately, but he always avoided fighting back.
During an event at Richmond Speedway in 1953, Scott persuaded Mike Poston, a NASCAR steward, to grant him a NASCAR license. He spent almost nine years at the regional level before moving up to the Grand National division in 1961.
Scott debuted in the Spartanburg 200 and two years later, he won the Jacksonville 200 to become the first black driver to win a race in NASCAR's top division.
Officials initially flagged Buck Baker as the winner and gave him the trophy in victory lane instead of Scott. A check of scorecards later revealed that Scott actually won the race, but then he missed the victory lane ceremony.
On December 1, 1963, Scott took the checkered flag at Speedway Park in Jacksonville, Florida, the first and only African American to have a NASCAR win until his record was broken in 2013.
He was reportedly the only black NASCAR driver throughout his career. Not only was Scott the first African-American in the sport, but has also been credited as the most successful.
He competed in a total of 495 national races in NASCAR's top series from 1961 through 1973 when he retired.
Scott did not live to see his induction into the NASCAR Hall of Fame in 2015. He died from spinal cancer in 1990. The film 'Greased Lightning', starring Richard Pryor as Scott, was based on Scott's life. According to Jacksonville, it took Scott's family 47 years to get a replica of a trophy he won at Jacksonville's Speedway Park in 1963.
A NASCAR Wendell Scott Sr. Scholarship had been created in his honour.