Major Seynabou Diouf, a Senegalese police officer, has received the 2019 United Nations Female Police Officer of the Year award.
Diouf has been acting internally and externally to address the issue of Sexual Exploitation and Abuse (SEA) in MONUSCO. She's steered sensitization campaigns with local police officers and worked with the SEA victims and vulnerable women who have been aided to be self-dependent.
She received her award during the 14th United Nations Police Week, which had in attendance heads of UN police components and police experts from 14 peacekeeping operations, special political missions and regional offices. There were 30 nominations from eight missions but Diouf emerged winner.
According to the UN in Kiwanja, 80 km from Goma, the MONUSCO women network led by Major Diouf has assisted victims of sexual violence in their empowerment, by giving them sewing machines and accessories to enable them to learn a trade. 
Major Diouf, a UNPOL staff since 2017 has been serving in the United Nations Organization Stabilization Mission in the Democratic Republic of the Congo (MONUSCO).
She leads the Task Force Sea-Welfare and she is a member of Gender Task force in charge of CRSV (Conflict Related Sexual Violence) and the president of the MONUSCO UNPOL women network.
Congratulating her at the award ceremony, UN peacekeeping chief Jean-Pierre Lacroix commended her for her dedication in combating sexual exploitation and abuse.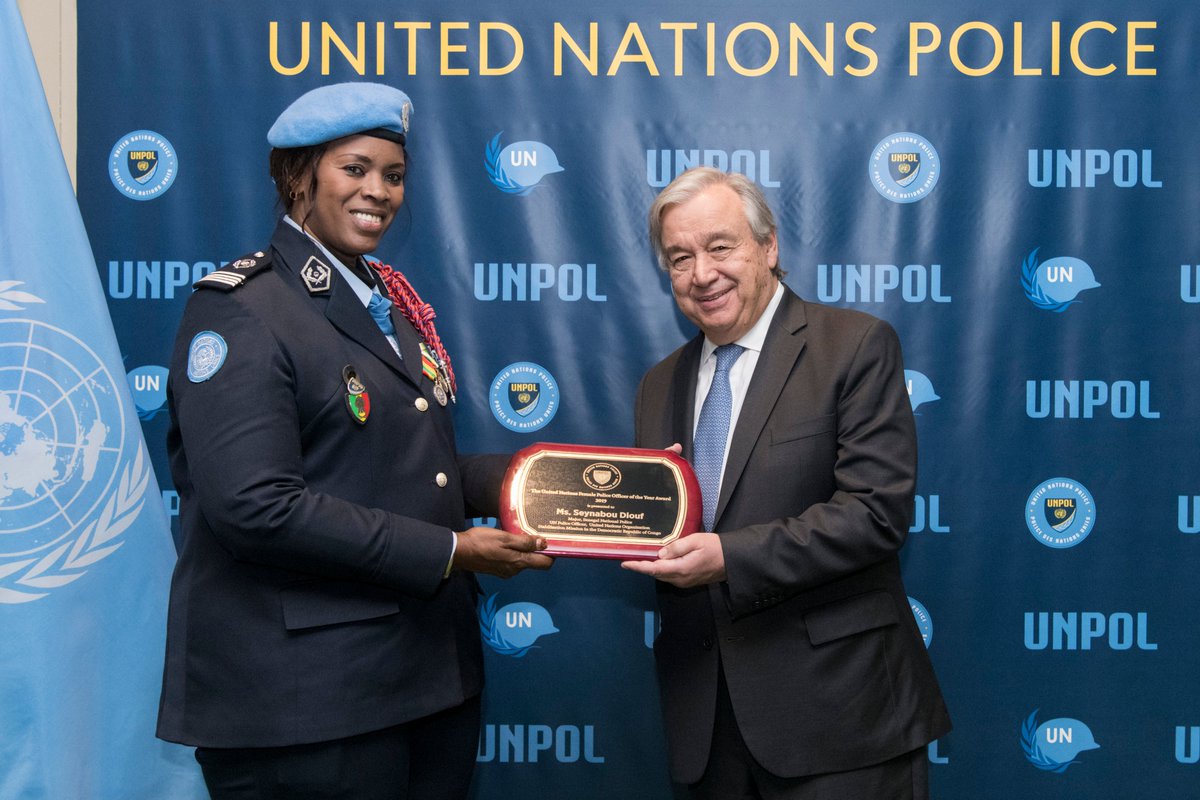 "In all our Missions, female officers are a key element in the sensitization and the delivery of training on Sexual Exploitation and Abuse," he said.
"This part of female officers' networks, such as the one that Major Diouf leads in MONUSCO, they help prevent, counter and investigate SEA related offenses, advancing the Organization's zero tolerance policy," Lacroix said.
Reminiscing her early age and what informed her choice of carrier, Diouf said: "I wanted to be a medical doctor but there was an urgent need to help support my family. Being a police officer in the early years of female recruitment provided recognition and a decent salary, but it also allowed me to contribute to society in ways I had never thought possible".
For her, this award is a motivation to do even more than she's already doing.
"Nothing motivates one more than recognition for hard work. I feel motivated to do more and I promise to continue promoting women's rights, speaking out against sexual gender-based violence, and also speaking out and fighting marginalization and discriminatory customary and religious practice targeted at women and girls," Major Diouf said on receiving the award.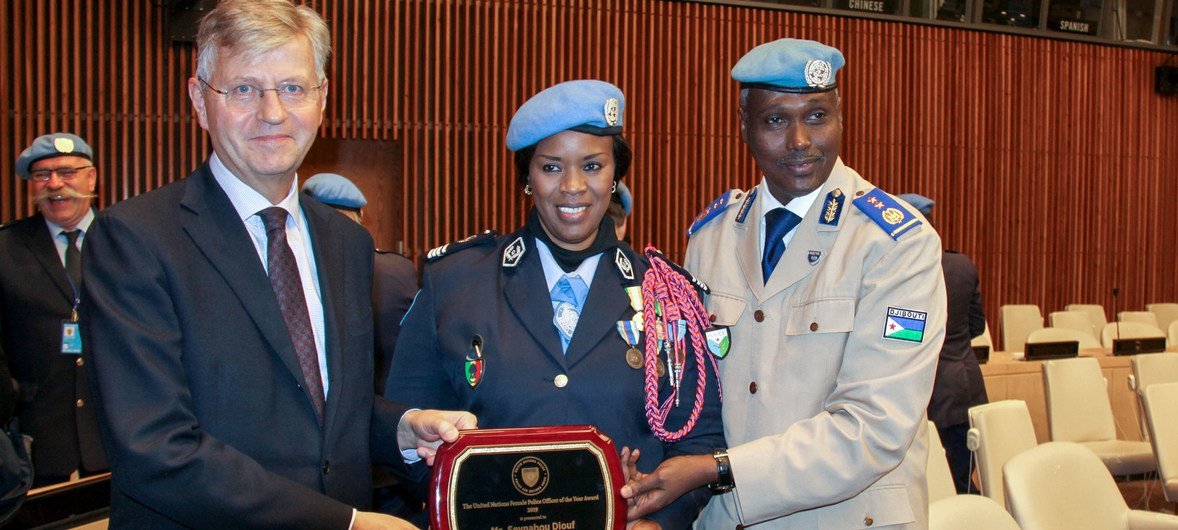 The United Nations Female Police Officer of the Year award was established in 2011 to recognize exceptional contributions of female police officers to UN peacekeeping. An officer who has distinguishes herself, through her exemplary conduct performance and outstanding achievements, and has had a significant impact within her area of responsibility on mandated policing tasks merits the award.
Also, the award aims to establish a role model for women police officers serving in peace operations and to promote the UN Secretary General's Gender Parity Strategy and DPKO's Uniformed Gender Parity Strategy through encouraging Member-States to deploy more female police officers to peacekeeping and special political missions.
Some of the past awardees are Ghanaian police officer Phyllis Osei (2018), Assistant Inspector of Police Annah Chota from Zimbabwe (2017) and Police Superintendent Yvette Boni Zombre from Burkina Faso (2016).
Watch Major Diouf's speech here: