Vinnette Justine Carroll's professionalism in theatrical arts paved way for black professionals in the industry.
She was Broadway's first black woman director who brought African American-oriented musical theater to a wider public in the 1970s.
In a bid to capture the richness and variety of life through music, theater, and dance, Carroll facilitated the development of a new form of theater, "the gospel song-play".
She was born on March 11, 1922, in New York City to Florence and Edgar Carroll. At the age of three, her family moved to Jamaica where she would spend most of her childhood in the West Indies.
Carroll earned a bachelor's degree from Long Island University. She pursued a Master's degree at New York University and a Ph.D. in psychology at Columbia University.
According to AAREG, Carroll's father wanted his daughters to become physicians so as a compromise, Caroll chose psychology and worked as a clinical psychologist with the NYC Bureau of Child Guidance.
She left clinical psychology and decided to pursue a career in acting. In 1948 she got a scholarship to attend the Erwin Piscator's Dramatic Workshop at the New School for Social Research.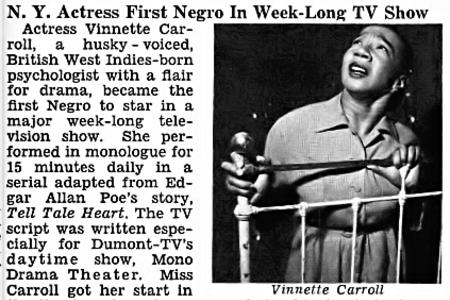 Carroll made her professional stage debut at the Falmouth Playhouse acting in Androcles and the Lion. Her Broadway acting debut started in 1956 when she appeared in a revival of A Streetcar Named Desire.
In 1962, she won an Obie Award for her role in Errol John's Moon on a Rainbow Shawl. She also received an Emmy Award in 1964 for co-conceiving and supervising the TV program 'Beyond the Blues'.
In 1967, she founded the Urban Arts Corps (renamed the Urban Arts Theater in 1980); an organization supporting minority performers in all theatrical disciplines in New York City.
She was an actress and playwright who expressed herself through gospel music. Carroll became the first African-American woman to direct a production on Broadway when "Don't Bother Me, I Can't Cope" opened at the Playhouse Theater in 1972.
As she increasingly made her mark in American theatre history, she had a fair share of racism too.
"I have had a great deal of hurt in the theater both as a Negro and as a woman, but I don't get immobilized by it," she told Los Angeles Times in an interview.
The gospel-infused musical revue premiered at Ford's on September 15, 1971, then transferred to Broadway on April 19, 1972, where it ran for 1,065 performances.
"Don't Bother Me, I Can't Cope" which was conceived by Carroll with music and lyrics by Micki Grant was a huge success so much that it was nominated for four Tony Awards.
Carroll followed up her Broadway success with another hit, an adaptation of The Gospel According to Matthew, Your Arms Too Short to Box with God which opened on Broadway in 1976 and was also nominated for four Tony Awards.
Carroll appeared in Up the Down Staircase (1967), Alice's Restaurant (1969), and other films. She also worked in television, and in 1964 she received an Emmy Award for Beyond the Blues.
Carroll, the first African-American woman to direct on Broadway and the only Tony-nominated African-American woman in the Directing category, was behind several productions that went to Broadway.
Carroll was the producing artistic director of the Vinnette Carroll Repertory Company; a church affiliated theater, located in Fort Lauderdale, Florida and built-in Carroll's honor.
In 1994 she directed her own version of 'Eden' by Steve Carter. Carroll died aged 80 on November 5, 2002, in Lauderhill, Florida.