A Nigerian scientist, Ernest Ezeajughi, made history Wednesday when he was sworn into office as the first black mayor of the London Borough of Brent, United Kingdom. Ezeajughi, a native of Anambra State, Nigeria, was elected mayor on April 16, 2019, by the College of Councillors on Brent, London, and was inaugurated at Brent Council's Annual Meeting and Mayor making ceremony held at Brent Civic Centre on May 1.
The impressive ceremony was attended by councillors from across the borough, representatives from Brent's voluntary and community organisations, as well as, several distinguished personalities including Ebere Obiano, wife of the Governor of Anambra State, and a representative of the Nigerian High Commissioner to London, Ambassador George Oguntande.
Inspired by his late father and former South African President Nelson Mandela, Ezeajughi began his political career as a member of one of the founding fathers of the UK chapter of a major Nigerian political party, the All Progressives Grand Alliance (APGA) and became Chairman in 2010-2012.
He subsequently joined UK politics and soon became a strong member of the Labour Party. Before his election as mayor, the father of four won election for a Councillor position representing Stonebridge ward at Brent Council in 2014.
He was reelected in 2018 and performed his duties incredibly well in a political environment dominated by white people.
Within a year, Ezeajughi was elected Deputy Mayor of Brent and was, until recently, Deputy Mayor of Brent.
During his term as mayor, the illustrious son of Anambra State said he would work towards uniting diverse communities and support charity work – both in London and in his home country.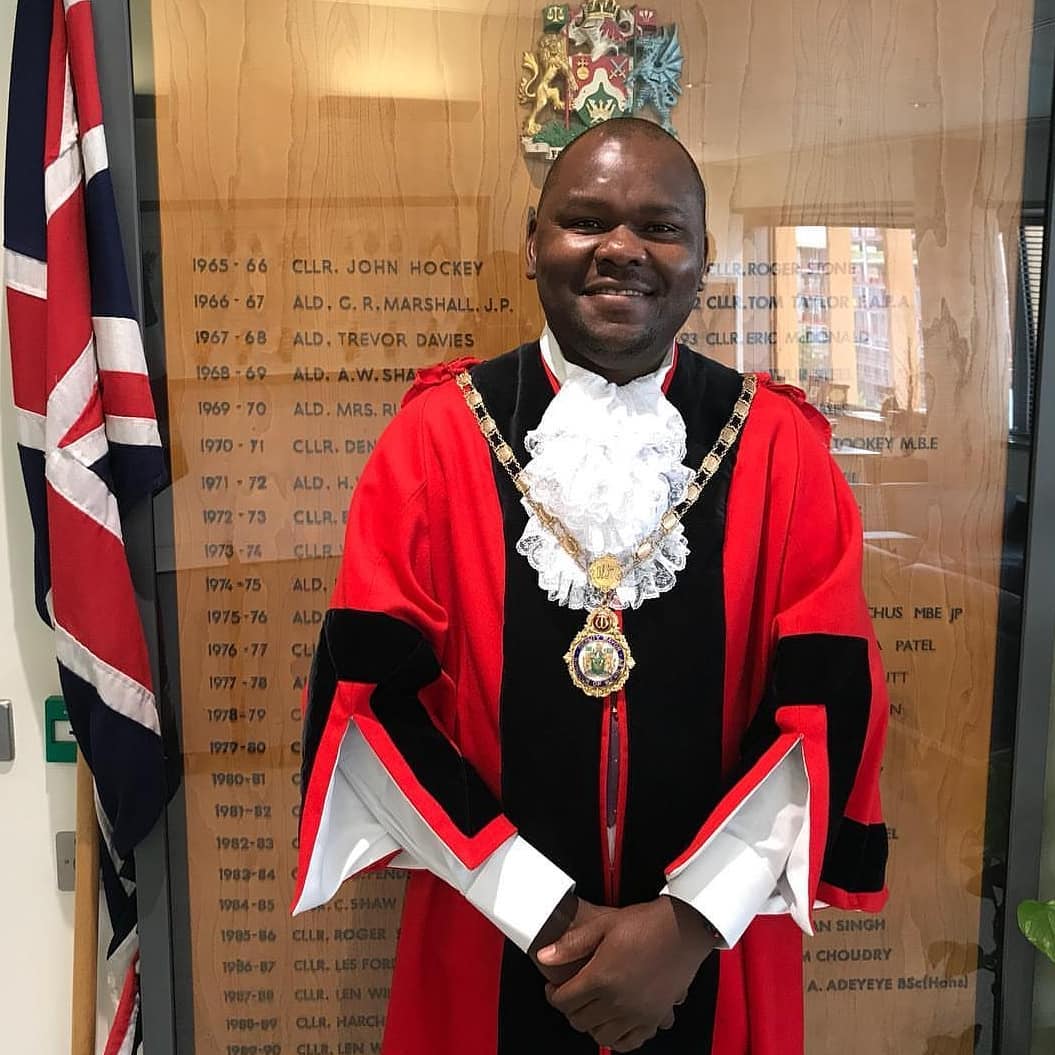 According to Brent, the mayor will be supporting two charities during his year in office:
Sickle Cell Society – First set up as a registered charity in Brent in 1979, the Sickle Cell Society is celebrating 40 years of working alongside health care professionals, parents, and people living with sickle cell to raise awareness of the disorder. The Society's aim is to support and represent people affected by a sickle cell disorder to improve their overall quality of life.
Jason Roberts Foundation – The foundation is a registered charity working to support young people to celebrate diversity and promote respect across the UK. The Foundation has worked with hundreds of children and young people from the Brent area. In recent years the work of the Foundation has broadened to provide a more holistic programme of support, including mentoring, life skills, education and training projects within its wider sports activities and has worked with young people at risk of offending, those excluded from school or struggling in the school curriculum, and young people with physical and learning difficulties.
"It is an amazing privilege and honour to be appointed as Mayor of Brent and to serve this great borough that I have called home since 2004. I gained inspiration from my late Dad to get involved in local politics.
"In my Mayoral year, I hope to be able to work with all of Brent's rich and diverse communities. I look forward to raising money for my two amazing local charities for the year," the new Brent mayor said during his inauguration.
Born in Awgbu Town, in Orumba North, Anambra State, Ezeajughi had his primary, secondary and tertiary education in Anambra and was actively involved in student union politics.
He attended Nnamdi Azikiwe University, Awka, where he studied Applied Microbiology. After graduation in 1998, he worked briefly in the family business before moving to England to join his wife in 2004. He has since lived in Brent.
While in England, he gained a Master of Science at Kings College London, and worked for several organisations, including the Royal Mail, Public Health England.
The scientist currently works for the Medicine and Healthcare Regulatory Authority (MHRA).
His latest feat comes on the back of Sanchia Alasia's, who was announced as the new mayor of Barking and Dagenham, a London borough in June 2018. The equality and diversity expert became the first woman from the Caribbean to hold such a position.
Below is a video of Ezeajughi's inauguration at Brent Civic Centre Wednesday evening: