Just a week after the visit of US Secretary of State Mike Pompeo to the country, Ethiopia has reportedly pulled out of expected discussions in Washington DC on amicable solutions to the problems of the Nile.
The meetings were scheduled for Wednesday 27 and Thursday 28, February. Sudan and Egypt, the other two major countries through which the Nile flows, were to be in attendance.
According to the Egypt Independent, Ethiopia's Ministry of Water released a statement on Wednesday morning saying it had already notified the US Treasury Department of Ethiopia's inability.
The Water Ministry statement reportedly said: "Ethiopia did not conclude its discussions locally with the relevant authorities on the dam, which prompted it not to participate in the tripartite negotiations."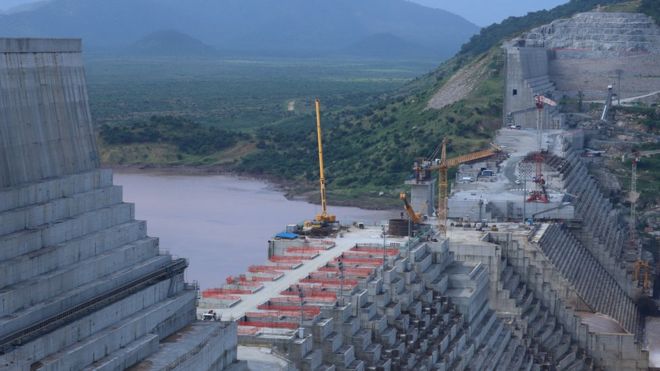 Egypt's delegation, led by Minister of Irrigation and Water Resources Mohamed Abdel-Ati, is already in Washington.
Egypt was highly expectant of successful discussions with the country's Foreign Ministry, saying it hoped an agreement would be signed before the end of this month.
The discussions intended to find lasting solutions to a decades-long problem that has in the past had leaders in the contending countries threatening war against their neighbors.
Elected in 2018 on the back of promises of reinvigorating Ethiopian industrial hopes, Ethiopian Prime Minister Abiy Ahmed recently boasted that he would "muster an army of a million men to defend" what is known as the Great Ethiopian Renaissance Dam (GERD).
The GERD will sever the annual flow of some 55 billion cubic meters of water into Egypt, something Ethiopia's northern neighbors believe is provocative.
Egypt's own Aswan dam is dependent on the Nile since it was built by charismatic leader Abdul Gamal Nasser in the 1960s. It is the single most consistent power generation and agricultural irrigation point for Egypt.
Similarly, the irrigation and electricity ambitions of Sudan, South Sudan, and a host of other countries will be affected by the fallout from negotiations between Ethiopia and Egypt.