Whiles actress Kerry Washington's exploits in films are well documented, little, however, is known about her man-love Nnamdi Asomugha who is a former top-notch NFL player with whom she shares three children.
Asomugha played college football for the University of California, Berkeley, and was drafted in the first round of the 2003 NFL Draft by the Oakland Raiders. He played for the Raiders for over a decade, moving on to also play for the Philadelphia Eagles and San Francisco 49ers.
While with the raiders, Broncos coach Mike Shanahan could not hide his respect for Asomugha's playing abilities although he played for an opposing team.
"He plays the run, he plays the pass, the guy is a competitor. He's the most underrated top player in the game—I can't say the history of the game because I haven't been around here that long," Shanahan said. Asomugha was even considered a top-five cornerback for a time. He eventually retired in 2013.
Asomugha is also an actor and a producer. His first major role came in 2009 on the Southern small-town sports drama Friday Night Lights, which starred Kyle Chandler but it wasn't until 2015 when people took critical notice.
He was a producer for Beasts of No Nation, a 2015 wartime drama told from the point of view of a child soldier, which earned a Golden Globe nomination. Two years later, he starred in and produced the biopic Crown Heights.
The film won an Audience Award at the Sundance Film Festival and he received a nomination for Best Supporting Male at the 2018 Independent Spirit Awards. Then there's also Sylvie's Love.
The arts also united the couple after Asomugha went with a mutual friend to see Washington perform in Race on Broadway. Of that experience, she noted: "The last time I did theater, it completely transformed my life. That's where I met my husband," Washington told Marie Claire in October 2018.
Asomugha played Private First Class Melvin Peterson in the Pulitzer Prize-winning A Soldier's Play, a murder mystery co-starring seasoned veterans David Alan Grier and Blair Underwood on Broadway.
Washington and husband Asomugha married in 2013 in a super-secret wedding after dating for a year. According to E! News, the bride's parents, Earl and Valerie Washington, were witnesses, and the groom's sister, Chisaraokwu Asomugha, officiated.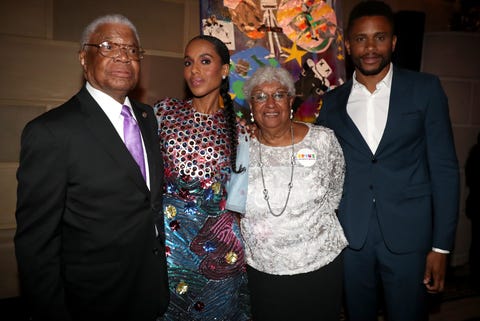 Washington explained why she's not down with sharing her personal life with the world.
"I've had earlier times in my career when I did talk about it (personal life). I was on the cover of a bridal magazine (when she was engaged to actor David Moscow, she appeared on a 2005 issue of Instyle Weddings) … But I couldn't just turn around and say, 'I only want to talk about the good stuff, but not the bad stuff.' So I just thought, 'OK, no more.'"
A year after marriage, Washington gave birth to their first child, a daughter, Isabelle Amarachi Asomugha. In 2016, the pair had a son, Caleb Kalechi Asomugha. There's also an elder daughter the famed cornerback had.
"The children I got sent came in perfect, and I have to figure out how to grow and evolve so that I can support the truth of them. I'm in a constant state of learning and challenging myself to make room for their perfection and beauty," said Washington.
On the challenge of not sharing photos of her family like other celebrities, Washington disclosed when tempted she sends the images to her parents or shrink, noting "My kids are so cute."
On some occasions though, the actress says she shares pictures of her children and family on her private IG account.
Although 39-year-old Asomugha and 43-year-old Washington are a very private pair, they've made some notable outings such as the SAG Awards in 2017, Tonys in 2018, the 2019 Met Gala and the Independent Spirit Awards in 2019.