Former basketball legend and Hall of Famer Dennis Rodman did not only talk the talk, but he also backed it up with consistent and outstanding performances on the court. Though his highly successful playing career was engulfed with controversies both on and off the court, the successes he was able to chalk up, both individually and as a team player, weren't an easy feat.
Known for his colorful hairstyles, tattoos as well as his conspicuous ear, nose and mouth piercings, Rodman's performances, notably as a tireless defensive player who did all the "dirty work", made him one of the very best in that trade. He is also regarded as one of the greatest rebounders in NBA history.
Besides 5 NBA championships to his name, the 6'7″ Rodman, also known as "The Worm", led the league in rebounds for seven consecutive seasons and became the oldest player to lead the league in rebounding at the age of 36 years and 341 days during the 1997/98 season. He also won the NBA Defensive Player of the Year award twice and made it into the All-Defensive First Team seven times, among other accolades.
A powerhouse, Rodman played a very instrumental role in helping the Detroit Pistons beat their then bitter rivals, the Chicago Bulls – a team he would later join – in two consecutive Eastern Conference finals in 1989 and 1990. Known as the "Bad Boys" for their physicality, the Pistons went ahead to win both NBA finals.
Rodman later joined the Chicago Bulls in 1995 where he formed a formidable partnership with Michael Jordan and Scottie Pippen to win the 3-peat in '96, '97 and '98. An unbreakable and very dominant trio, Jordan, Pippen, as well as former coach Phil Jackson, have spoken extensively of how indispensable and vital Rodman was to their success – something "The Worm" himself knows.
Appearing on Episode 3 of The Last Dance documentary highlighting their '98 championship win and final season together, Rodman said:
Nobody can say anything bad about me as a teammate. You know you got the great Michael Jordan, the great Scottie Pippen, the great Phil Jackson, but if you take me away from this team, do they still win a championship? I don't think so.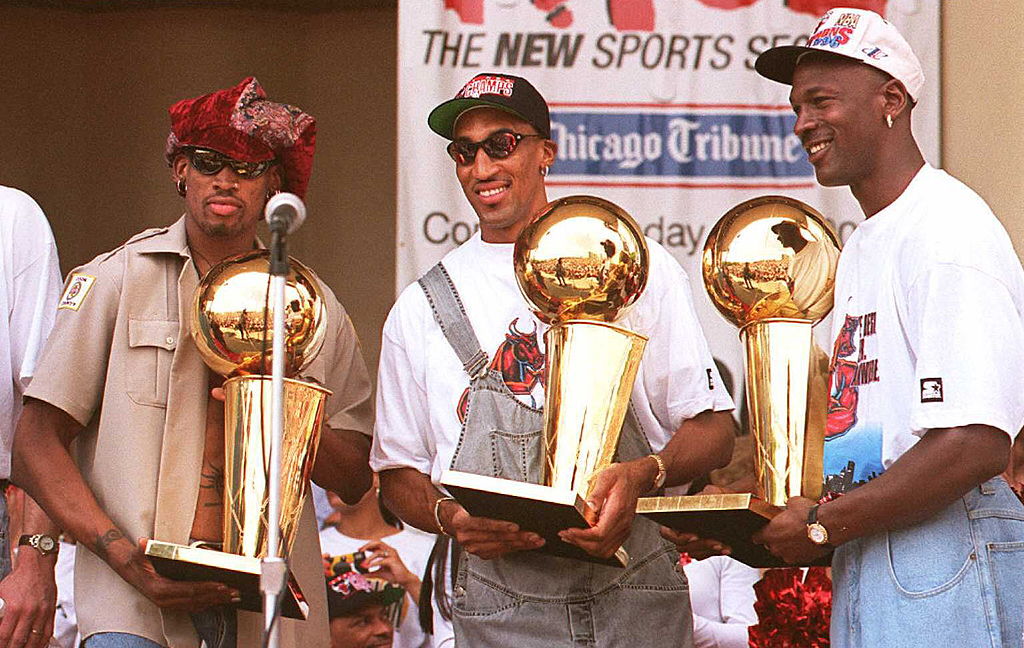 Rodman's journey and rise to stardom were, however, not easy. Born in Dallas on May 13, 1961, he was raised by his mother, together with his two sisters, in a poor household. In an interview on ESPN for his Dennis Rodman: For Better or Worse documentary, he admitted he was a shy person growing up and was picked on by bullies. He also said he was scared and lonely and feared for the worst.
"I thought I would be in jail," he said. "I thought I'd be a drug dealer or be dead. Those were my options."
After graduating from high school, Rodman, who was yet to stake his claim as a promising basketball talent as compared to his sisters, was kicked out of the house by his mother after he was told to either look for a job or move out.
"She kicked me out," he said. "She changed the locks. I had, like, a garbage bag full of clothes. I left the house and I just sat on the steps down at the apartment complex with nowhere to go. I went into my friend's house. He said, 'You can stay in the backyard, on the couch."
"Every day when I wake up, I go to the car wash, try to make some extra money. Or I go to the 7-Eleven, try to fold boxes, throw bottles away, stuff like that, for five bucks a day."
While out on the streets for almost two years, he worked on his basketball craft on a daily basis and finally had his chance when Southeast Oklahoma scouted him while he was playing in a summer league. After a successful three-year stint, he declared for the draft in the NBA and was selected by the Detroit Pistons as the 27th overall pick in 1986.
Despite steadily rising to become one of the standout players on the Pistons roster for his clutch defending and aggressiveness, his off-court and disciplinary issues caught up with him. After his divorce to Annie Bakes, coupled with disagreements with the Pistons management during the 1992/93 season, he almost committed suicide. He was found by the police sleeping in his car at The Palace of Auburn Hills parking lot with a loaded gun.
In his 1996 autobiography, As Bad As I Wanna Be, the 58-year-old admitted he thought about taking his life.
"I decided that instead [of killing myself] I was gonna kill the impostor that was leading Dennis Rodman to a place he didn't want to go … So I just said, 'I'm going to live my life the way I want to live it and be happy doing it.' At that moment I tamed [sic] my whole life around. I killed the person I didn't want to be," he said.
Extensively touching on the suicide attempt during an interview with the Bleacher Report in 2019, Rodman said:
It [Mental Health] wasn't really common back then. For me, I wanted to be loved by somebody or someone because I was never loved by my mother or father because they were never there. So when I got to Detroit, they embraced me as one. And then when things started to disassemble [after the Pistons' Bad Boys run], I started to feel betrayed. I said, "What the f–k's going on?" I was so enamored of the way that they loved me and being embraced by the people in Detroit. So once a lot of the people that loved me were gone, and [former Pistons coach] Chuck Daly was gone, I was all by myself. I had nobody to turn to. I wasn't really connecting with my mother or father. I had no contact with them.

So one day, I wrote a note and went to the parking lot of the Palace. I had a gun rack, and I had a gun in my car. I had it in my hand. But for some reason, I played this music. I put it on, and I was listening to this song and this music, and I was just debating. It didn't have anything to do with basketball. It had to do with this love that I wanted, and it suddenly just left me.

And this song came on. It was Pearl Jam. "Even Flow" and "Black" and stuff like that. And I had the gun in my lap, and next thing you know, I fell asleep listening to Pearl Jam. Then I woke up, and all the cops and everyone was there. I didn't know what was going on. I totally forgot I had a gun in my hand. They got me out of the car. That was pretty much what it was. It wasn't about the game of basketball. It was about feeling betrayed, because I wanted to be loved so much in my life. And when I got to the NBA, I didn't expect the NBA to be like that. I didn't expect teams to just trade players and you say, "OK, this is a business," and forget about it. That was what drove me to that point."
Rodman hasn't been shy of controversies even after his basketball career. He is "good friends" with North Korean leader Kim Jong Un and has made multiple visits to the communist nation.