In 1959, playwright, journalist and artist, Lorraine Hansberry made history as the first black woman to have a show produced on Broadway. Her play "A Raisin in the Sun" (1959) was the first drama by an African American woman to be produced on Broadway and the first with a black director, Lloyd Richards.
In 1959, it opened on Ethel Barrymore Theatre on Broadway, to great acclaim. The play explored the emotional conflicts within a working-class black family in Chicago in the 1950s as well as race.
A Raisin in the Sun won the New York Drama Critics' Circle Award, making Hansberry the first African American dramatist, the fifth woman, and the youngest playwright to do so, at the age of 29.
She became heavily involved in the Civil Rights Movement in 1963, writing against the status quo. She joined other influential people like Harry Belafonte, Lena Horne and James Baldwin. Her second play, The Sign in Sidney Brustein's Window, opened on Broadway.
Born on May 19, 1930, in Chicago, Illinois, Lorraine Vivian Hansberry was the granddaughter of a freed slave and the youngest of four children. Her father was a successful real estate broker, and her mother a schoolteacher.
Hansberry's family moved to a white neighbourhoo, facing violent attack from neighbours. They refused to move until a court ordered them to do so, and the case made it to the Supreme Court.
Hansberry attended the University of Wisconsin in Madison. While at school, she reportedly changed her major from painting to writing. After two years she dropped out of school and move to New York City.
Hansberry attended the New School for Social Research in New York. She worked for Paul Robeson's progressive black newspaper, "Freedom", as a writer and associate editor from 1950 to 1953. Hansberry met and married Robert Nemiroff, a Jewish songwriter.
She reportedly studied with W. E. B. Du Bois, at the Jefferson School of Social Science. According to "Looking for Lorraine: The Radiant and Radical Life of Lorraine Hansberry," Imani Perry's intimate, ruminative book, from 2018, Hansberry sent a letter to her then-boyfriend, Robert Nemiroff.
The letter ended a vivid description of who she was:
1. I am a writer. I am going to write.
2. I am going to become a writer.
3. Any real contribution I can make to the movement can only be the result of a disciplined life. I am going to institute discipline in my life.
4. I can paint. I am going to paint. The END
She wrote in her spare time because she also worked part-time as a waitress and cashier. By 1956, Hansberry quit her jobs and dedicated her time to writing. The following year she joined the Daughters of Bilitis and contributed letters to their magazine, The Ladder.
She wrote about feminism and homophobia. She was a Lesbian who feared discrimination so she wrote under her initials, L.H. Hansberry wrote The Crystal Stair, a play about a struggling black family in Chicago, which was later renamed "A Raisin in the Sun", a line from a Langston Hughes poem.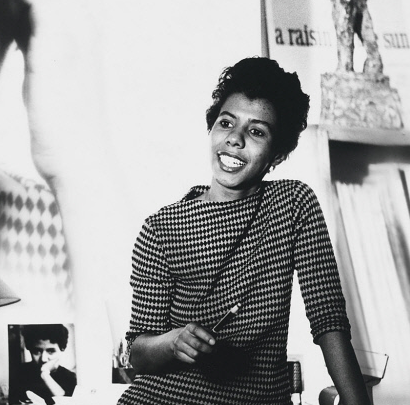 The play opened at the Ethel Barrymore Theatre on March 11, 1959, and was a great success, having a run of 530 performances. The film version of A Raisin in the Sun was completed in 1961, starring Sidney Poitier, and received an award at the Cannes Film Festival.
Hansberry and Nemiroff divorced in 1962 but they continued to work together. Hansberry was diagnosed with pancreatic cancer in 1964, the same year The Sign in Sidney Brustein's Window opened.
Weakened by the disease, she reportedly moved into a hotel next to the theatre so she'd be closer to the rehearsals.
She died on January 12, 1965, at age 34. After her death, a posthumous play 'To Be Young, Gifted and Black', edited and adapted by Nemiroff opened off-Broadway at the Cherry Lane Theatre and ran for eight months.
The playwright died at the age of 34, but she left behind enough genius for lovers of literature to follow like a trail of generous crumbs, Vinson Cunningham wrote in The New Yorker.
She also wrote the play, "What Use Are Flowers?". Hansberry had originally conceived it as a television special but decided to make it a play instead. Parts of it have been adapted for radio and staged readings, and some of its text was used in "To Be Young, Gifted and Black,"
Hansberry's last three plays are Les Blancs, The Drinking Gourd, and What Use Are Flowers. They include a new preface by Jewell Gresham Nemiroff and a revised introduction by Margaret B. Wilkerson.
To date, her very first play is considered one of the hallmarks of the American theatre. It received Emmy-nominations and earned awards from Broadway, as well as, Tony Awards in 2004 and 2014.
The film, Sighted Eyes/Feeling Heart offers a full and accurate image of the playwright.