Traditional African Belief Systems predate both Islam and Christianity, which have now attracted global worshipers in the billions.
That hasn't stopped the Evangelical religious sects accused of having links to Rio de Janeiro gangs from increasing attacks on Afro-Brazilian religions, which are looked upon as "satanic."
Robert Muggah, who researches violence in Latin America, told the Associated Press; poor, black Brazilians are bearing the brunt of the evangelical turn.
"Brazilian prisons are not largely state-controlled. Instead, they are nefariously run by a single drug cartel, that uses the prison system to recruit new members and which enables them to run their organized crime operation. In Brazil, 80 of the 100 faith-based organizations that run social programs in prison are evangelical."
Muggah wrote: "According to Brazil's Institute for Public Security, 2,147 of the 6,714 murders reported in Rio state so far this year occurred in Baixada Fluminense."
These evangelical drug traffickers have apparently taken control of Baixada Fluminense, a region that was once a haven for Afro-Brazilian religions. In 2019, over a third of the attacks on black Brazilian temples happened in Baixada Fluminense. Baixada Fluminense has at least 253 Candomblé and Umbanda terreiros (temples), more than any other municipality in the state.
The Brazilian government has started taking notice. In November 2019, the federal public prosecutor's office urged Rio de Janeiro authorities to compensate victims of religious intolerance both "materially and symbolically," particularly in Baixada Fluminense.
In the prisons, inmates who convert to evangelicalism are often rewarded by having their quality of life improved in the prison and when they come out, are recruited to preach the gospel, denounce African ancestral worship and under the hand of violence displace practitioners.
Showing Evangelical gains, the city mayor is a bishop in a Pentecostal church, home to the right-wing President, and Rio is where the Universal Church of the Kingdom of God is, a powerful evangelical church founded by known anti-black bishop Edir Macedo.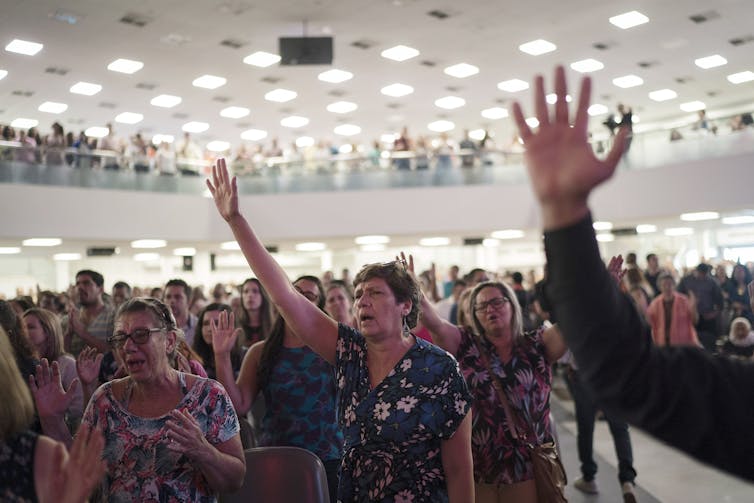 Bishop Edir Macedo sold three million copies of a book, describing Afro-Brazilians as enemies of the human race before it was banned in 2005. He nonetheless peddles his message to his estimated 5.2 million followers at 13,000 affiliated churches.
"As ever more Brazilians convert to evangelicalism, traditional religions there are losing members. Between 2000 and 2010, when the latest national census was taken, the number of Catholics in Brazil dropped 9%. Followers of the Afro-Brazilian religions Candomblé and Umbanda declined 23 percent," Muggah noted.
Parishioners are calling for a "cleanse" of Satan's work which is coded language for ridding Brazil of Afro-Brazilian religious. When gangs control neighborhoods they tend to ban the practice of Afro-Brazilian religions, resulting in community members who do being expelled.
"In Rio state, reports of religious-based violence against followers of Afro-Brazilian religions have risen from 14 in 2016 to 123 in the first 10 months of this year. State authorities call those figures vast undercounts — many victims, they say, are afraid to come forward. More than 200 temples have shut down in the face of threats this year," the Washington Post reported.
Brazilian faith communities, in contrast, are actively fighting back against rising religious discrimination in Brazil. In September, an estimated 100,000 people joined Rio's annual walk for religious freedom, one of the largest gatherings since the procession's inception 12 years ago.
According to Brazil's Commission to Combat Religious Intolerance, over 100 Afro-Brazilian religious facilities (Terreiros-the temples of the Candomblé and Umbanda faiths) nationwide were attacked by drug trafficking groups in 2019, an increase on previous years. A national emergency hotline created to report such attacks finds that 60% of incidents reported between 2011 and 2017 occurred in Rio de Janeiro.
The increase in religious hate crimes coincides with the growing political and cultural clout of evangelicals in Brazil. Evangelical lawmakers currently hold 195 of 513 seats in Brazil's lower house of Congress, giving them the power to shape the national debate on abortion, religion in schools, gay marriage and other social issues.
Many Brazilian Protestants attend mainstream services but are worried about the harder-line Pentecostals and Neopentecostal churches – including the wildly successful Assembly of God and the Universal Church of the Kingdom of God.