When the South African apartheid regime prolonged his sentencing in 1963 for inciting Africans to demand the repeal of the Pass Laws, Robert Mangaliso Sobukwe was imprisoned on Robben Island.
But while on Robben Island, he was kept in solitary confinement. Basically, his living quarters were separate from the main prison and thus, he was isolated from other political prisoners.
It is documented that he was kept away from other political prisoners because of his influence and fear by the apartheid regime.
"Sobukwe was isolated because the apartheid government feared him and his intellectual capabilities, eloquence, ideas and his influence on others. He was a threat to the sustainability of the apartheid state. Sobukwe had a power of influencing people both intellectually and politically," writes historian Luvuyo Mthimkhulu Dondolo.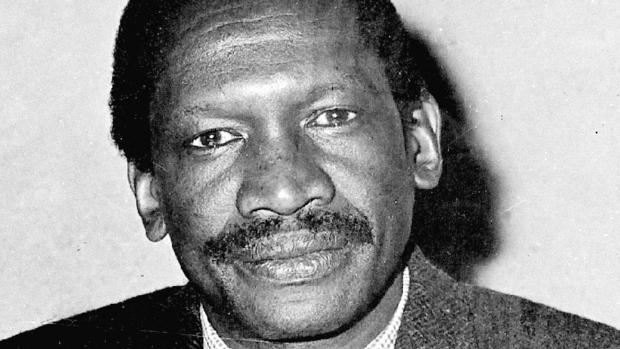 Today, the South African freedom fighter and activist is not only remembered as the most feared man in South Africa under apartheid but as the only political prisoner in the world to have a law passed through parliament in his name.
This law, dubbed the 'Sobukwe Clause', empowered the then Minister of Justice to prolong the detention of any political prisoner indefinitely.
Such was the life of Sobukwe who spent a significant part of his life in either solitary confinement or internal exile, under house arrest for being a militant opponent of white supremacy in South Africa.
Born in the South African town of Graaff-Reinet on December 5, 1924, Sobukwe first gained an interest in politics while schooling at Fort Hare University College, the only institution that was open to Black people.
There, he was elected president of the Students' Representative Council before joining the Youth League of the African National Congress (ANC), an organization protesting the South African government's policy of apartheid.
But in the 1950s, tensions began brewing in the party when Sobukwe and others raised concerns with the multi-racial path the party had taken.
For someone who believed that the future of South Africa should be in the hands of Black South Africans, Sobukwe was against the idea of multi-racialism as solutions to the country's socio-economic problems.
Thus, he and others broke away from the ANC in 1958 and founded the Pan Africanist Congress (PAC) where he was elected its first president.
In his inaugural convention speech in April 1959, Sobukwe said "that Africanists should not at all subscribe to the doctrine of South African exceptionalism.
"He emphasized that South Africa was an integral part of the whole that is Afrika, warning that South Africa could not solve her problems in isolation from and with disregard of the rest of the continent."
A year later, on March 21, 1960, Sobukwe's PAC led peaceful black protestors in the township of Sharpeville to protest the Pass Laws, a passport system enacted under Apartheid to further segregate the population.
Police opened fire on them, killing 69 people and injuring 180 in what became known as the Sharpeville massacre. The anger and riots that accompanied this compelled the apartheid government to ban both the ANC and the PAC.
Sobukwe was also arrested and sentenced to three years in prison for inciting people to demand the repeal of the pass laws. During the trial, he refused the aid of an attorney and didn't appeal his sentence because he believed that the "court had no jurisdiction over him as it could not be considered either a court of law or a court of justice."
While in prison from 1961 to 1964, he studied law by correspondence and earned a degree. Right after he was released, he was arrested again under the 'Sobukwe Clause', which was contained in the General Law Amendment Act of 1963.
Meant for anyone who was deemed to be a danger to the state, Sobukwe was moved to Robben Island and he remained there for the next six years. Interestingly, that clause was never used to detain anyone else.
While on Robben Island, Sobukwe, being isolated from other political prisoners, had access to books and other materials that enabled him to study and obtain a degree in Economics from the University of London.
In 1969, Sobukwe was released and allowed to settle in the town of Kimberly. He was, however, banned from participating in any group activity or speaking in public.
These restrictions kept him under house arrest and he was not allowed to leave Kimberly and South Africa. Even when he fell ill, it was hard for him to receive treatment due to the restrictions.
Nevertheless, he practiced law until his death from cancer in 1978.
Decades after his death, Sobukwe remains one of the greatest but often forgotten heroes of the struggle for freedom in South Africa.
As Dr. Motsoko Pheko stated in an article on panafricanperspective.com, "The greatness of Mangaliso Robert Sobukwe lies more in the fact of his personal sacrifice for the cause of his people and the denial of his own personal comfort. He was well educated individual. He would have enjoyed the best of this world if he had wished. He could have principles to the wind if he wished and lived a very comfortable life, but he wanted nothing but genuine liberation for the millions of Africa who even today have not experienced any economic change in their lives.
"Sobukwe was a fearless warrior against the evil colonialism and apartheid. He is in his grave. But he remains the dynamo of inspiration for the economic liberation and social emancipation of the still land dispossessed people of AZANIA South Africa."