In an African-themed and colourful ceremony last Thursday, a Ghanaian scholar and tribal chief was appointed as the 15th President of Millersville University, a public university in Pennsylvania in the United States.
Daniel Wubah began his tenure as president on July 1, 2018, but was officially welcomed by the university and formally sworn into office last week at the beautiful ceremony held on the quad of the Millersville University.
The event was attended by hundreds of people, including friends and family from Ghana, who were beautifully clad in the rich Ghanaian Kente cloth, according to Ghanaian media.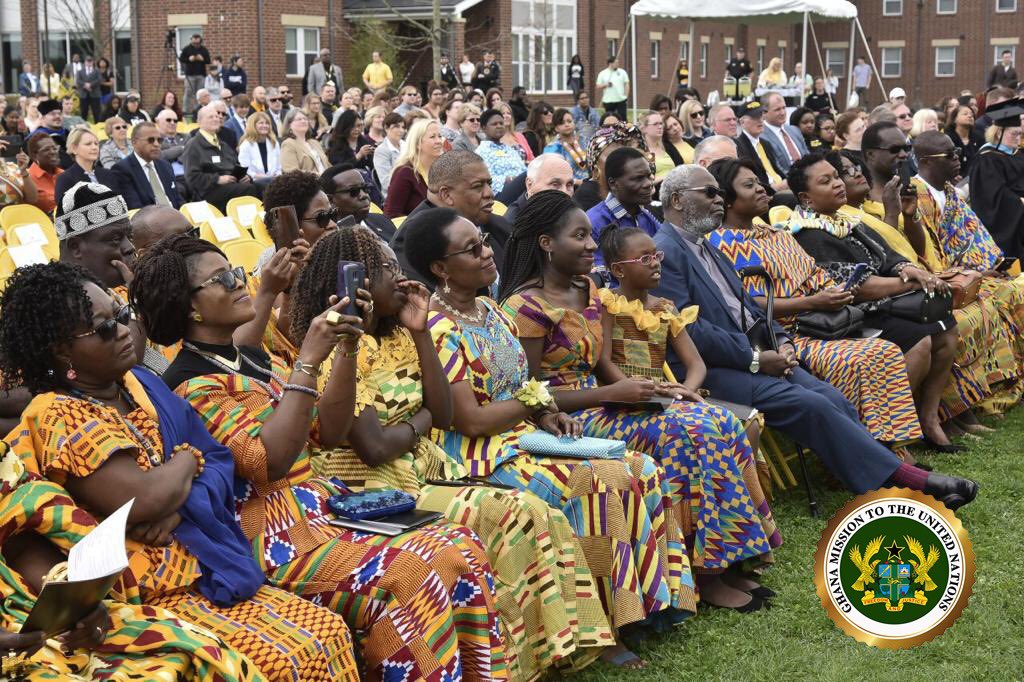 Among the top dignitaries that attended the inauguration was Ghana's Permanent Representative to the United Nations, Martha Pobee, as well as, the traditional leaders of Breman Asikuma, a town in the Central Region of Ghana where Wubah serves as a tribal king.
Prior to his appointment, Wubah had served as Provost and later as Senior Adviser to the President to the Washington and Lee University.
He graduated at the University of Cape Coast (UCC) with a B.Sc. Hons in Botany and Dip.Ed. in Education and earned his M.Sc. in Biology from the University of Akron, PhD in Botany from the University of Georgia.
"Today marks the formal opening of a new era," Wubah said during his inauguration as president, a position that has been described as an honour for the Ghanaian microbiologist.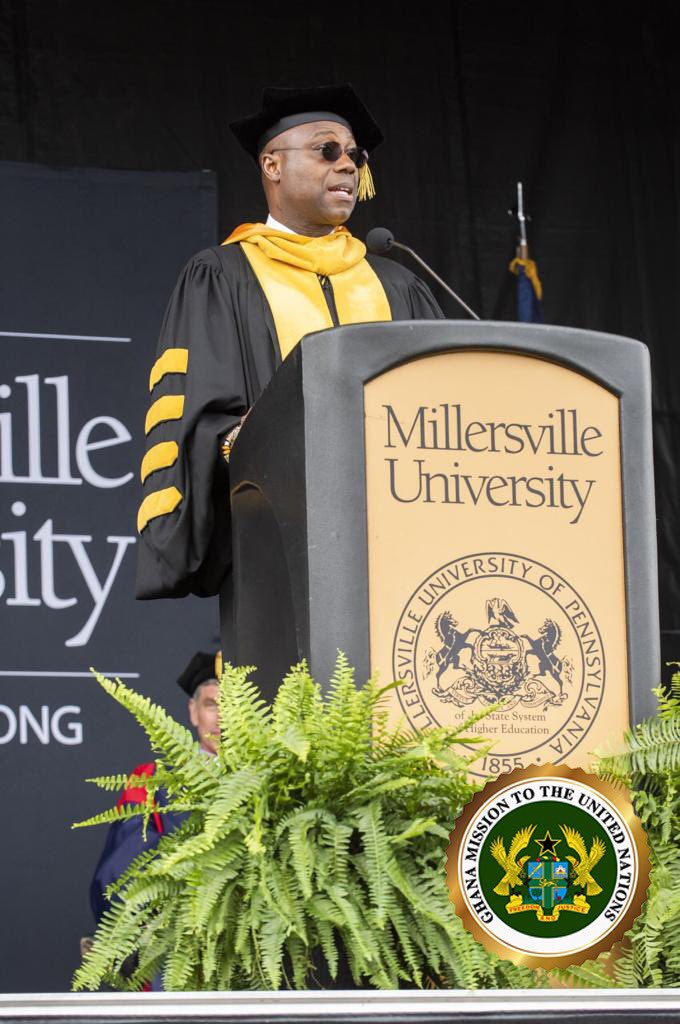 Growing up in Ghana, Wubah's mother raised him and his siblings singlehandedly after his father died in a car accident when he was only 7 years old.
"I doubt she had it in mind that her second-born son…would end up as president of a university in the United States," Wubah, who left Ghana for the U.S. in his early 20s, said while speaking at the event.
Founded in 1855, Millersville University offers more than 100 undergraduate and graduate programmes in Education and Human Services; Science and Technology; Humanities and Social Sciences and Adult Learning.
The university is considered a destination of choice not only for Pennsylvanians but for out of state and international students seeking a top-rated liberal arts education.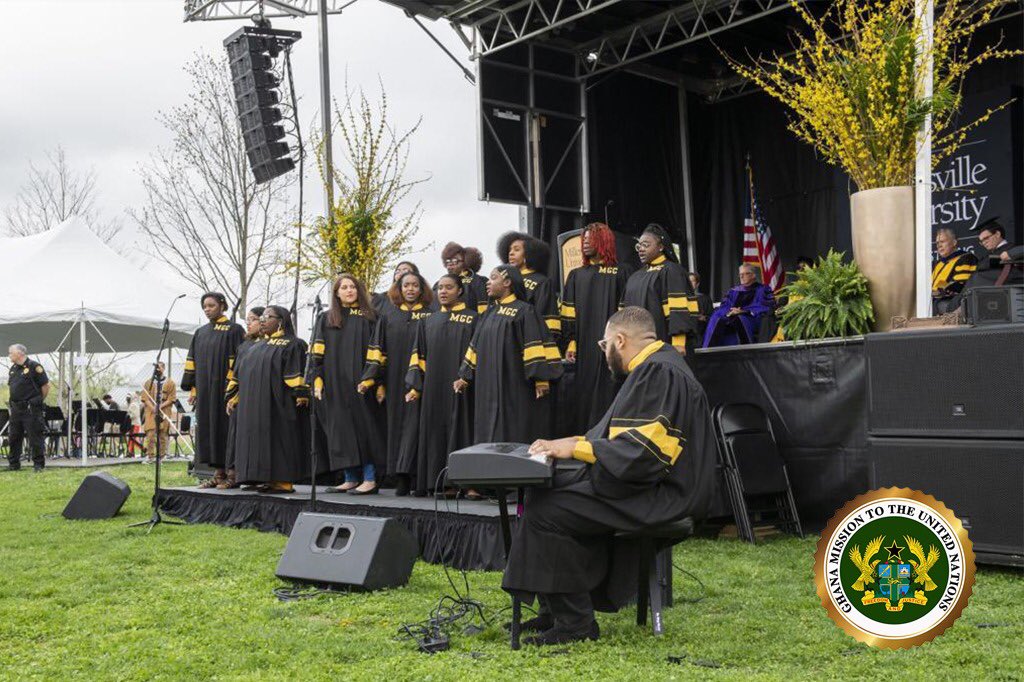 Under his tenure, Wubah said he will focus on three main things: affordability, use of technology and inclusiveness, reports Lancaster Online.
He explained that he would pay particular attention to philanthropy and corporate partnerships to provide financial support to more students and cater to the needs of the university.
"Higher education is one of the few industries where competition drives up cost," he was quoted by Lancaster Online. "It's time to stop this arms race and consider the benefits of shared cooperation."
The university must collaborate to "move the needle and create a more inclusive community," he added.
Millersville's end goal is "excellence without elitism," he concluded.
Retired James Madison University President Linwood Rose is optimistic that Wubah would help the university to achieve that end goal, he said in the ceremony's keynote address.
The festive occasion was also graced by the Vice-Chancellor of the University of Cape Coast in Ghana (Wubah's alma mater) and Old Boys of Accra Academy Secondary School, where he had his senior high school education.
Students of Millersville University who were in attendance wore black T-shirts with Wubah's name and the number 15 emblazoned on the back, said Lancaster Online.
The following is a biography of Wubah, written by the university:
Dr. Daniel A. Wubah became the 15th president of Millersville University on July 1, 2018. Prior to that, he served as Provost and later the Senior Advisor to the President at Washington and Lee University.
His previous positions include deputy provost and vice president for undergraduate education at Virginia Tech; associate provost and professor of zoology at University of Florida; associate dean, professor of biology and special assistant to the president at James Madison University and associate professor and department chair at Towson University.
He is an elected Fellow of the American Association for the Advancement of Science and testified before the U.S. Congress on how to prepare the science workforce for the 21st century. While at James Madison University, he designed and established the Centennial Scholars Program to provide access to students from under-represented groups in Virginia.
He has a passion for excellence in liberal arts education and has published more than 60 peer-reviewed articles, conference proceedings and technical reports.
Dr. Wubah is a microbiologist who studied the characterization of obligately anaerobic zoosporic fungi, bench scale bioremediation of toxic polychlorinated biphenyls, and characterization of microflora in the digestive tract of neotropical wood-eating catfish, Panaque.
His work has resulted in more than 60 peer-reviewed journal publications, book chapters and technical reports. The National Science Foundation (NSF), National Institutes of Health (NIH), US Department of Agriculture (USDA) and Howard Hughes Medical Institutes (HHMI) have funded his research and training projects.
He has supervised or co-supervised research projects and served on theses/dissertation committees for ninety-six undergraduate and graduate students.
Wubah has taught several courses including general microbiology, medical microbiology, microbial ecology and geomicrobiology. He has also been involved in efforts to integrate international experiences in undergraduate education and research.
He has served as the principal investigator in five successful international NSF-Research Experience for Undergraduate (REU) sites program, including the longest continuously funded REU site in Africa from 2002 to 2016.
He was a member of a National Academy of Sciences panel that studied the scientific basis for estimating air emission from animal feeding operations. He has presented a testimony before the US Congress on preparing the scientific workforce of the 21st century.
He was an Associate Editor for Mycologia, and a member of the editorial board of Frontiers: the interdisciplinary journal on study abroad. He has an extensive service-related activity including membership on the Advisory Committees for the NSF Directorate of Biology, Office of International Science and Engineering as well as Environmental Research and Education. He chaired the National Institute of Minority Health Disparities Study Session (2005-2014).
He was a trustee of the Southern Association of Colleges and Schools Commission on Colleges (SACS-COC) for two three-year-terms. He was a member of the Board of Governors of the National Aquarium in Baltimore for ten years.
Dr. Wubah earned his B.Sc. with Honors in botany and Dip. Ed. in education from the University of Cape Coast, Ghana. He earned MS in biology from the University of Akron, and Ph.D. in botany from the University of Georgia. In addition, he was a postdoctoral fellow at the EPA research lab in Athens, GA.
In private life, Dr. Wubah is a tribal king (Safohene) at Breman Asikuma in the Central Region of Ghana. His royal name is Nana Ofosu Peko III. He and his wife, Judith, have two daughters and two grandchildren.