Olurotimi Badero learnt from an early age to set his own standard. Even though he was remarkably brilliant in school while growing up, his father instilled in him the need to be exceptional in all areas.
That would motivate Badero to practice medicine even in the face of doubts from colleagues and still make a difference.
Born in Lagos, Nigeria and currently living in the U.S., Badero is now the only doctor in the world to have full specialist training and certifications in both cardiology and nephrology. In other words, he is the first and only person in the world to become a combined heart and kidney doctor.
Recently named among the top interventional cardiologists in the United States, the Nigerian genius currently holds certifications in six different specialties in medicine.
"By training, I specialised in internal medicine, cardiovascular medicine, invasive & interventional cardiology, nephrology and hypertension, interventional nephrology & endovascular medicine, nuclear cardiology as well as peripheral vascular interventions. Putting all that together, I would like to think of myself as an interventional cardio nephrologist as well as a peripheral vascular interventionalist," Badero told Financial Nigeria in an interview recently.
The 47-year-old's journey to the world of medicine began in Nigeria at the University of Ife (now Obafemi Awolowo University), Osun state, where he first studied medicine.
After completing his undergraduate studies at the University of Ife, he enrolled in the school's medical program and graduated in 1997. He subsequently moved to the United States to attend the State University of New York, where he completed specialty training in internal medicine in 2004, according to Rising Africa.
Two years later, he earned his specialty degree in nephrology at Emory University in Atlanta. But as he began to treat patients in this field, he realized that he wanted to do more than that.
"While I was in training at Emory University School of Medicine as a kidney specialist… I quickly found out that the commonest cause of death for the patients that died was heart disease and not kidney diseases. And we were doing a great job taking care of these patients but ultimately they died from a disease I didn't have much control of as I would have loved to. That was a challenge I had to embrace being someone, whose decision to be a physician was to make a difference. I realized it was very difficult for me to make that difference, albeit we were taking care of patients and they were living longer.
"So that set the stage for me to decide if I wanted to explore ways of becoming more effective. I started toying with the idea of going back to specialise in cardiology because I really wanted to get to the bottom of the problem," he told Financial Nigeria.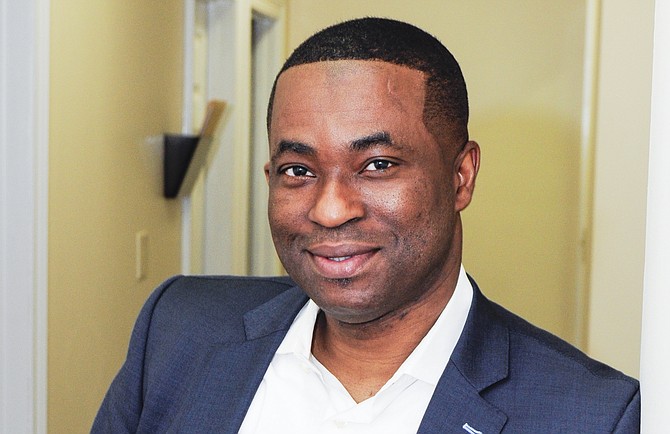 Thus, Badero returned to SUNY to earn his specialty degree in cardiology in 2009. Three years after, he was accepted into Yale University, where he earned three more specialties: interventional cardiology, peripheral vascular medicine and peripheral vascular convention.
"Altogether, I spent ten years of continuous post-graduate medical training which I later found out was unprecedented," he said.
With these qualifications, Badero has now become one of the interventional cardiologists to reckon with in the U.S., a field in medical practice that has fewer African-Americans and blacks.
His achievements have also caught the eye of many medical organizations, including the Association of Black Cardiologists, which presented Badero with an award for excellence in cardiology in 2008.
The cardio-nephrologist, who is currently on the editorial board of the International Journal of Nephrology & Renovascular Disease, was also named one of Jackson, Mississippi's Best Surgeons.
He had, after his training from 2001 to 2010, accepted a position as an interventional cardiologist at Central Mississippi Medical Center (CMMC) in 2011. There, he performed the first radial coronary angioplasty in CMMC history and treated nephrology patients for two years without additional pay, according to Rising Africa.
That same year, he did a one-year fellowship in interventional nephrology and dialysis before forming Cardiac, Renal & Vascular Associates in 2013. Today, Badero is the Executive Director of Cardiac Renal & Vascular Associates, the Medical Director of St. Joseph Hospice, and he is on the global Advisory Board of the therapeutics experts on Thrombosis and Atherosclerosis, Merck Pharmaceuticals U.S.A.
Badero would never forget how challenging it was when he first moved to the U.S. and decided to pursue medicine. Having to survive, he had to join his uncle's cab driving business as a driver while many laughed at his dream of wanting to become a doctor in the U.S.
"I drove the cab during the day, and I prepared for my exams at night. I did not have money to buy books, but I used the library. I remember a time I had to eat only bread for 3 days.
"It was tough, I wanted to leave America, but I said come what may I will take that exam. I could not afford remedial classes, and this was an exam of three parts that people fail regularly and normally retake several times. The failure rate then for that exam was about 90%", he was quoted by Nigeriandoctors.
Badero persevered and today, he is using his exceptional skills to improve lives in his community.
"I learnt very early in life that a goal without a plan is only a wish and that there is no testimony without a test. The only time that success comes before work is in the dictionary. I also learnt from my dad the value of hard work, as well as, perseverance and not letting the moments define you but defining the moment by embracing the challenge," he said.