William 'Bill' Pinkney had a variety of jobs. Having trained as an x-ray technician, he worked as a professional limbo dancer, make-up artist, elevator operator, and product developer before joining the City of Chicago as a city executive.
These series of jobs did not, however, stop him from pursuing his passion – sailing.
He had once been on active duty in the Navy from 1956 to 1960 as a hospital corpsman and as a crewman on sailboats. His interest in sailing would develop from there and he would even become skilled in sailing alone.
At the age of 50 when he had lost his job with the city during a change in administrations, Pinkney began thinking of what legacy he would leave behind for his two grandchildren. He subsequently decided to sail around the world alone to inspire his grandchildren and urge them to always do the possible.
On August 5, 1990, 55-year-old Pinkney began his journey to become the first African American, and only the fourth person in the world to circumnavigate the globe alone by boat. He chose the most difficult route for his journey, a route which would take him around the five southernmost capes.
Another African-American, Teddy Seymour had, at the time, already sailed solo around the world, but he travelled through the Suez Canal and the Panama Canal, which was considered an easier route.
When Pinkney began his journey from Boston Harbor on August 5, he sailed on a 47-foot boat called The Commitment, which had been specially outfitted so that he could handle it himself.
Pinkey made stops in Bermuda, Brazil, South Africa, Tasmania, and finally around Cape Horn, which was the most difficult part of the voyage.
"By the time Pinkney reached the Cape, the wind was blowing 50 knots and the waves were 30 feet. Since most of his instruments had gone out during the long crossing, Pinkney wasn't sure of his course, and he was worried that he might be blown too far north by the stiff winds. Although the wind and waves did not abate for 48 hours, Pinkney and the Commitment persevered, and he rounded Cape Horn successfully," according to Encyclopedia.com.
Pinkney's sailing boat had, prior to this, nearly collided with a container ship that approached from behind on a major shipping route. His radar alarm had gone off, indicating that a ship was within 24 miles of him. 
Pinkney called the captain on the radio. The ship pulled up so close that the Commitment shook. The crew would start taking pictures of him and "his little sailboat," Pinkney later told Chicago Tribune in an interview.
That wasn't the only danger. Near Tasmania, the sailing boat was also knocked twice on its side before righting itself.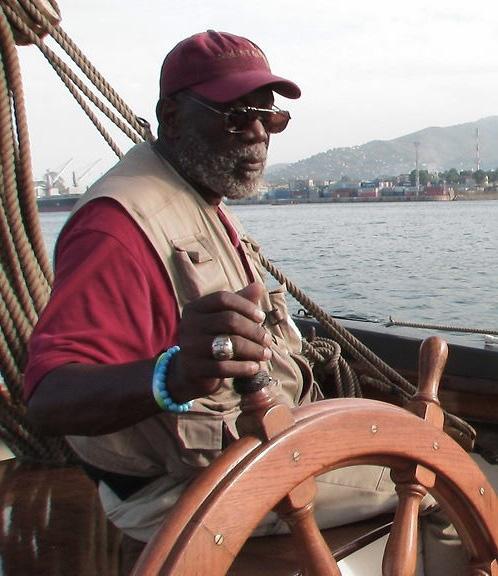 On June 9, 1992, Pinkney, who was now 56, completed the circumnavigation by sailing into Charlestown Navy Yard in Boston, MA. There, he was greeted by about 1,000 school children and 100 officers from the National Park Service, the U.S. Navy, and the Coast Guard. They had followed his journey by radio and on the computer.
In effect, it took Pinkney 22 months to complete his sailing expedition that covered 27,000 miles. Combos, an investment group based in Boston, MA, covered the trip's costs ($1 million), according to Uncommon Experiences.
Raised from a household on welfare, Pinkney suddenly became a hero for the thousands of schoolchildren in Boston and Chicago who had followed his voyage in their classrooms. He told the students: "No matter who you are, where you are or what people say, you and your dreams are important and doable."
Born on September 15, 1935, in Chicago, Illinois to Marion Henderson Pinkney and William Pinkney, Sr., Pinkney, during his early years in school, was already determined to have a great adventure when he grows up. He had been a lover of books, and one of the books he read in his 7th grade in Chicago – Call it Courage by Armstrong Sperry – motivated him to pursue such a venture.
Thus, even while he was working as a motivational speaker after completing his voyage, he set off on another journey. With his interest in history, particularly naval voyages of the seventeenth, eighteenth, and nineteenth centuries, Pinkney organized a second voyage that schoolchildren could follow – a replication of the "Middle Passage," the sailing route taken by slave traders from West Africa to Cuba.
That project came to fruition in 1999; from Puerto Rico to Brazil and finally to Ghana and Senegal in West Africa. In 2000, Pinkney was asked to be the first captain of the replica of the Schooner La Amistad which was famed in 1839 because of the slaves on board who were ultimately freed by a U.S. Supreme Court decision.
Pinkney later retired from ship captaincy in 2003 and authored his autobiography As Long As It Takes: Meeting the Challenge. He received numerous honorary degrees, recognitions, as well as, awards from sailing clubs around the United States, including the 1992 Yachtsman of the Year Award from the Chicago Yacht Club.
He remains a motivational speaker for public schools and corporations. He once told People Weekly: "I have the opportunity to teach people about the sea, about dreams and about the reality that we all have to strive to support basic human rights."