Michael Joseph Jackson, known simply as Michael Jackson, was definitely an icon. Described as the King of Pop, Michael Jackson's contribution to music, dance, and fashion made him the most relevant human in the 20th century.
He lived a life admired by many. Despite the controversy surrounding him, his talented was undisputed, making him the Most Successful Entertainer of All Time by Guinness World Records.
Born on this day in 1958, Michael Jackson was the eighth child of the Jackson family. He was so talented that he made his professional debut in 1964 with his elder brothers Jackie, Tito, Jermaine and Marlon as a member of the Jackson 5. After so much success with the Jackson 5, he decided to go solo, starting off with Motown Records in the 1980s. He became a dominant figure in popular music afterwards.
Jackson's popularity in the industry never altered his love for Africa. His first trip to the continent was to Senegal in 1974 with the Jackson 5. Although not a solo trip, Michael clearly enjoyed every bit of it. He describes the experience in an interview: "When I came off the plane in Dakar, Senegal, Africa, we were greeted by a long line of African dancers. Their drums and sounds filled the air with rhythm. I was going crazy, I was screaming, 'All right! They got the rhythm… This is it. This is where I come from. The origin.'"
That trip set the tone for more exciting trips to Africa.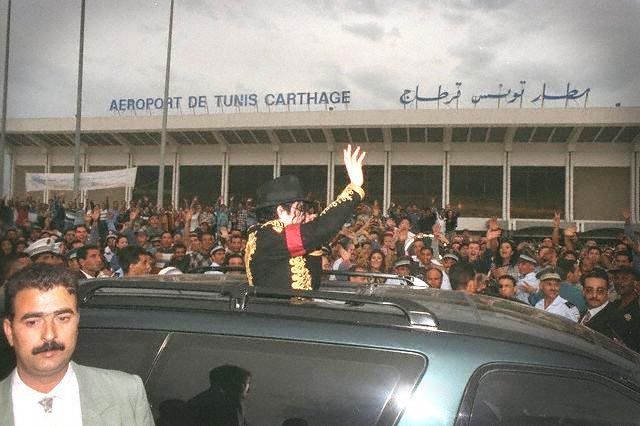 In 1992, after his breakthrough as a global brand, Michael made his first solo non-performing tour to Africa under the full glare of the international press. Described by many as formative, he visited Tunisia, Gabon, Cote d'Ivoire, Senegal, Tanzania, Egypt and South Africa in 11 days.
Despite the controversy and humor surrounding his surgery at the time on his nose, Michael, like every other African-American of his generation reiterated some cliched, romantic ideas about an Africa frozen in time. In an interview with Ebony magazine after his trip, he describes the continent as "home. "For me, it's like the 'dawn of civilization….it is the root of all rhythm".
The trip to Cote d'Ivoire in context was the most eventful. As his private plane landed in Abidjan, thousands of people were waiting close by the tarmac hoping to meet the superstar, however, according to reports, February 13, 1992, got off to a rocky start. Michael Jackson, instead of greeting the crowd of government officials, journalists, and fans, held his nose as he stepped off the plane and sprinted toward a waiting limo – to the disappointment of all.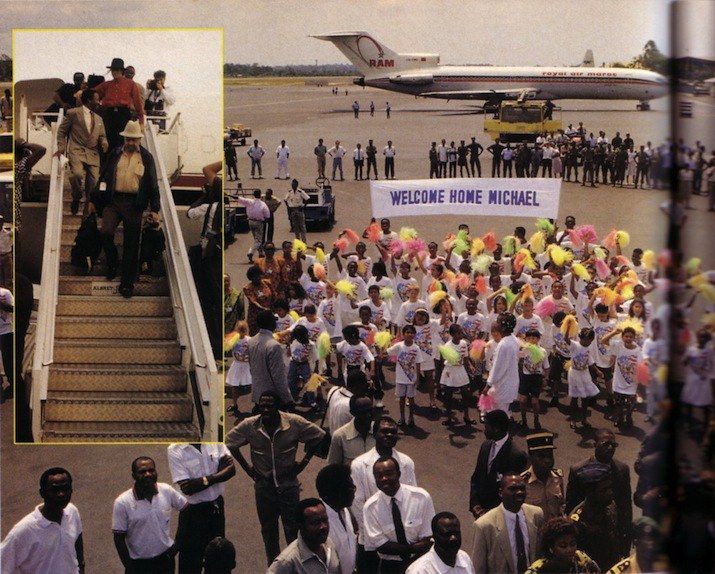 Irrespectively of what transpired on the day, Jackson's biggest honor came in a small village in the Southeastern part of Cote d' Ivoire called Krindjabo. There and then did the King of Pop become an actual King – he was christened Michael Jackson Amalaman Anoh. This title was given him based on mystic readings and possible DNA tests which asserted that Jackson was a descendant of the Sanwi royalty.
The Agni people have lived in the kingdom of Sanwi, an African region since the mid-18th century.
According to NPR's Africa correspondent Ofeibea Quist-Arcton, Jackson's coronation was full of joy, dancing, and the frenetic sounds of traditional Agni drumming. Jackson put on a colorful, traditional toga-style cloth and sat on a golden stool under a sacred tree.
Agni chiefs and elders took turns crowning him and chanting, and villagers drummed and topless women danced to celebrate Jackson's coronation as Chief of the Agni and King of the Sanwi.
Amongst the many exciting stops for Jackson included a meeting with Tanzania's president where they spoke about saving African elephants and receiving a medal from the president of Gabon, President Omar Bongo – the first entertainer to have received the medal. He climaxed the trip by visiting orphanages, hospitals, and churches.
Another highlight from his visit to Africa was a memorable stop to see Nelson Mandela. Both icons share mutual respect for each other and it was evident as the late Nelson Mandela described the late King of Pop as a "close member of our family" after his demise.
He praised Michael for being able to "triumph over tragedy on so many occasions in his life". In a 1999 visit, standing beside South Africa's first black president, Michael Jackson said: "I've had the time of my life here, I've had so much fun, I hate to leave. And I'm definitely looking for a home here, to buy, to spend the rest of my life here."
Michael Jackson unexpectedly died of cardiac arrest in 2009. His death spurred the Sanwi Kingdom to hold a two-day royal funeral for their king. Dancers and lookalikes joined about 1000 villagers to mourn. Minister and politician Jesse Jackson succeeded him as King.