When Bogaletch Gebre was 12, she was pinned down and her genitals were cut out with a knife. She nearly bled to death while undergoing this practice of female genital mutilation (FGM).
She was almost raped when men kidnapped her twice but in both instances, she escaped.
Coming from a remote village, Zata, in Ethiopia's Kembata region, Gebre was told that this was her culture and she had to live with it. But believing that every woman has a sense of her own dignity, Gebre managed to beat the system and would ultimately spend the rest of her life fighting to end FGM in her region.
But this didn't come easily. Otherwise known as Boge (pronounced Bo-gay), Gebre was born into a farm family and was one of 14 children, many of whom died in childhood.
Subjected to FGM at age 12, a barbaric practice that killed her sister, Gebre wanted to challenge the system that had also ruined her mother's life, who she told The Independent was constantly beaten and abused.
Thus, Gebre began attending school without her parent's knowledge, a move that was not typical of Ethiopian girls at the time. In the morning, she went to classes under the guise of fetching water for the family. Her uncle, who was aware of this, helped her finish her household duties and she soon learned to read.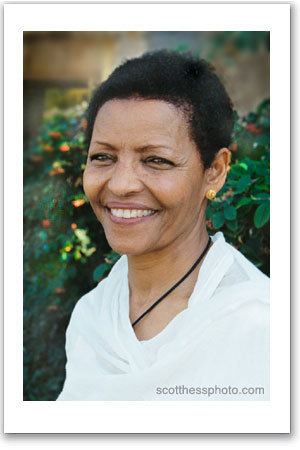 She later ran to a missionary school, which helped her get a scholarship to go to high school in Addis Ababa. From there, she studied microbiology in Israel and continued to the University of Massachusetts Amherst for her master's degree on a Fulbright scholarship. She ultimately enrolled in a Ph.D. program at the University of California, Los Angeles.
But while working on her Ph.D., she felt her people needed her.
"Yes, I could have had a better house and gone jogging on the beach or gone to a spa every weekend. But is that what life is all about?" Gebre told The Independent in 2010. "Could I have stayed there knowing my sisters were being cut and abducted and turned into servants? Einstein said you start living when you give yourself out. I feel I'm living now."
Thus, in 1997, Gebre returned to Kembata in Ethiopia and along with her sister, she founded KMG Ethiopia, a non-profit organization with aims of transforming the lives of women and girls.
With the help of grants, the organization first started by focusing on the daily needs of people in the region, including building roads and bridges, planting trees, among others.
With these projects that helped make life comfortable, they gained the trust of most people, and the rebellion that sought to bring cultural change began.
Gebre, according to the New York Times, "set up local assemblies where anyone, even young women, could speak to anyone else, even village elders. The women started with small proposals, like asking if men and women could sit together in public, then questioned whether women could become elders, then moved on to demands for the eradication of female genital mutilation."
"The rebellion just grew and grew," Gebre said, and her organization later established a mother and child health care center in the region, as well as a school.
Following her efforts, the rate of FGM in the areas where her organization operated dropped to 3 percent from 100 percent over 10 years, said a 2008 UNICEF study. Child marriage, domestic violence, bride abduction were also banned in some of these areas.
Before her death in November 2019, the Ethiopian women's rights activist and scientist received a "Women of the Decade in Community Leadership" Award at the Women Economic Forum in New Delhi for her "empowering leadership and stellar contributions."
Her organization adds that "Thanks to Boge's vision, commitment and tenacity, millions of Ethiopian women are walking with their heads held high, demanding and receiving justice, being appointed and elected to public positions, and establishing their own militias to protect their rights and those of their daughters."
Women and girls have, over the years, had to live with the consequences of having their sexual organs forcibly mutilated. Many of them have since been suffering from fistula, maternal mortality, child mortality, infection from Aids and typhus, and post-traumatic stress.
However, behind that figure of about 200 million lies some progress: In nearly every country, the percentage of girls who have had the procedure has decreased.
And, all these achievements by various African countries like Senegal, The Gambia, Ghana, among others, could not have been met without the support of NGOs, public officers, and other government actions.