Racial violence on the USS Kitty Hawk on October 12, 1972 led to over 50 sailors, nearly all white, getting injured when black sailors reacted to perceived discriminatory acts.
Series of events including two marines telling three Africa-American sailors, "You blacks can't walk in over two's," triggered the riots and led to the worst shipboard riot in U.S. Navy history.
The marines might have been making reference to stringent laws which were enacted in New York after the April 6, 1712 uprising of enslaved Blacks against slave holders.
What then led to the uprising which stunned white New Yorkers?
New York was a major hub for the North American slave trade in the 18th century with the slave market now being used as the financial district.
The city had a large population of black slaves but unlike plantations to the south, the New York slaves worked in close proximity to free men and thus had access to other slaves much easily. They worked as domestic servants, artisans, dock workers and various skilled laborers. Slaves in the city could also communicate and plan a conspiracy more easily than among those on plantations.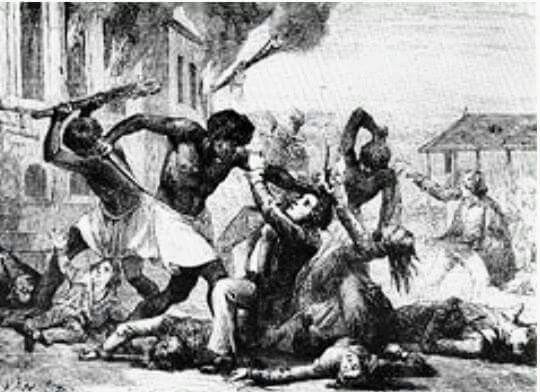 The place was also densely populated as such life was wretched for the slaves brought to New York often from the West Indies. Slave labor is largely responsible for the city's early landmarks, from City Hall to the wall of Wall Street yet they remained impoverished. By 1700s, about 20 percent of the population were enslaved black people.
"It was a city-run slave market because they wanted to collect tax revenue on every person who was bought and sold there," historian Chris Cobb told O'Grady notes. "And the city hired slaves to do work like building roads."
With the enslaved being resentful of their situation decided to rebel and so on the night of April 6, 1712, a group of New York slaves took up arms and revolted against their captors.
"Events that presumably led to the revolt include a decrease in freedom and status when the English took over the colony in 1664. Under Dutch rule, when the city was part of New Netherlands, freed slaves had certain legal rights, such as the rights to own land and to marry. After the English took over New Amsterdam and made it the colony of New York, they enacted laws that restricted the lives of enslaved peoples."
Approximately 23 slaves gathered in an orchard on Maiden Lane in the center of town at midnight. Armed with swords, knives, hatchets and guns, the group sought to inspire the city's slaves to rise up against their masters by staging a dramatic revolt, according to Gabe Pressman.
The men set fire to a building in the middle of town. The fire spread. While white colonists gathered to extinguish the blaze, the slaves attacked, then ran off. At least nine whites had been shot, stabbed, or beaten to death; another six were wounded.
PBS reported: "Though the rebels fled to the north, local militias and soldiers from a nearby fort were quickly raised to hunt them down. In the end, 27 people were captured hiding in a swamp near modern-day Canal Street, though Hunter reported that six men committed suicide rather than facing trial. Though a handful of the captured slaves were spared, the majority were sentenced to brutal, public executions, including being burned alive and being hung by chains in the center of town."
 It added: "White New Yorkers had been apprehensive before the revolt of April 6; now they were spurred into action. Strict laws were soon enacted, and more would come, over the next thirty years. No longer could more than three black slaves meet. A master could punish his slaves as he saw fit (even for no reason at all), as long as the slave did not lose his or her life or limb. Any slave handling a firearm would receive twenty lashes.
"Anyone caught gambling would be whipped in public. Involvement in a conspiracy to kill would result in execution, as would a rape. There was even a law that discouraged masters from freeing a slave: The master could free a slave, but only after posting a bond of £200. This money would be paid to the freed slave if that slave couldn't support himself or herself. These laws would, in the end, prove to be futile. In 1741, New York would see another uprising."
As Robert Hunter, the colonial governor of New York, later wrote of the revolt in a report: "One…slave to one Vantilburgh set fire to [a shed] of his masters, and then repairing to his place where the rest were, they all sallyed out together with their arms and marched to the fire. By this time, the noise of the fire spreading through the town, the people began to flock to it. Upon the approach of several, the slaves fired and killed them."
Though New York eventually outlawed slavery in 1799, it remained an intrinsic part of city life until after the Civil War, as businessmen continued to profit off of the products of the slave trade like sugar and molasses imported from the Caribbean.