American boxer, Deontay Wilder, has blamed his ring-walk costume for his world heavyweight defeat to Tyson Fury on Saturday night.
Wilder, who succumbed to Fury's opening assault lost by TKO (Technical Knockout) in the seventh round after an uninspiring performance.
According to him, the 40lb outfit he wore in tribute to Black History Month was the contributing factor. The outfit reportedly cost around $40,000.
Speaking to Yahoo Sports, Wilder said: "He didn't hurt me at all, but the simple fact is my uniform was way too heavy for me.
"I didn't have no legs from the beginning of the fight. In the third round, my legs were just shot all the way through."
He added: "I was only able to put it on [for the first time] the night before but I didn't think it was going to be that heavy. It weighed 40, 40-some pounds with the helmet and all the batteries. I wanted my tribute to be great for Black History Month. I wanted it to be good and I guess I put that before anything."
"A lot of people were telling me: 'it looked like something was wrong with you.' Something was, but when you're in the ring you have to bluff a lot of things. I tried my best to do so. I knew I didn't have the legs because of my uniform," he added.
Wilder, who was knocked down twice criticized his assistant trainer for throwing in the towel. The defeat was his first loss in 44 fights and first in 12 years.
A former WBC world heavyweight champion, Wilder, has 30 days to officially exercise his option for a third fight. A third bout with Fury will delay a potential Tyson Fury v Anthony Joshua fight.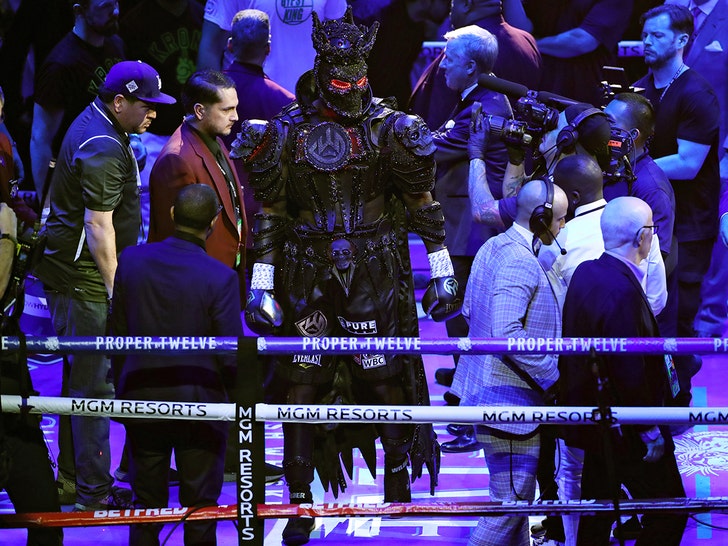 After his win on Saturday, Fury said he was "almost sure" there would be another rematch – potentially at the city's 72,000-capacity Allegiant Stadium, soon to be home to the NFL's Las Vegas Raiders, The Guardian reported.