If you were not in church over the weekend, you surely missed out on Jesus Christ's anticipated "Second Coming." A Jesus Christ literally visited a church over the weekend in Kenya, or as some other reports put it, in South Africa.
But that is not to be unexpected because Jesus is Omnipresent.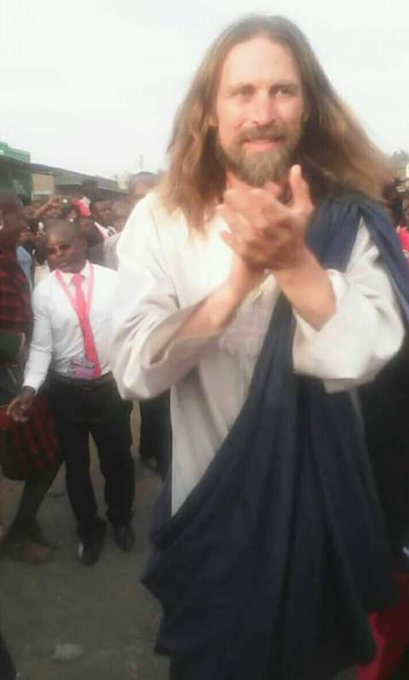 According to unconfirmed reports on ZN News, two Kenyan pastors who claim to have allegedly found Jesus the redeemer, as described in Christian faith, have triggered a social media storm sending shock waves in the Christian community.
In another report, a South African pastor claims he invited Jesus Christ from heaven to preach to his congregation.
This South African pastor backed his claim with photos of his 'Jesus Christ' but according to reports, the main purpose of bringing this 'Jesus' was to educate people that he isn't Jesus of the Bible.
The yet-to-be-identified pastors reportedly invited the 'Jesus' to their churches and had him dressed as the biblical version of the son of God.
Photos of the Caucasian male speaking to a group of people in what appears to be a church have surfaced on the internet and questions are being asked.
A Twitter user, @Kennytexxkkk shared photos of the same 'Jesus' being introduced by a South African pastor to his members. The pastors allegedly told their congregants that 'Jesus' had returned and lucky for them, He landed in Africa first.
Another user, @MaS1banda, shared a video of this 'Jesus' dancing in unison to a song being played over some speakers in the presence of some people believed to be members of the church he was invited to.
He was also seen in a video riding a car across the road waving at people who were cheering him on.
This is one of many instances where Africans have been spotted hailing white people they believe could be the Jesus Christ of Nazareth seen in movies – the typical white narrative of Christ handed down by the colonial masters to African captives from the 1500s.
The most recent was in March this year when some Congolese football fans were thrilled after spotting a bearded white dude at the stadium and hailed him as Jesus Christ.
In 2016, another bearded white man thrilled Kenyans who clamoured for photo opportunities while he was walking barefoot on the streets of Nairobi. The man who was later identified as Daniel Christos, wore a tattered robe, and held a walking stick, depicting the same image of Jesus Christ in Western movies.
"I arrived in Kenya less than 2 weeks ago from Ethiopia and have been welcomed with so much enthusiasm like I've never experienced before in my life. In fact, it's been so extreme that it's been a little overwhelming. Every single corner I walk on in Nairobi I have noticed someone either taking a photo or video while hundreds of times a day I hear people calling out 'Jesus!'" the tourist told local media.
"I am not Jesus! I have never pretended to be. I am a traveler who has come to your country as a visitor, I would hope that one day if Jesus does return you treat him with a little more respect than you have treated me. To everyone else, you are a beautiful people, I love you!" Christos responded to critics who wanted none of his publicity stunt.
Days later, other white people dressed as Moses and Elijah as seen in Western biblical movies equally gained attention in the country. The phenomenon has occurred in other African countries too and in different forms including the spotting of white Jesus in the sky and in smoke as well as on water.