Daily Paper is an Amsterdam- based fashion and lifestyle brand established in 2012 by three childhood friends – Hussein Suleiman, Jefferson Osei, and Abderrahmane Trabbsini.
They are of Somalian, Ghanaian, and Moroccan descent respectively.
Daily Paper started as a fashion and lifestyle blog in 2008 and due to their shrewd fashion taste, an eye for designs, the trio capitalized on their burgeoning network and ventured into full-time menswear and womenswear fashion.
During their blogging days, they reportedly sold T-shirts bearing their logo – Daily Paper. The Daily Paper fashion and lifestyle company would then be founded in 2010 and established in 2012.
Rooted in the founders' respective African heritages of Somalia, Ghana, and Morocco, the brand since its establishment has grown into one of the most "distinct" and "authentic" streetwear globally.
"Before we started the brand, the thing we had in common was our love for our heritage and where we come from and we wanted to do it in a positive and modern way, so that was the brand aesthetic from the beginning," the trio told The Plug.
Their first collection was five colorful t-shirts with crazy prints and people really liked it and understood where they came from – continental Africa.
Around the time they came out with those collections, Jay Z was rapping about all black everything and the main brands that were doing very well were brands like Hood By Air, Damir Doma, and Rick Owens.
"…And then we come with our collection which was the total opposite of all of that. We were at the Hypebeast office about 3 years ago and we spoke to the guy who posted our first ever article and we asked why he posted it and he said 'you guys came up with 5 colorful t-shirts in a time where black and white was a trend.' 
"When you start a brand, there are so many trends you can jump on to make a quick buck, but we are not about that. We wanted to stay true to ourselves and do something with passion. And now, people like what we do because it's our aesthetic," the friends and business partners said.
During the operative years of the blog, the trio interviewed a lot of very interesting people from the industry—like sneaker designers, brand owners, creatives all over.
They started getting more and more traffic and decided to dangle with the idea of printing some t-shirts that read 'Daily Paper.'
"In my mind I was thinking, if we wear them, more people will come to our website, but what happened was people were emailing us like, 'Where can I buy the t-shirt?' I realized people really liked [them], and then that became something that I really enjoyed doing, making product and selling it. One or two years later, we were making all of our money from t-shirt sales, and that's when we changed our business model," Hussein told Coveteur.
Hussein added: "A lot of people that look into our company say things like, 'It's perfect that you guys all focus on totally different things and you work so well together,' and that's one of the things that I'm proudest of. Everybody has natural roles. Jefferson was always someone that was sales-driven, he can package shit in a way that you're like, 'OK, I'll buy it,' [and] he's always been strategic when it comes to brand storytelling or art direction.
"Automatically, I was doing more of the strategy and online marketing for the brand. Abder is the only one out of the three of us who went to a design academy, so he was a natural when it came to designing our collections."
Like most of their collections, the trio draw their inspiration from Africa.
"Every season we look into different African regions and tribes and try to translate this into contemporary menswear design," they told Vice.
For instance, with one of their collection, they drew inspiration from the Kuba Kingdom – which for more than four centuries ago had about 20 tribes situated in Congo.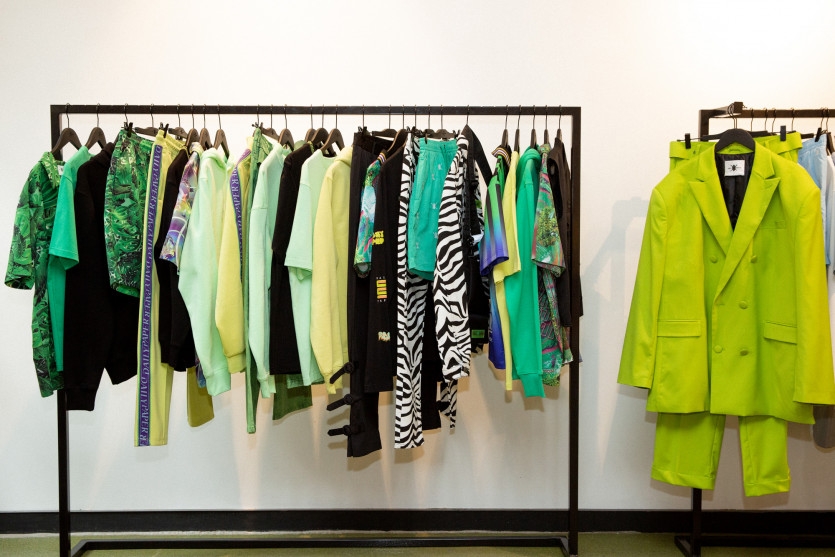 The empire was known for its sense of precision and beauty, which is reflected in their spring/summer 14 collection through distinctive geometric patterns and use of colors.
The Daily Paper brand remains relevant by "translating African heritage instead of copying African heritage."
"The patterns you see in our collections are not 1 on 1 copies of African style aspects, but a reflection of our interpretation of it.
"By doing so it is less 'folklore' and more contemporary. We mix modern silhouettes with African inspired prints and color palettes. With this combination, we mix the best of both worlds. We look at African culture in general from Moroccan tiles, to engravings on traditional Malian cutlery and African architecture," they said in the Vice chat.
They are currently working on a new capsule collection which we draw inspiration from the patterns and colors used on the houses of the Ndebele tribe in South Africa.