A 26-year-old secondary school graduate, Emeka Nelson, may just be on track to becoming a big household name in his native Nigeria after he recently invented a generator that runs on water.
Personally surprised that he was able to develop such an innovation, the non-certified young man has been attracting a lot of attention following this feat, especially since he has no background in engineering.
He shared the good news on his 1kva (1000 watts) portable hydroelectric generator on Twitter.
@AMADICHIMA @AbdulMahmud01 @The_Jonathanian @AbdulMahmud01 @elonmusk @cchukudebelu come oooo.
I've got something that will definitely interest you. A water powered electric generator. pic.twitter.com/QENmVokJa5

— Emeka Nelson (@emekachibunn) July 7, 2019
But that is not what makes the attention he has been receiving an even better one: the ingenious Emeka has also invented quite a few things too. The other more popular one is a machine that converts waste into petrol and diesel, reports the BBC.
The remarkable machine has been designed to be as portable as the hydroelectric generator.
"I'm still wondering if I actually did this."

Meet the 26-year old Nigerian secondary school graduate who built a generator that runs on…WATER!

Beat that??? pic.twitter.com/3ks2LdrEY5

— GistNigeriaTV (@gistnigeriatv) August 16, 2019
The generator, according to Nelson, has a maximum capacity of 1000 Watts and its voltage fluctuates between 220 and 240, he told the BBC.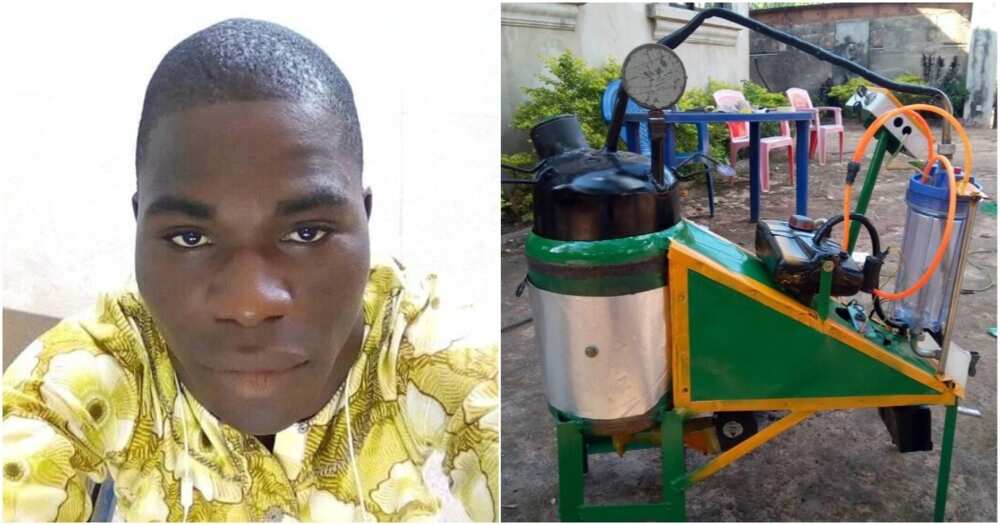 In a recent story carried by Legit.ng, Emeka spoke about how he had invented a machine that can transform waste to petrol, diesel as well as into tiles and roofing sheets.