Mafe is a West African peanut butter-based sauce usually served with rice or couscous. There are different variations of this sauce in West Africa, but it is believed to have originated in Mali and relished in Senegal and Gambia as well.
The sauce became popularised in these regions during the colonial era when more efforts were channeled into groundnut farming.
You can add any protein of your choice. Most people go for chicken, lamb, or beef while some others use fish. The sauce sometimes gives off stew vibes as the ingredients contain onion, tomato, garlic, cabbage peppers and other spices. For spice lovers, you can make it as spicy as you want.
I am yet to meet someone who has a West African meal and not enjoyed the food. Try this recipe and let us know how you like it.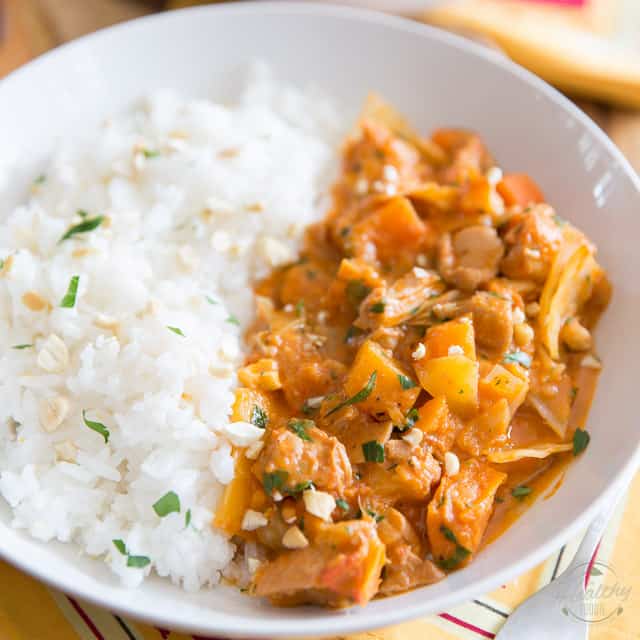 Ingredients
1⁄2 cup peanut butter
2 cups stock your choice, preferably unsalted
2 tablespoons canola oil
1 cup chopped onion
4 garlic cloves minced
2 lbs beef stew meat trimmed and cut into 1 and 1⁄2 inch cubes
salt and pepper
2 cups tomatoes peeled and diced (or one 14 and 1⁄2 oz. can of diced tomatoes with liquid)
1 sprig thyme
1 bay leaf
1 cup green bell pepper peeled, seeded and chopped
1 cayenne pepper seeded and chopped
1 cup carrots peeled and chopped
Instructions
Whisk together peanut butter and stock and reserve.
Season the meat with salt and pepper.
Heat the oil in a large saucepan over medium heat.
Brown the meat well on all sides; do not crowd the meat; sauté in batches if necessary.
Remove meat and keep warm.
Add the onion, garlic, peppers, and carrots to the saucepan and sauté until the onions are translucent.
Add the peanut butter and stock mixture.
Return the reserved meat (and any juices) to the saucepan. Add tomatoes and their liquid, the thyme and bay leaf.
Stir well and bring to a boil. Reduce heat to low and simmer, stirring often, for about 1 hour or until the meat is tender.
Taste for seasoning.
Remove the thyme sprig and the bay leaf and discard.
Serve hot over rice.