A Nigerian man, described as the country's oldest inmate who was jailed at the Enugu Maximum Prison for over 19 years, has finally been released after receiving a state pardon. The 100-year-old inmate, Pa Celestine Egbunuche, along with his son, was convicted and sentenced to death after being found guilty of plotting a murder.
His son, Paul, is, however, still in prison on death row.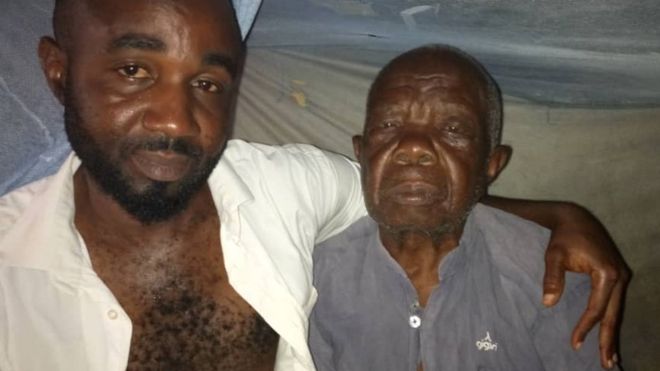 Egbunuche was met outside Enugu state maximum security prison by his daughter and the representatives of Global Society for Anti Corruption (GSAC), an NGO which campaigned for his release, reports the BBC.
"I'm so grateful to God for this day," his daughter Chisom Celestine told the BBC.
"I'm the happiest human being on Earth," Celestine said.
"I thank the NGO whose effort made it possible for my father to be released this day without charging us anything. May God continue to bless them," she was quoted by CGTN.
GSAC Regional Director Amaka Nweke said the former Attorney General of Imo State pardoned Egbunuche.
"His pardon was granted based on his age and his health condition because we found out that his health condition was worsening every day. As a centenarian, he is not supposed to be in prison. When you check other countries you can't find someone of his age in prison."
Egbunuche suffers from health problems, including diabetes and failing eyesight. He is currently in the hospital for observation, reports the BBC. Meanwhile, his daughter said she lacks the resources to take care of him, raising concerns over the future of the centenarian.
Last August, a photo of Egbunuche and his son, Paul, went viral after a local media reported that he had turned 100 in jail. The photo reignited talks about capital punishment and the length of time Nigerians spend on death row.
Figures from the Nigerian Prisons Service cited by the BBC show that more than 2,000 people are on death row in Nigeria, many of whom spend years waiting to be executed.
Between 2007 and 2017, there were seven executions in Nigeria, a practice which is not common. Courts in Nigeria, however, give out such penalties for offences like armed robbery, kidnapping and treason.