There has been outrage on social media following the pulling of gang film Blue Story from major UK cinemas after a physical altercation between the youth at a Vue theater in Birmingham, England, on Saturday.
Directed by British-Nigerian rapper and filmmaker, Andrew Onwubolu, popularly known as Rapman, the BBC Films and Paramount Pictures UK co-produced the movie around two friends who join rival gangs and get involved in a territorial war in south London.
According to Deadline, police who responded to the Birmingham incident had to disperse around a hundred youths from the cinema. Two machetes and a knife were seized and five teenagers, including a 13-year-old girl, were arrested.
Following the melee which left seven officers injured, Vue pulled the movie from its 91 venues in the UK, as well as, Ireland for security reasons and to apparently prevent any gang-related violence. Showcase Cinemas also followed suit but Odeon and Cineworld continued with their screenings.
Vue's decision to drop the movie was met with heavy criticism on social media with many calling out racial bias in their action. Others also shared positive reviews of the movie.
Onwubolu also clarified the movie in no way promotes any form of violence and distanced it from the incident that occurred.
"Bluestory is a film about love not violence," he shared on Twitter. "There were also a few incidents earlier this year with the release of The Joker, it's always unfortunate, but I hope that the blame is placed on the individuals and not an indictment of the film itself."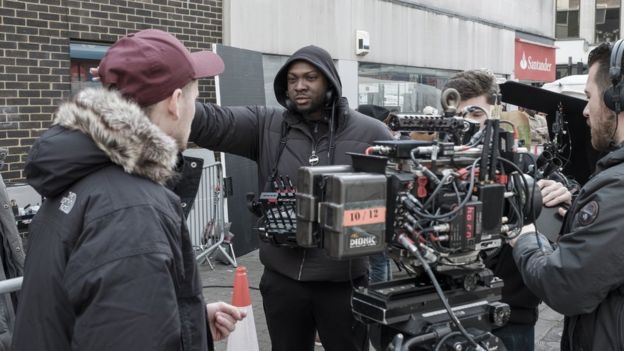 In a statement released by Vue and obtained by Deadline following the backlash, the cinema chain explained their reason for pulling the movie wasn't racially motivated.
"The film opened in 60 of our sites across the UK and Ireland on Friday 22 November, but during the first 24 hours of the film over 25 significant incidents were reported and escalated to senior management in 16 separate cinemas. This is the biggest number we have ever seen for any film in a such a short time frame," the statement partly read.
"Despite a range of precautionary measures in place, including increased security, removal of late-night showings and reduced screenings of the film, the decision to withdraw Blue Story in its entirety was made on Saturday evening on grounds of safety alone."
They added: "This decision is not, as some have alleged, based on biased assumptions or concern about the content of the film itself. At Vue, we believe passionately in bringing people together and using the power of the big screen experience to entertain, educate and inspire all of our audiences."
Showcase Cinemas, however, backtracked on their decision and announced they were resuming screening via a statement Monday.
"We took the decision to temporarily suspend screenings of Blue Story to enable us to assess the situation," it read. "After careful consideration and discussions with the distributor in the last 24 hours, we have come up with a plan to re-instate screenings of the film supported with increased security protocols and will be doing so from this evening. We want to reassure our guests that their safety – and that of our staff members – is our absolute priority."
Despite the setback and losing half of its screenings on the third day after its release, the movie still managed to gross £1.3 million in three days and held the third position in the UK box office.
Speaking to BBC about the entire situation, Onwubolu revealed he feels "bullied" and "cheated" by Vue.
"They say that there's been a number of incidents, but where's the proof? Where's the evidence? Where?" he said.
"We live in a camera generation now. If anything happens, the youth are going to film that and you will see it. How come we haven't seen any footage of the rest of these incidents?
"I feel like that was just something to say to cover their decision, which already wasn't justified because the [original] incident had no connection to Blue Story."