King Sobhuza II of Swaziland (now eSwatini) is a man well-known for his eccentric life and times. His reign is said to be the longest for any recorded modern African ruler – 82 years and 254 days.
Sobhuza married 70 wives, who bore him 210 children between 1920 and 1970. At his death in 1982, he had more than 1000 grandchildren.
A paramount chief of the Swazi people from 1921 and king of Swaziland from 1967, his rule saw Swaziland gain independence from Britain.
Sobhuza's father, King Ngwane V, died in February 1899, at the age of 23, dancing during the yearly incwala (First Fruit) ceremony. Sobhuza was born on July 22, 1899, and was named as heir on September 10, 1899, under the regency of his grandmother, Labotsibeni Gwamile Mdluli.
In 1903, Swaziland became a British protectorate, and in 1906 administration was transferred to a British High Commissioner, who took responsibility for Basutoland, Bechuanaland and Swaziland. Sobhuza will fight for the return of the lands which European settlers now lay claim to thanks to the 1907 Partitions Proclamation.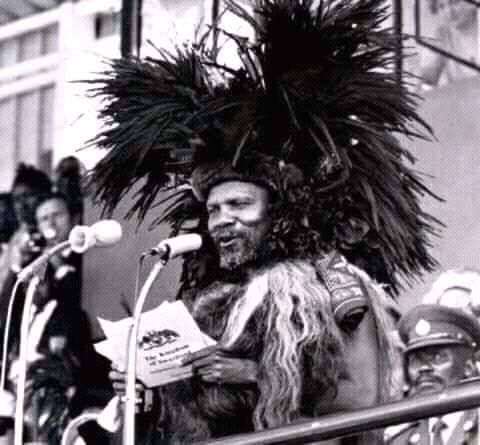 Sobhuza II was installed to the throne, as paramount chief of the Swazi (the British did not consider him a king at that time) on December 22, 1921. He failed in his bid to have the Brits see reason as overseas disputes could not be adjudicated in English courts.
However, the outbreak of World War II saw him being declared the 'native authority' within Swaziland, giving him an unprecedented level of power in a British colony.
In 1967, in the final run-up to independence, Sobhuza II was recognized by the British as a constitutional monarch. When independence was finally achieved on September 6, 1968, Sobhuza II was king and Prince Makhosini Dlamini was the country's first Prime Minister.
"From the beginning, Sobhuza II meddled in the governance of the country, insisting oversight on all aspects of the legislature and judiciary. In April 1973, he abrogated the constitution and disbanded parliament, becoming an absolute monarch of the kingdom. In 1977 Sobhuza II set up a traditional tribal advisory panel — the Supreme Council of State, or Liqoqo. The Liqoqo was made up from members of the extended royal family, the Dlamini, who were previously members of the Swaziland National Council. He also set up a new tribal community system, the tiNkhulda, which provided 'elected' representatives to a House of Assembly," writes ThoughtCo.
"Sobhuza II oversaw traditional festivities and rituals, and practiced traditional medicine. He maintained a tight control on Swaziland politics by marrying into notable Swazi families. He was a strong proponent of polygamy. Records are unclear, but it is believed that he took more than 70 wives and had somewhere between 67 and 210 children. (It is estimated that at his death, Sobhuza II had around 1000 grandchildren). His own clan, the Dlamini, accounts for almost one quarter of the population of Swaziland."
Throughout his reign, he worked to reclaim lands granted to white settlers by his predecessors. Under Sobhuza II's leadership, Swaziland developed its natural resources, creating the largest man-made commercial forest in Africa, and expanding iron and asbestos mining to become a leading exporter in the 70s.
King Sobhuza II of Swaziland died on August 21, 1982 aged 83. Mswati III is Sobhuza II's son and eventual successor.