All things garlicky are extra flavorful. Forget the pungent smell that garlic has because the health benefits are a bonus to the oomph it adds to dishes. I, for one, love to have some garlic butter on hand so I get instant garlic bread when I use it as a spread. Also, steak and corn on a cob taste much better with a dab of garlic butter.
Garlic is part of the onion or Allium family and it is one of the most popular cooking ingredients in the world. Garlic is well known for its medicinal and health benefits "caused by sulfur compounds formed when a garlic clove is chopped, crushed or chewed."
They are rich in vitamin B6, manganese and vitamin C as well as traces of other nutrients. Have you noticed that most immune-boosting meals have garlic in them? Well, they help alleviate severe flu and common cold symptoms.
Those with hypertension or high blood pressure should take garlic regularly because it is proven to improve or reduce blood pressure levels.
Hypertension is a driver of cardiovascular diseases like strokes and heart attacks which are referred to as silent killers and one of the world's best killers. However, to treat high blood pressure the doses of garlic should be high for it to be effective.
Studies also show that garlic reduces lead toxicity and related symptoms in the body. It contains antioxidants which help to reduce the risk of Alzheimer's disease and dementia.
Additionally, it reduces cholesterol, improves athletic performance, and ultimately helps you live longer! Still wondering why you should have garlic regularly? There you have it.
Why would I not love garlic? Seriously, they are a must-have in all your meals.
Now here is one restaurant-worthy garlic butter recipe you can try. Oh, let me chip this in, roasted garlic gives off an amazing aroma and leaves a sweet aftertaste in your mouth. So, this recipe uses roasted garlic.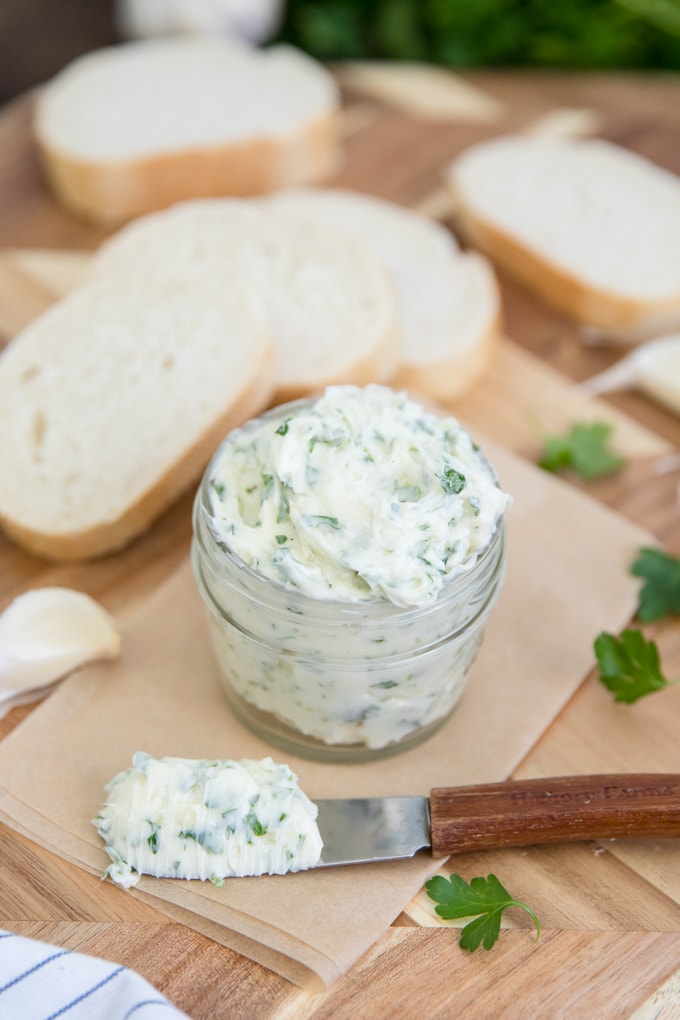 Ingredients
1 cup unsalted butter, at room temperature
4-5 large garlic cloves, minced (or 7-8 roast garlic cloves)
3-4 tablespoons chopped parsley or chive
½-1 teaspoon salt
Optional
3-4 Tablespoons freshly grated parmesan cheese
½ teaspoon Creole or Italian seasoning
Instructions
Combine butter, garlic, parsley, and salt in a small mixing bowl. Mix with a small rubber spatula or wooden spoon until fully combined. Set aside.
Place butter on saran or plastic wrap and gently roll to form a log. Pinch and fold or knot the ends of the plastic wrap.
Store sealed in the refrigerator for at least an hour or until butter firms up.
Remove and slice into circles, or store in an airtight container, frozen for two to three weeks or until needed. Enjoy!