Living with autism and without taking any art class, Kambel Smith, at age 15, was already creating hundreds of oil paintings. This self-taught autistic artist is recreating Philadelphia's famous buildings with cardboard
Unfortunately, his father could no longer afford the supplies for his passion.
Undeterred, Kambel picked up cardboard and foam from the trash and started creating highly detailed models of major buildings in Philadelphia.
Today, at 32, his iconic sculptures, that are gradually taking over space in his family home in Germantown, Pennsylvania, are increasingly attracting major stakeholders in the art world.
But the road to success and fame has definitely not been easy for Kambel. The self-taught talent spends at least seven hours a day carefully creating his sculptures, his father, Lonnie Smith told The Inquirer.
"Sometimes I can't even watch him do it," Lonnie said. "The patience it takes … it will just drive me nuts."
Lonnie had this same feeling when Kambel was into oil painting in his teens until he found one of his drawings while fixing a vent in his home about 20 years ago.
The drawings, that Kambel had hidden in the vent, told a story of a superhero character he named Survivor, but Lonnie knew that the narrative was more about his son.
The single dad started telling Kambel, and his other autistic son, Kantai, a story that proved that autism is not a disorder. That story pushed Kambel to create large oil paintings until money ran out for supplies.
He began to create sculptures of iconic Philadelphia buildings like the Museum of Art and the Divine Lorraine Hotel, said the report by The Inquirer.
Many of these sculptures are "large, carefully constructed objects in their own right", but for almost a decade, Kambel was not getting the needed support to grab the world's attention to his art.
That began to change last September when a neighbour, Barbara Gettes, noticed one of his works and connected him to Chris Byrne, co-founder of the Dallas Art Fair and owner of the Elaine de Kooning House in East Hampton, N.Y.
Byrne was spellbound when he travelled to Philadelphia to see Kambel's work in person.
So far, Kambel's sculptures have been displayed at the Elaine de Kooning House last year. On January 17, Byrne exhibited his sculptures at the Outsider Art Fair in New York City, where they attracted industry watchers such as Jerry Saltz, senior art critic for New York Magazine.
The American Folk Art Museum also acquired Kambel's sculpture of the Divine Lorraine Hotel for its gallery, and the West Collection purchased his sculptures of City Hall and the PSFS Building, said the report by The Inquirer.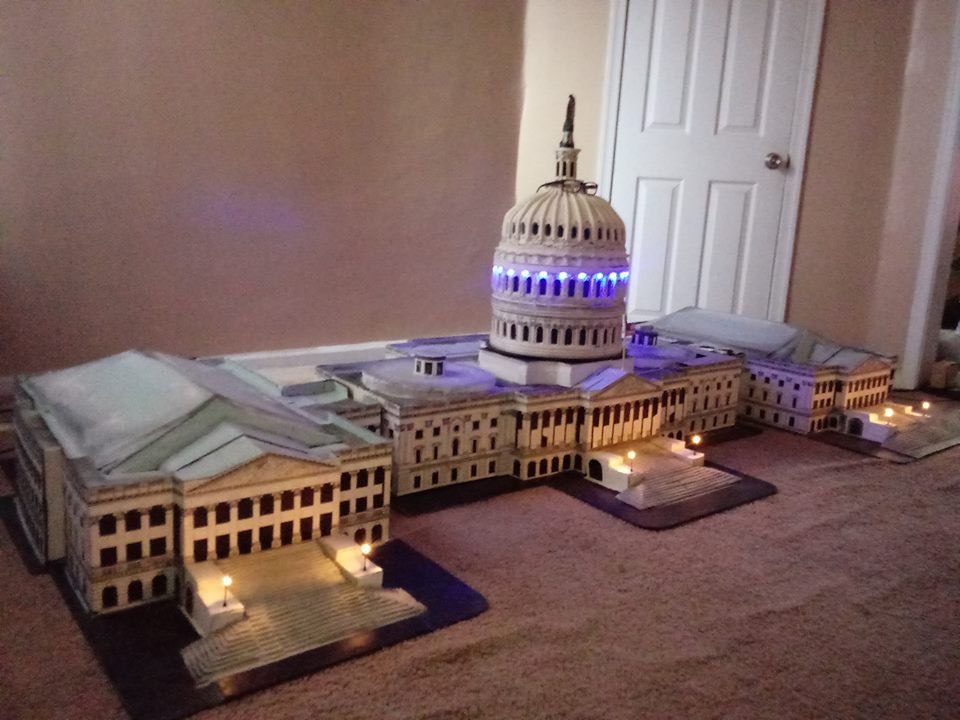 Kambel has expressed joy about the attention he is receiving.
"It's really inspiring," he said. "Keep me going. Keep moving forward."
The self-taught artist, who has moved beyond buildings in Philadelphia, said his creations are based on pictures he finds through Google. Without drafting the buildings ahead of time, he makes everything all free hand, taking him one to three months to complete.
His most recent work was focused on architecture from Georgia, including the Flatiron Building in Atlanta.
A GoFundMe page has been set up to raise money for art and studio for Kambel. Lonnie cannot wait to see what is in store for his son's gift in the future.
"You're not just born with the ability he has just to be here," Lonnie said of Kambel. "That's for a reason and I think he's starting to show that reason now."