Calvin Peete blazed a trail in the 1980s as the most successful black golfer on the Professional Golf Association (PGA) tour before Tiger Woods. He was a renowned professional golfer who made history by winning 12 major PGA tournaments between 1979 and 1986, the whole time with a crooked arm.
Described as one of the most prolific winners and one of the straightest hitters on the PGA Tour in the 1980s, Peete won the PGA's driving accuracy title for ten consecutive years (1981-1990), the whole time with a crooked arm.
Born in Detroit, Michigan on July 18, 1943, Peete was the eighth of nine children born to Irenna and Dennis Peete, a Detroit auto factory worker. He was raised on a farm in Pahokee, Florida.
Peete reportedly fell from a cherry tree near his grandmother's house in Haiti and broke his left elbow in three places at age 12. Peete would never be able to fully straighten his arm as it was never properly set by surgeons.
Some analysts believe that this condition contributed to Peete's driving accuracy. "It allowed him to create a golf swing path that brought him to return the club squarely from the backswing, back to the same position at impacting the ball," according to History Makers.
During his teenage years, Peete lived in Florida. He left school at age 15. As an eighth-grade dropout, he worked the fields to support himself and his family. He sold clothes and jewelry to migrant workers out of his car trunk from Florida to Rochester, New York.
Peete was 23 years when he first picked up a golf club in Rochester in 1966. With his crooked arm, he reportedly looked for driving ranges with floodlights so that he could practice at night.
To have more time for golf, he also took a night job managing apartments in Fort Lauderdale. In 1971, Peete became a professional golfer. In 1975, he completed the PGA Tour Qualifying School and his first PGA Tour victory came four years after, winning the Greater Milwaukee Open. The 32-year old Peete, who had never taken a golfing lesson and without a major sponsor, had turned pro.
"Calvin Peete was a remarkable golfer," Jack Nicklaus wrote on his website. "He overcame a lot of adversity, including a physical limitation, to become a very, very good golfer."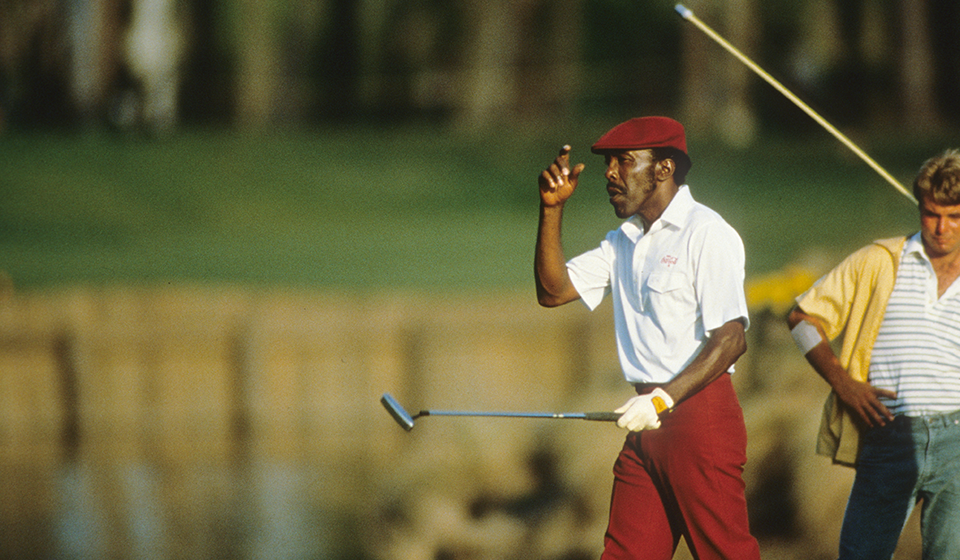 By 1982, he had four PGA Tour wins. He had two wins in 1983, one in 1984, two in 1985, including the Tournament Players Championship, and two in 1986. There were also the Texas Open and the Phoenix Open.
Peete's coveted win was the Players Championship which earned him the position of being the most successful African-American golfer at that time. To be eligible for a U.S. Ryder Cup Team position, Peete earned his high school equivalency in 1982. He was a member of the U.S. Team in 1983 and 1985.
Peete earned over $2.3 million on the PGA Tour and another $950,000 on the over-50 Champions Tour, according to AJC. He was diagnosed with Tourette's in 1999. Even though his back and shoulder problems slowed him, at age 51, he started competing on the Senior Tour and retired from golf in 2001.
Peete graced the cover of the African American Golfer's Digest for the Winter 2006 edition. Even though he wasn't the first significant black golfer, he was the best, serving as a bridge between Charlie Sifford, Lee Elder and Dent to Woods, according to AJC.
Peete passed away on April 29, 2015, aged 71 in an Atlanta hospice, survived by his wife, Pepper, and seven children.
"He was the king of black golf," Biographer Pete McDaniel said. "He was beyond a shadow of a doubt the first black player who proved that we could dominate the game of golf…But in the end, he was just a regular guy who loved life and his family."