Although 'Policy'- a game of chance was operated through various states in the U.S., it was in Chicago's South side where it was operated and run by African-Americans that Policy became a multi-million dollar enterprise.
Its success of the 1930s, 40s and 50s eventually led the state to move in setting up the state lottery.
In 1946, the Jones Brothers comprising Edward, George, and McKissack (Mack) were at the top of the $25 million-a-year policy syndicate in Chicago.
Money derived from Chicago's lottery or policy game also financed banks, insurance companies, restaurants, Provident Hospital, Negro baseball league teams and even a cemetery.
"Provident Hospital now a public hospital was the first African-American owned and operated hospital in America. Provident was established in Chicago in 1891 by Dr. Daniel Hale Williams, an African-American surgeon during the time in American history where few public or private medical facilities were open to black Americans. It was founded to provide health care and medical training. Its initial officers were president John M. Brown, vice president Richard Mason Hancock, treasurer John T. Jenifer, secretary Louis H. Reynolds, and auditor Lloyd D. Wheeler.
"In 1893, the first documented heart surgery was performed by Dr. Daniel Williams at Provident Hospital and Training School."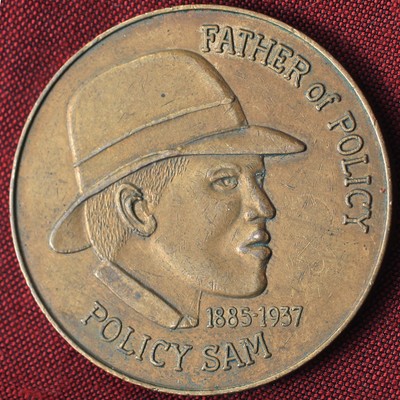 Given that Policy Sam alias Samuel Young is remembered for bringing the illegal numbers game 'Policy' to Chicago in 1885, it lends credence to talk that the hospital was financed through proceeds from that endeavor.
Policy came to an end with the launch of the Illinois State Lottery in 1974. With funds no longer coming through to run it, the historic Provident Hospital was forced to close in 1987 due to financial difficulties.
When it reopened in 1993, it did so as a public hospital, part of the Cook County Hospital System to provide services to residents of Chicago's South Side. It is now known as Provident Hospital of Cook County.
"The Illinois Health Facilities & Services Review Board approved Cook County Health's application to build a new hospital to serve the needs of members of the community. The eight-story, $240 million facility for Provident Hospital in Bronzeville is expected to be ready by April 2023. The new hospital will offer MRI imaging, bariatrics, orthopedics, dental and sports medicine."
Although authorities plan to demolish the Provident Hospital structure once the one on a new site is up, it is hoped the beacon of hope which also served as the first nursing school for black women in Chicago will be in the hearts and minds of many Africans-Americans for its significant place in the Black advancement story.