The captain of Sierra Leone's men's football team, Umaru Bangura, has expressed his disappointment at football fans who attacked his home after he failed to convert a spot-kick that indivertibly condemned the Leone Stars from progressing to the next stage of the 2022 World Cup qualifiers.
The captain saw his stoppage-time penalty saved by Liberia's 18-year-old goalkeeper, Ashley Williams. Following the crucial miss on Sunday, angry fans attacked the players home, vandalizing doors and windows in the process.
Speaking to the BBC, the captain said, "[It was] one of the worst days of my life, I can't even go outside because I didn't expect this kind of hostility towards me."
Kei Kamara var, Buya Turay oyunda. Neden Umaru Bangura? pic.twitter.com/4jqvtSOlm8

— Bilal Çetinkaya (@RASoccerKIM) September 8, 2019
"I did my job by stepping up as the captain to take the spot kick," he added. "I am really disappointed. But at the same time, I wish to say sorry [and] beg for their forgiveness."
The penalty miss from Bangura meant Liberia will progress to the next stage of the World Cup qualifiers at the expense of Sierra Leone.
Sierra Leone had a herculean task of overturning Liberia's 3-1 first-leg lead and were on the brink as Kei Kamara's goal set the stadium ablaze in the 55th minute.
Despite the goal, a 94th-minute penalty couldn't give the home side what they desired.
The incident at the player's home happened shortly afterwards. According to reports, a song has been composed for the FC Zurich center back, mocking his penalty miss.
Four Red Cross volunteers were also caught up in the fracas after being attacked outside the stadium by fans for trying to smuggle Bangura away from the scene.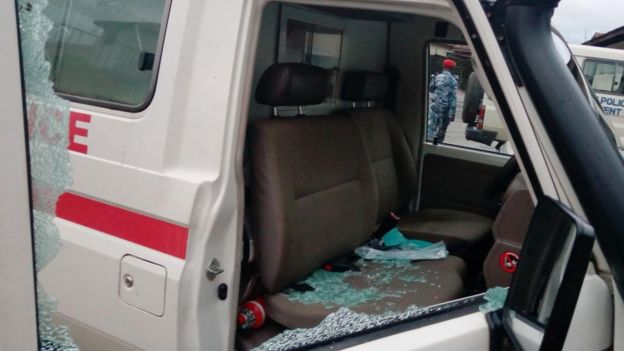 "I was really disappointed with the Sierra Leoneans," the country's sports minister, Ibrahim Nyelenkeh, told the BBC. "Some disgruntled hoodlums went to [Bangura's] house and pelted stones at it.
"It is not good for the game. He is our captain [and] football is a game of chance. [Hooliganism] is becoming unprecedented. I think measures should be put in place to combat it."