She was described as the Bantu tribeswoman from Kenya who knows everything there is to know. Her name was Tsula Mwangi, a blind woman whose brain could process information faster than a computer. With an IQ higher than all charts, she could provide the answer to every riddle, recite every line of any poem ever published, speak every language and draw a detailed map of all planets.
The story continued that Mwangi could identify every known plant, recite the Bible forward and backwards, and list every species of insects on earth.
Like the Dusty Hoffman character in the movie Rainman, she could retain a "seemingly unlimited amount of data" but she was more than the Rainman because she somehow knew things she had not heard of before. She was said to be connected to the "Universal Mind," the story continued.
But, she was all fake. Of course, the woman in the image was real but she was not Tsula Mwangi, said a report by a Kenyan media outlet, Owaahh. Mwangi was only made up by an American satirical newspaper called Weekly World News (WWN).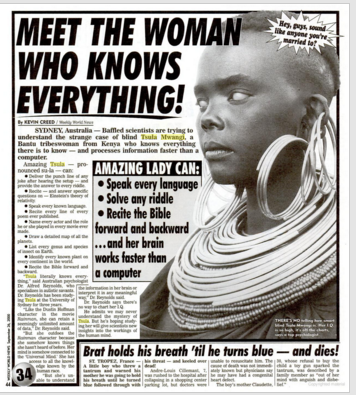 With its slogan, "the world's only reliable news source," the sensational tabloid, for nearly 30 years (1979 to 2007) entertained and baffled many readers with its "spectacularly sensational stories."
Usually sold at supermarket checkout lines in America with no fine print disclaimer, most of its stories were told as true stories, and the readers loved them.
The black-and-white tabloid had accounts of aliens ("Hillary Clinton Adopts Alien Baby"), Elvis ("Elvis Is Alive – And Running For President!") and the bizarre ("World's Smartest Chimp Goes To College") including the blind Mwangi's story.
On September 26, 2000, the tabloid ran a story titled "Meet the Blind Woman, Who Knows Everything." Mwangi's story was said to be baffling many scientists who were trying to understand "her strange case."
The blind woman was not mentioned again until 2004 when the newspaper added the short line "the reader should suspend disbelief for the sake of enjoyment," Owaahh said.
Yet, people still loved the paper to the extent that its circulation peaked at 1.2 million prints per issue, according to USA Today.
"Fake news has always been popular: Look at the sales of The National Inquirer, Weekly World News and Globe in the pre-Internet age," Steve Miller, a journalism professor at Rutgers University said in 2016.
"Gossip and escapist entertainment let people escape their humdrum lives," he added.
With the introduction of the internet, the WWN faded away but came back, this time online with the same bizarre stories. Till today, the world is still battling with fake news that floods the internet, particularly, social media on a regular basis.
People also continue to search the truth or otherwise of WWN's Mwangi.
"Is Tsula Mwangi real?" was the question an internet user asked in 2015 on Quora.
An interesting reply from Jake Singer said:
"Disclaimer: this is pure speculation, but I'm pretty good at supposing, so here goes…
"There is evidence to suggest the existence of a universal knowledge and the ability to tap into it. I, personally, can say there are multiple examples in my own personal history of having an answer to a question "just come to me" after having quieted the mind. Furthermore, there are videos all over YouTube of people answering (correctly) seemingly impossible questions. One, in particular, that comes to mind involves a young Arab girl who can "see" while wearing a blindfold. Perhaps it's as simple as having the ability to channel an all-knowing source."