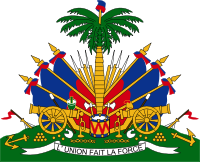 National Symbols
Every country has a national symbol with its own historical meaning. Each island also has their unique national symbol or coat of arms. The symbols range from birds to flowers to fruits.
For instance, Haiti's coat of arms has the country's flags draping, three on each side of a palm tree with cannons. In front of the cannons are a bugle, drum, long gun and ship anchor. A Phrygian cap is placed on the palm tree as symbol of freedom.
The Antiguan coat of arms showcases a beautiful red hibiscus flower that can be found across the island, a sugarcane stem and a pineapple all of which are delicacies on the island.